See how this guitar maestro took his passion and turned it into a successful online business with MemberPress.
We'd all love to make a living doing what we love, right? For those of us whose passions lie in things like banking, or personal injury law, it's a bit easier to turn that passion into a reliable source of income.
With MemberPress, you can transform any hobby or passion into a fulfilling career that's fulfilling – emotionally and financially. And there are countless MemberPress customers who know that from first-hand experience.
Meet MemberPress User: Tom Fontana
For example, meet Tom Fontana, a MemberPress creator and the owner of TheGuitarLesson.com, a website that offers video guitar lessons to beginner guitar students.
Tom started playing guitar in high school, but it wasn't until after high school that he started bringing in some extra cash with these his sweet skills.
In college he taught guitar to a few friends, expanding out to a wider array of students.
After college, Tom spent 10 years in the banking industry. But he started to feel burnt out. The long hours and hard work were getting to him, so he started looking for a new way to engage his passion.
"I wanted to do something else with my life. Just by chance I came across a few guitar lesson sites and I thought, 'I could do that.'"
So, he started looking at his options. A friend in web design helped him put together his first online guitar lesson website.
Despite the challenge of recording lessons in front of the camera, Tom persevered and realized he was a natural.
TheGuitarLesson.com: A Membership Experience
Back in 2009 Tom migrated the site over to WordPress. He needed a reliable platform that was easy to use and easy to update with content. With that in mind, he went on a search for the perfect platform.
The solution for all Tom's membership plugin needs? MemberPress, of course!
The successful transition is evident. As of the writing of this blog post, TheGuitarLesson.com has over 300 video lessons and a couple of different membership options.
Free members get access to about 30 lessons. And Premium members can get to the entire library – complete with quizzes and progress tracking.
All his effort paid off, and Tom was able to turn his back on banking and go full steam ahead on his membership site.
Why MemberPress was a good fit for Tom
All across the internet, MemberPress helps countless solopreneurs and small businesses get off the ground.
When he started off with his site, Tom says, "I didn't know anything about the internet or online stuff."
With MemberPress, it's shockingly easy to get started with only a barebones understanding of WordPress.
After his migration to WordPress, Tom still needed a membership plugin, and he was looking for a few essentials:
Easy for non-tech heads to use
Full creative control
Quick uploads and updates
Options for multiple membership levels
Video cataloging
NO hidden fees
With a bit of searching, he found that MemberPress checked every one of these boxes. Managing membership sales and accounts is a vital part of the business, and Tom knew there was no sense in only going halfway.
But he didn't come to that decision without a lengthy trial period: "I tested all of the membership plugins available, and I found MemberPress to be the best one, in terms of quality and value."
Tom's favorite MemberPress features
Tom says the countless built-in features and robust integrations MemberPress comes with out of the box are things you'll end up paying someone to develop in the end anyway. So why not go with MemberPress and have it all in one place?
His favorite features include the drip functionality, which helps him protect beginner guitarists from information overload. The lessons, he says, are distributed out more manageably that way.
Another of his favorites is the cart abandonment feature, which he says is "worth its weight in gold". This feature helps bring back users who've abandoned signup in the shopping cart.
It prevents a huge chunk of lost sales.
The benefits of running a membership site
In addition to all his favorite features, Tom loves the freedom of having a membership site:
"When I worked at the bank I was working from 8:30 in the morning 'til 10 at night, but with a website you can choose your hours."
Suddenly, he was free to spend more time with his family and more time developing his own passions. "That's priceless, basically."
It is priceless, for sure. And according to Tom, it's a pretty sweet deal to have "a full time, normal income by helping people and to be able to make money out of what I love doing."
We should all be so lucky as Tom, right? With MemberPress, that "luck" can become an earned reality.
How to Start Your Own Online Business Like Tom
Feeling inspired by Tom's story? We're not surprised!
The coolest thing is that, like Tom, you can monetize your passion or hobby, and start generating recurring revenue doing what you love.
Maybe you're a professional in your field of expertise. Or maybe you just like to bake or wrangle horses.
Whatever it is you're into, there's a good chance you can monetize it.
Here's how…
1) Find your niche
Are you the one the folks always run to for computer problems? Or do you always seem to be sharing your knowledge on good nutrition?
If you know a lot about something, that "something" is your niche. Figuring out your niche is very important because, as a membership site owner, you're creating content to sell.
And people won't buy what you're selling unless you know what you're talking about.
Popular niches include areas like…
Fitness
Finance
Cooking
Gaming
Art
Music
Design
Health
If you'd like a few more ideas, see what some of our other users are selling successfully right now:
2) Create digital products to sell
People in the modern world are more than willing to pay good money for premium content.
And, though you might want to include physical products in the mix eventually, digital products make a great starting point. Not only are they easy to create, their overhead is much lower.
You can create digital products like…
Ebooks
Videos
Video courses
Online courses
Articles
Templates
Music and podcasts
Software
Printable guides
and much more
3) Set up a WordPress membership site
To get your site rolling, you'll first need:
With those two things in the bag, you'll be ready to sign up for and install WordPress.
Do a quick search, and you'll find a ton of great online guides to help you start a WordPress website. But we highly recommend this one by WPBeginner:
4) Install MemberPress
Next you'll want to choose a MemberPress plan and download the plugin from your Account page MemberPress.com.
Then just install it on your WordPress Dashboard.
5) Monetize your WordPress site with MemberPress
With MemberPress you can get your online business up, running, and selling stuff in a flash.
To monetize your site:
MemberPress' third-party integrations will help you…
And that's just the tip of the iceberg!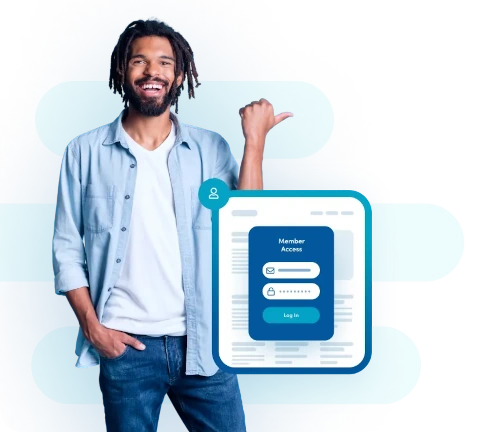 Get MemberPress Today!
Make a living doing what you know and love.
Get MemberPress Now
See All Features
Conclusion
If you're a novice guitarist or just someone trying to get back into their groove, head on over to theguitarlesson.com. You'll find a huge catalogue of awesome tutorials to get you started.
And be sure to watch our video interview with Tom up above!
What's the passion you could be making a living doing? Think about it… and let us know in the comments.
If you liked this article, be sure to subscribe to the MemberPress blog!