Starting a membership site can be a fantastic way to generate reliable income, and today it's easier than ever to launch one with WordPress. However, there's a lot of thought and planning that goes into setting up your program. Once you've developed a product or service to sell, you still need to decide on a membership model.
Your site's membership model is a key factor in its success. Fortunately, there are many systems and structures to choose from, and one is bound to suit what you have in mind while helping you maximize your income.
In this article, we'll cover why choosing the right membership model is an important decision. Then we'll walk through four points to consider so you can select the best one for your business. Let's get started!
Why Choosing the Right Membership Model Is Important
Your membership model is the framework you base your subscriptions on. It will affect and be affected by the types of products or services you sell, how often your members receive content or products, and what options your members have in terms of payment plans.
The model you select can help you attain your business goals. It can also affect your users' experience with your site, which can influence your retention rate.
While this is an important decision, if you're torn between a couple of models that could work, there's no need to panic. You can always hybridize your membership structure later as you diversify or add more services.
What you'll want to avoid is having to change your model altogether. This would not only be inconvenient for your subscribers but would also be a lot of work for you.
How to Know Which Membership Model Is Best for Your Business (4 Key Considerations)
Now that you understand the importance of the right membership model, we'll guide you through a few considerations for choosing one. We'll also mention some examples throughout the upcoming sections to provide some inspiration.
1. Think About What Type of Content You Produce
The type of content you offer naturally impacts the way you sell it. Products – physical or digital – and services will benefit from different models. Here are some examples:
If you sell a fitness program, it may be best to grant access to the entire program for a monthly fee. This type of content likely has components that work together, such as a meal and exercise plan. Therefore, users will need access to the entire program. You can provide new recipes and workouts each month to keep them coming back.
When you sell a physical product, you can also use a monthly fee model, but you may want to consider a discount if customers pay for a year's supply upfront. It's advantageous for you to have long term customers, as it's cheaper than attracting new ones. Also, having an idea of how many customers you have can make managing inventory easier.
You could use a tiered membership model for coaching services. Lower tiers may include a monthly group chat, whereas higher levels might offer one-on-one consultations. This is also beneficial for you, as you're spending more time with higher-paying clients, enabling you to offer them other products they may be interested in.
As your business grows, you may begin to diversify your offerings. There's no reason a life coach can't sell a podcast subscription. However, be careful not to lose sight of what's at the core of your membership service and base your initial model on that.
2. Assess Your Goals
Before selecting a membership model, determine what you're hoping to achieve with your site. Trying to generate a respectable side income will require different considerations than attempting to build a six-figure business.
When it comes to earnings, keeping scalability in mind is essential, especially if you provide a service yourself. You'll want to ensure you're paid for the time you spend with your clients.
In this case, you could use a metered billing model where clients pay based on the amount of time you spend with them. You can raise your rates as your reputation improves, which enables you to earn more money without taking on an unmanageable number of customers.
If your goal is less about a high dollar amount and more about taking back some of your time, you could create a private members' area and have weekly live chats. You might charge a monthly fee for access. The more people who participate, the more money you make, and it won't require any additional time investment on your part.
3. Analyze How Much Time You Have
Speaking of time, how much you can realistically devote to your membership site should be part of your decision. Some models require more attention and nurturing than others. If you can't provide this, your subscribers may feel shortchanged.
A drip content model is an excellent choice if you're pressed for time. In this system, content is scheduled for release over a period of time, rather than all at once.
If you've created an online course, you might consider releasing it one lesson at a time. Subscribers pay for the class and receive access to more material as time passes. You've already put in the time creating the course, so you don't have to do anything further to generate income.
However, if you have a lot of time to devote to your membership site, you may want to combine several models. This way, members can choose those that suit their personal preferences, opening your products or services up to a wider audience.
Continuing with our online class example, you might hybridize the drip content model. You could add tiered pricing, where higher paying customers can access one-on-one tutoring with instructors, extra course materials, or feedback on assignments.
4. Determine What Your Customers Want
The audience you plan to attract can also affect your membership model decision. By considering what your potential customers value, you can maximize your profits.
A simple way to do this is by providing flexibility. You might offer your customers several ways to access your content. If you offer multiple products or classes, you can give them the option of buying a single class or an all-access pass at a discount, as MasterClass does: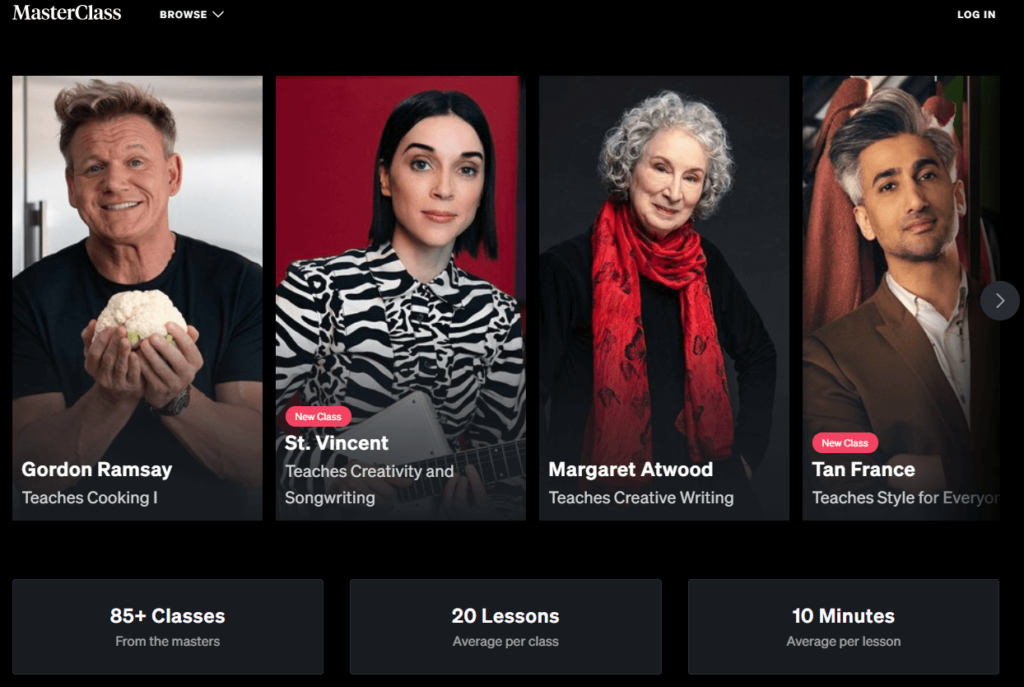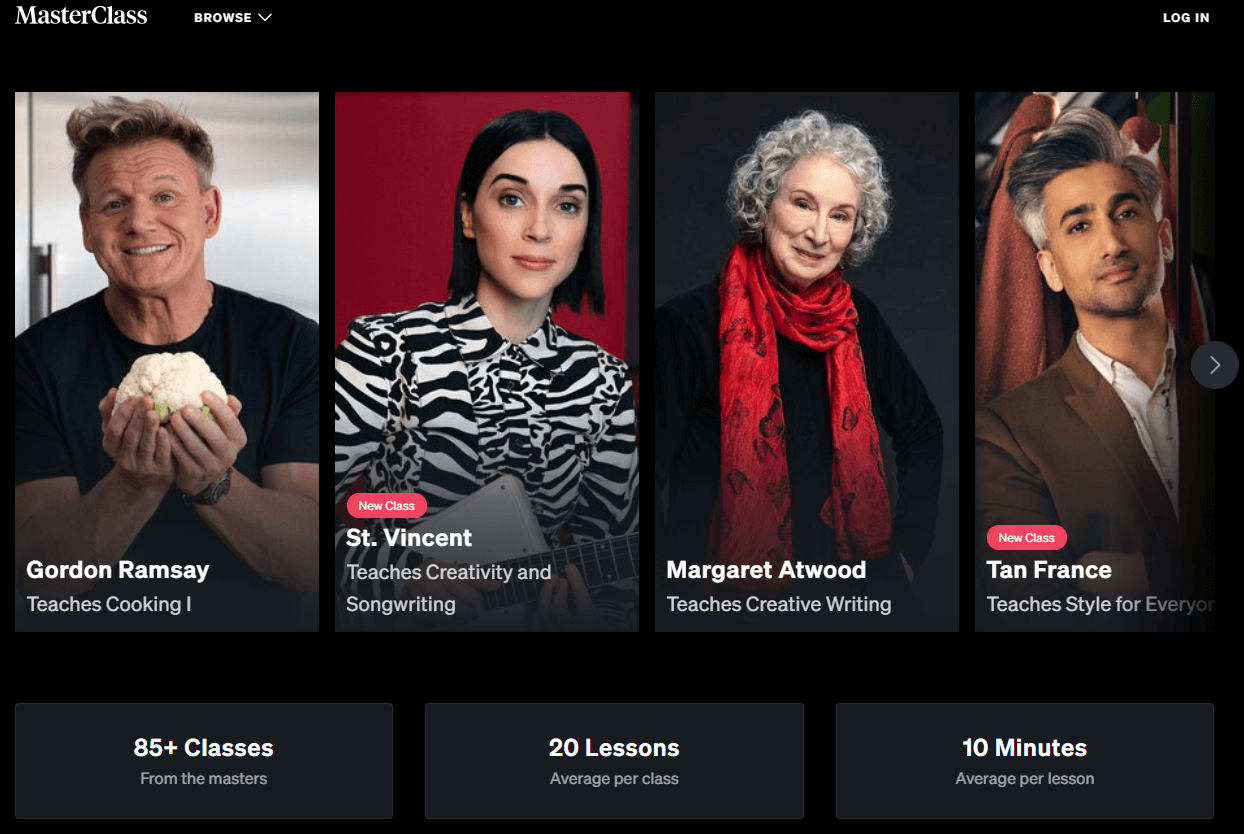 You might think about how your audience can get more value out of your site. Perhaps you plan to sell books, and subscribers will receive a new title each month. You might also offer access to a members-only virtual book club where your customers can discuss what they're reading.
Sending surveys to your members and providing them with ample opportunities to share their feedback are easy ways to keep them happy and make sure your offers are relevant and attractive.
Conclusion
Building a thriving membership program takes a lot of work. However, it can also help you create a new, reliable revenue stream for your business.
Let's recap what you may want to think about when choosing a membership model:
What type of content you produce and which model makes the most sense for granting access to content, products, or services.
What your goals are and how your pricing structure can help you achieve them.
How much time you have to support and satisfy your customers.
What your customers want and how you can provide it.
What's most important to you when choosing a membership model? Let's talk about it in the comments section below!
If you liked this article, be sure to follow us on Facebook, Twitter, Instagram, and LinkedIn! And don't forget to subscribe in the box below.