Google Analytics is a wonderful tool that is sadly under-used by most website owners. Typically people go in, glance around the numbers, see that things are running just fine, and move along with their lives. But if this is the only way you're using Analytics you're missing out on some opportunities for your blog or website. Here are a few action-oriented steps you can take based on your Analytics.
1) Find & Optimize Popular Content
The low-hanging fruit of making your website more effective is finding the content that is already attracting the most eyeballs and making the most out of it by adding a strong call to action.
To find the most popular content in Analytics go to Behavior > Site Content > All Pages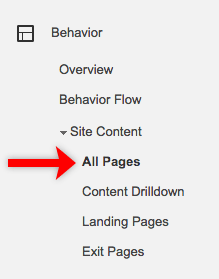 This report shows you the content on your site organized by popularity (aka the content with the most views). By default, the date range will be set to the past 30 days, but you can edit that to see what's been consistently popular over time. On a blog you'll find that individual posts often out-rank your homepage in terms of views so you need to be sure to optimize these posts. I would suggest starting with the top 5 or 10 most viewed posts on your site and make sure that each has a strong call to action (CTA) included.
A call to action is simply a clear invitation to the user to take a next step. Typically this could be an email sign-up box, a button that links to an intro page for your membership site, an ad for one of your products, etc. You could manually place this in the bottom of your post or you could use a plugin to assist. For example, I like to use Magic Action Box to place an email sign up at the bottom of posts, but I'll tailor the wording and message of each box for each post.
A value-packed CTA would be to come up with some additional content to offer specifically on that post in exchange for opting in to your list. If your post is a resource post, perhaps offer a free PDF download of the resources in exchange for your reader's email address.
Extra Credit – If the content is evergreen, use Buffer, Hootsuite, or or a similar scheduling tool to re-circulate that content to your social media profiles every once in a while.
2) Strategically Curate Effective Posts
A lot of WordPress users will add the Recent Posts widget, or even a "Popular Posts" widget into their sidebar to give their visitors an additional way to find content. This is a good start but you can be even more strategic here.
If you haven't already done so, setting up Goals in Google Analytics to track the key conversions on your site is a crucial step. If you have a membership site, an obvious conversion would be member sign ups. But secondary conversions might be for example, email signups. Check out this guide on how to set up your Goals and Funnel.  (Don't worry, it's not tricky!)
Once you have them in place you can determine which of your posts have the highest conversion rates:
Go to Conversions > Goals > Goal URLs
If you have multiple goals set up you can filter in the drop down menu at the top under "Goal Option" so that you can see, for example, which pages/posts generate the most email subscriptions.
Once you know the top 5 or 10, create a list of them in your sidebar (using a custom menu in WordPress is an easy way to do this). You can label them "Popular", "Featured", "Best Of" or whatever you feel will best highlight them. By guiding visitors to your most effective content, you should be able to increase the conversions on your site.
3) Optimize your Membership Sales Funnel
Another really powerful tool you can use once you have Goals in place is the Funnel Visualization feature which will give you an even better handle on how people are interacting with the conversion process on your site.
The sales or conversion funnel is simply the flow of pages a user goes through on your site to get to the conversion goal. For example, if you're running a membership site with MemberPress, there's a "Thank You" page at which every newly registered member ends up. So that page would be your goal. If you're using Groups within MemberPress, you have an automatically generated page with a pricing table. That page would be a step in the funnel. The checkout pages would also be in the funnel. Once the goals and funnels are in place you can use the Funnel Visualization report to analyze the process.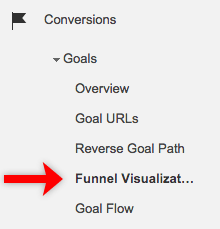 You'll find this report under:
Conversions > Goals > Funnel Visualization
What you're looking for are opportunities for improvement. For example, are there certain pages in the process where users exit more than others? If so, take another look at those pages and make sure they are functional, clear, and easy to use. Most websites are in a constant state of refinement so it's all about analyzing, adjusting, tracking, and then rinsing and repeating as necessary!
Extra credit: Use the Annotations feature in Analytics to make a note of when you made changes to your website so that you'll be able to quickly see if they had an impact on metrics. As demonstrated in the screenshot below, click the grey arrow below the graph to open the Annotations panel and make a note. After you add it, you'll see a little icon on the timeline at the bottom of the graph (also indicated).
The Goal Flow tab (Conversions > Goals > Goal Flow) provides an easy way to see what type of traffic converts the most so that you can fine tune your marketing efforts.
Finally, Go To Multi Channel Funnels (Conversions > Multi Channel Funnels > Overview) to get more information about other marketing channels (such as organic search or social media) that contributed to conversions.  In particular the Time Lag report is interesting because it lets you know if people are converting right away or if it takes several days between visits to result in a conversion. This might give you ideas about how to use your email list auto responder to maximize messages to prospects within a certain timeframe, or perhaps just tweaking the information to sales pages to try and convert sooner.
This is still just the tip of the iceberg as far as what can be done with Analytics, but I hope these tips will encourage you to take real action on your website and move the needle on important metrics for your business.