Do you run a membership or club? Are you struggling to manage the rush of payments that comes every month? 
The good news is there's a way to easily collect membership payments online with MemberPress and WordPress. By setting up a payment system on your membership site, you'll be able to receive money stress-free. 
In this post, we'll show you how to create a WordPress website for your membership business. Then, we'll walk you through how to put a system in place to collect membership dues. Are you ready? Let's dive right in!
Tools You'll Need
To get started, all you'll need are two simple tools:
We know it sounds almost too good to be true, but this dynamic duo can help you create a system that lets you collect payments without leaving your head spinning. Once you're fully equipped, you'll be ready to dive in!
Why Collect Membership Dues Online?
When it comes to membership businesses, there are no limits to what you can create. This is especially true in the age of the internet.
Starting an online enterprise is possible for anyone, but you'll need the right tools. If you're not able to collect payments, you don't have much of a business!
So, why collect membership dues online? There are many ways this method can benefit your ecommerce site. These include:
It can save you tons of time
It's more convenient than collecting dues in person
There are less logistics to deal with
These improvements can translate to an efficient and streamlined business. Plus, you can collect dues online for any kind of membership, no matter your industry.
For instance, if you run a fitness subscription website, you'll be able connect your pricing page to the different types of subscriptions you offer, similar to the Booya Fitness website:
Then, after members sign up, you'll be able to control different aspects of how you get paid. For example, MemberPress has an auto rebill feature that lets you automatically charge customers instead of asking them to pay up each month.
Of course, this isn't just for fitness businesses. Any membership company can benefit from collecting membership dues online using MemberPress.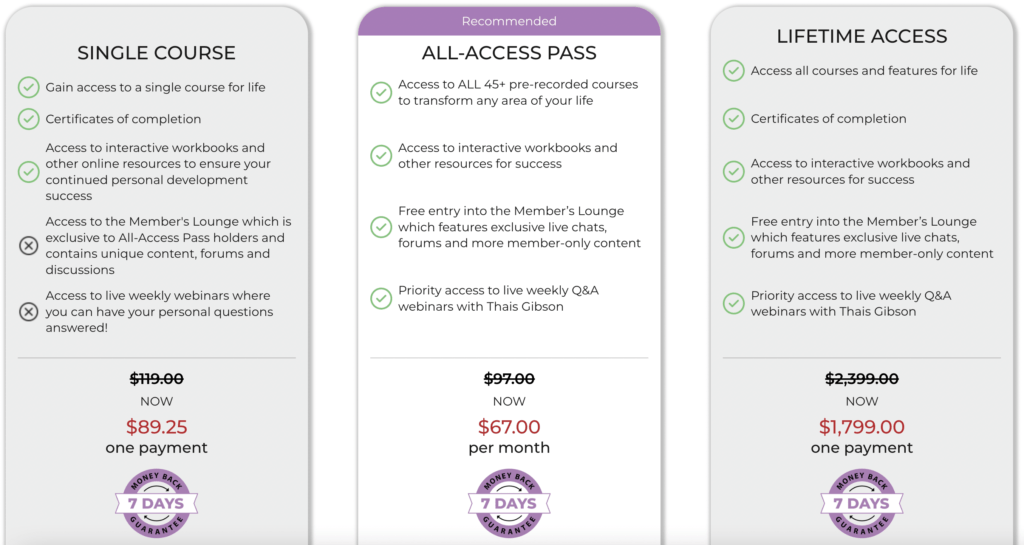 This includes everything from e-learning websites to recurring delivery businesses!
How to Collect Membership Dues Online (In 3 Steps)
Now that you know how collecting membership dues online can benefit your business, it's time to see how you can implement this strategy on your site.
As mentioned before, we'll be explaining how to do so using WordPress and MemberPress. So let's get to work!
Step 1: Build a Membership Site with WordPress
First, you'll need a website that draws your customers in. There's no better platform than WordPress to host your page.
Why?
It's the most widely-used content management system (CMS) on the internet, powering 40% of all websites. It's also easy to set up – even for beginners.
To get started, you'll want to purchase a hosting plan and choose a domain name. Bluehost is a great option for ecommerce sites:
Bluehost even offers a free domain. Once your new WordPress installation is set up, you'll be ready to build a membership site:
MemberPress makes this process easy. To get more details on how to create a membership site using our tool, check out our full tutorial above.
Keep in mind that you'll need to choose a plan and install the plugin before you can really dive in.
Step 2: Set Up a Payment Gateway
A payment gateway enables you to easily accept different types of credit and debit cards and even digital wallet payments when collecting membership dues.
The more options you provide your visitors, the more likely they'll be to make a purchase. Luckily, MemberPress can support multiple gateways at the same time.
We'll show you how to set up one with Stripe, because it boasts a long list of supported cards and currencies. It even accepts Apple Pay and Google Wallet.
In your WordPress dashboard, navigate to MemberPress > Settings:
Then, go to the Payments tab:
This is where you'll find ways of setting up a payment gateway for your membership site. Simply click on the Add Payment Method at the bottom left (just above the Update Options button).
This will open up a new box to edit details of your payment gateway: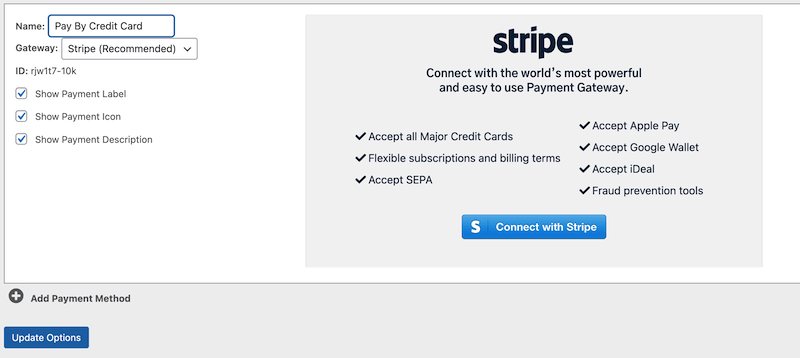 Next to the Name section, you can add a name to your payment option.
The automatic recommended choice is Stripe. You can connect your site with this payment gateway method by clicking Connect with Stripe. This will take you through the steps of signing into or creating your account.
For further guidance, here's a video on how to add Stripe to your account:
With MemberPress, can also set up other popular payment methods, like PayPal and Authorize.net. Keep in mind that MemberPress can help you process your offline payments (like cash and check) too!
Step 3: Create Your Subscription System
Now that you have a means to collect payments online, you can set up a recurring system that helps you get paid on a regular basis. A subscription system is one of the best ways to manage your membership site.
It can help you optimize and organize your business. To start, navigate to MemberPress > Subscriptions:
This will automatically open to the Recurring payment types tab. From here, click Add New. This is where you'll be able to create a new subscription:
You can then edit different aspects of your subscription page. For example, you can select the cost and tax rate of your subscription. These details will be dependent on your product and region.
Note that this page also requires you to choose a membership type, which you'll have to create in the Memberships tab.
Then, in the Gateway dropdown, you'll need to select the payment method for the subscription. You can choose the option you added in the previous step:
Once you're done, hit Create at the bottom left of the page.
If you go back to Membership > Subscription, you'll now see that your new subscription has been created:

To enable automatic billing for your members, navigate to the dropdown menu under Auto Rebill and click Enabled > Save:
This will enable subscriptions to be re-billed automatically. That's it!
You also have the option to create a pricing table and offer lifetime subscriptions to your customers. The sky's the limit!
Conclusion
Collecting membership dues can be stressful if you don't have a streamlined system in place. Using WordPress + MemberPress to accept payments can help you manage the process.
You get peace of mind knowing you'll be paid in a timely manner. And that allows you to focus on other areas of your membership business. 
To recap, here's how you can collect membership dues online:
Build a membership website using WordPress and MemberPress.
Set up a payment gateway such as Stripe.
Create a subscription system where your customers can sign up.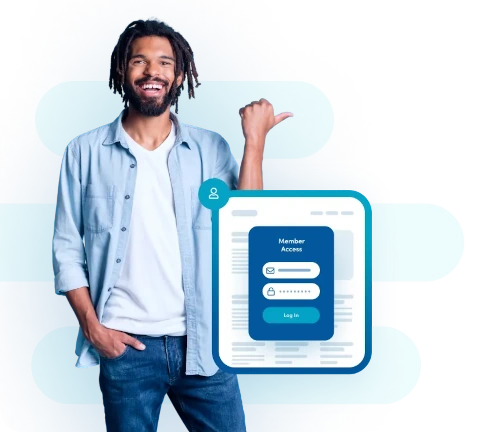 Get MemberPress Today
Start collecting membership dues without breaking a sweat!
Get MemberPress Now
See All Features
If you liked this post, make sure you subscribe to the MemberPress blog!