How to Create a High-Converting Landing Page (Step by Step)
Website owners and developers often have the goal in mind of achieving success through their product or brand. There are many different paths to get to that final goal, though none of them are particularly easy. However, the sense of accomplishment and pride you'll feel from creating something that simply works is unmatched.

Landing pages are a necessary, and interesting aspect of creating a successful brand. You may be asking, "What is a landing page, why do I need one, and how do I create one?" Don't worry. We are going to break it down and explain what a landing page can do for your business and the core components needed to build an excellent landing page.

What is a Landing Page?
A landing page is essentially a page that is separated from the rest of your website — for a good reason. This is the page you want to use to accomplish your goal of increasing subscribers on your member site, getting more sales, increasing conversion, and boosting overall customer satisfaction.
Tens of thousands of websites use landing pages to steer their targeted audience directly down the sales funnel. Here is a great example of a landing page/content page made with the WordPress plugin, SeedProd.
You may notice that this landing page from Gator Treks is also a coming soon page. The dual functionality here is fantastic. The website landing page gives curious readers a tiny taste of what's to come, then encourages them to sign up with a brilliantly placed Call to Action (CTA) that will convert more visitors. More on that later.

Let's look at what you need to do to create your landing page.

Step 1: Gather Data on Your Audience
Before you can create your landing page on WordPress, you need to figure out a couple of very important details.
First, you need to figure out the personas of the audience you hope to target. You can do this in a number of ways. One of the most common ways to gather data on your audience is by viewing your Google Analytics data for your blog and other website pages. Google Analytics, especially when used in tandem with MonsterInsights, a WordPress plugin that brings your Analytics to your dashboard, can help you view the data in an easy to understand format. This is what your analytics could look like:
You'll also want to start doing your keyword research at this point. You can use a tool like Answer the Public to get topic ideas as well as a website like BuzzSumo to see what topics are trending in your niche. All of this is after you have used Google's Keyword Planner to find keywords that are low competition but have a large search volume.

You can also take to social media to see what other people in your niche are currently discussing. This small bit of foresight allows you to get a pulse on who your audience is and what they may want from your landing page.

Step 2: Establish an Objective
Now that you've figured out your audience and finished your keyword research, it's time to think about the goal of your landing page. Do you want to just recruit people to your email marketing list? Are you looking to get more sales? Do you have content ready to go to subscribers who are interested? These are all questions you need to consider before you proceed with creating your landing page.

Let's look at another landing page and try to establish the end goal of the page creator.
As we can see above, Shutterstock, has an amazing landing page. Their landing page is also their homepage, which is fine because the two are not always mutually exclusive. Every business is different and the products and services that they offer can be put right on the homepage.

In this instance, Shutterstock's landing page is intriguing because the call to action is right in the middle of the page. You have the option to search through millions of royalty free images, clips, and video snips in seconds. Their goal with this page is clear. They hope to encourage the potential customer to make that initial search and hopefully buy some great images.

It's also worth noting that they opted to use a brilliant high-quality photo right on their landing page to show customers that they understand the market and know how to get the best images and clips through their platform.

Step 3: Design Your Copy & Images
Now you're at the point where you have an end goal in mind, you know your audience, and you are ready to create a sales page. Hold on just a second. You're going to need a little bit of copy and a killer headline to go with your landing page if you want to build a magnet that keeps people coming (and converting) for as long as the page is up and functional.

Here are a couple of tips to help you create a great copy for your landing page.

Make your copy short and sweet. Use a short, concise header that explains exactly who you are and then use a subheader below and type up a short blurb as to why your product/brand/service is valuable to the customer.
Avoid too many CTAs. Try to have one clear CTA (Sign up, buy now, search here, etc.)
Use Your Keywords — this will improve overall ranking and help customers find your page
Avoid complicated jargon and useless information. You can include a couple of testimonials or a clean chart showing some of the functions/benefits of your product or service, but keep it light and educational
Add a Contact Us form so customers can reach out to you if they have any questions or concerns
Here is a great example from Reputation.com, they have of all of these tips wrapped up into one excellent landing page.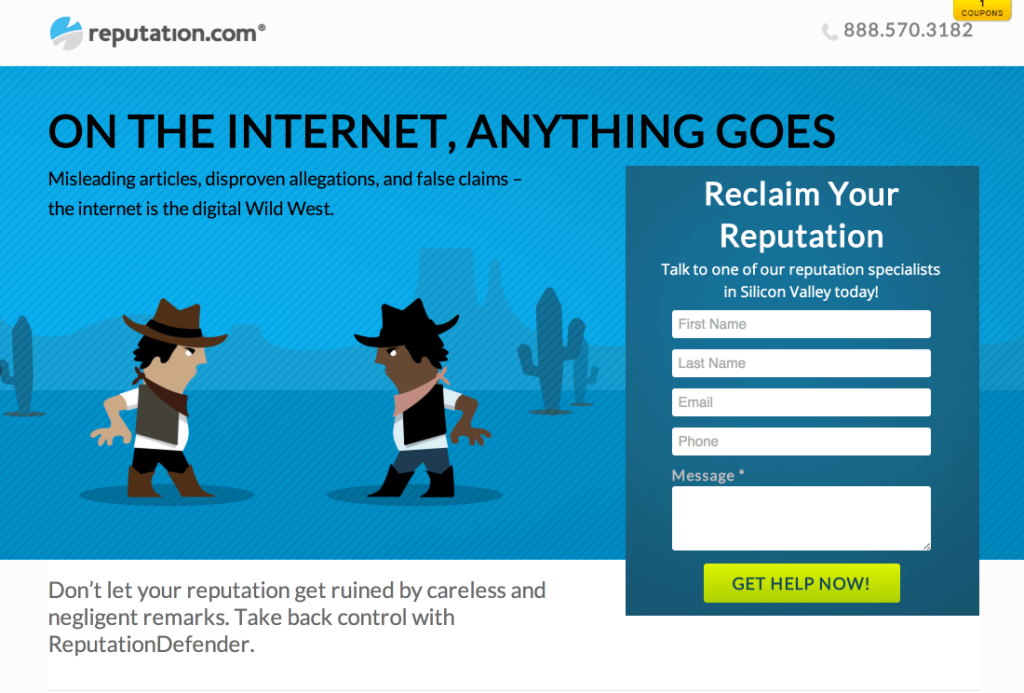 Notice the smooth, light colors. There is an absolutely amazing and emotional header and subheader, and a clear CTA (Reclaim Your Reputation!) with the text box that pops and says "Get Help Now!"

Their goal is obvious. At the bottom of the page, they make it clear with a short copy letting customers know that they fight to help people rebuild their reputation when careless and negligent remarks happen online.

Conclusion
There is no "silver bullet" that every single company can follow to create the perfect landing page. The truth is, your conversions are going to vary based on what you're offering, who you're targeting, and what kind of campaigns you're running to bring in more traffic.
As you begin to create multiple landing pages, experiment with A/B testing and find out what kind of results produce reactions in your audience. Every target audience has different interests and problems that need to be solved. It's your job to think outside the box and come up with a way to solve their issues — or at least try to help — with a killer landing page.