Doing a MemberPress import from a non-WordPress membership platform or other membership or LMS plugin is easy with the MemberPress Importer.
Would you like to have all the benefits of the world's #1 membership site plugin – plus a robust LMS platform – all rolled into one? Then you might want to migrate to MemberPress.
Fortunately, moving your data from another site to MemberPress is super easy thanks to the MemberPress Importer Add-on (available to all MemberPress license holders).
Leave No Data Behind
With the Importer, migrating from another membership site or LMS plugin – or even a from a different membership platform altogether – is a seamless, clean, and quick process.
MemberPress Importer Overview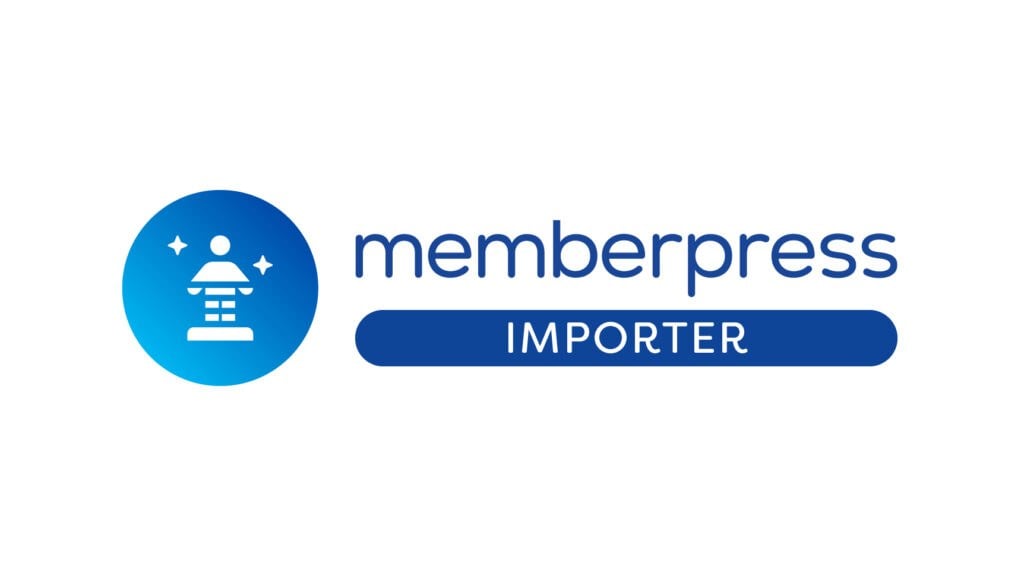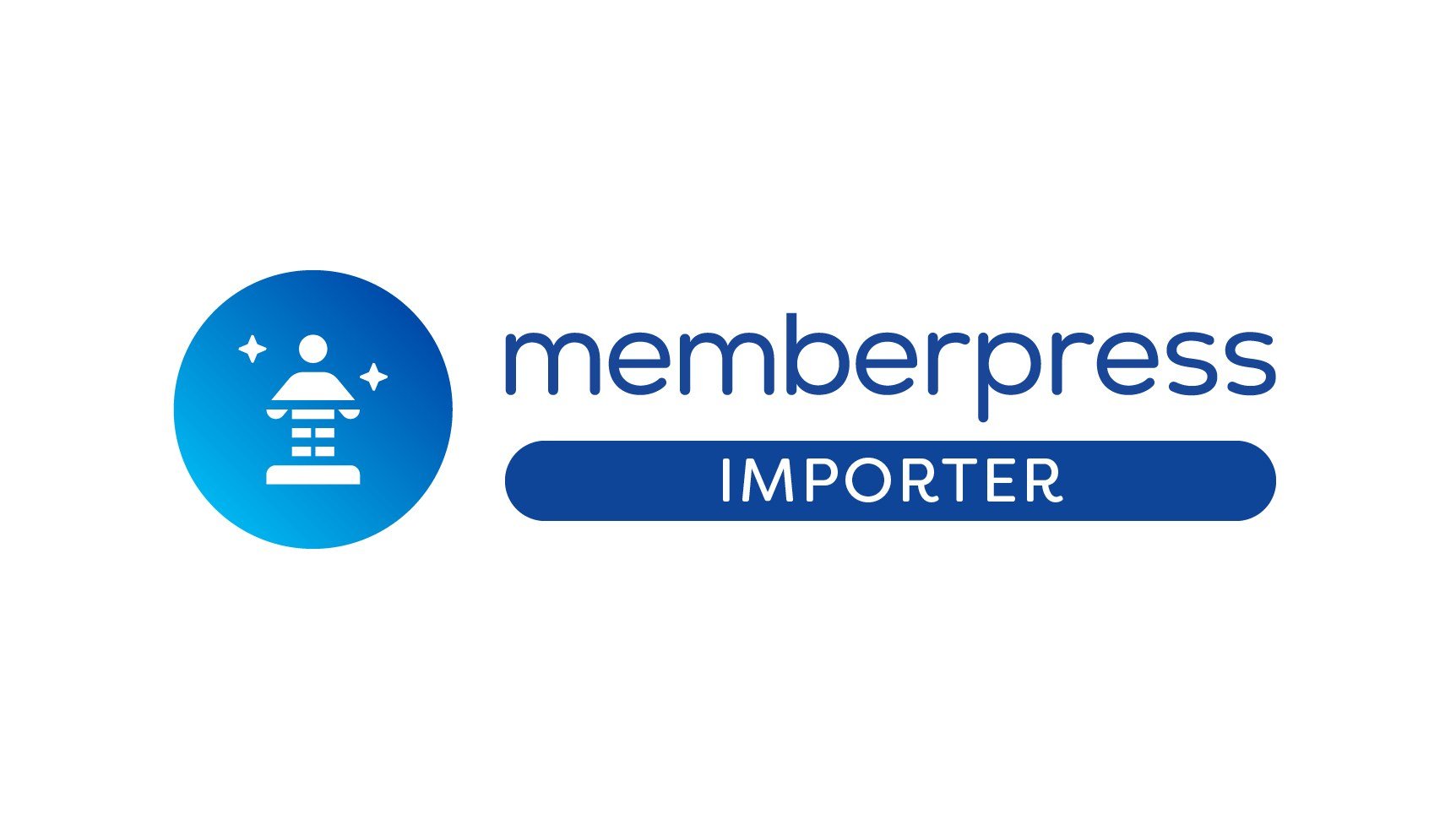 As we said, all MemberPress license holders have access to the Importer Add-on.
Once your WordPress site has MemberPress plus the Importer Add-on, you can do a MemberPress import and move your membership and LMS data from another site in a flash.
CSV File Format
The add-on works with the comma separated values (CSV) file format.
The vast majority of platforms will allow you to export your data in this file type. So there's a great chance you'll be able to migrate your membership data into your MemberPress-powered site – regardless of the platform you're leaving.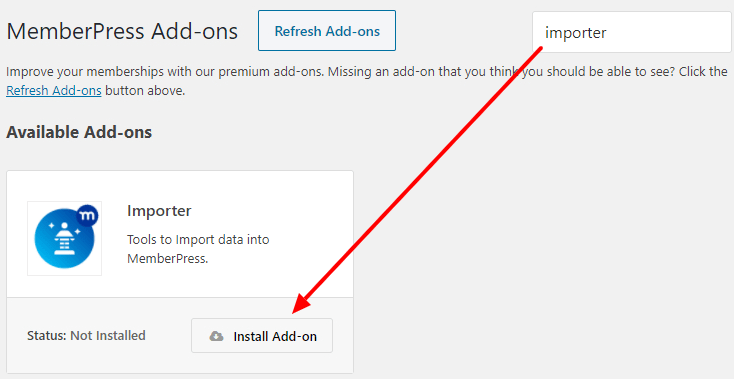 Basically, if you can capture the data from another system and compile it in one of our supported import formats, you can import that membership data into MemberPress.
You can do a MemberPress import…
From a WordPress plugin to MemberPress
From a non-WordPress membership platform to MemberPress
From a hosted to a self-hosted WordPress site to MemberPress
From another WordPress LMS plugin to MemberPress
Moving Data From Another WordPress Plugin or a Non-WordPress Membership Platform
If you've been using a different WordPress membership plugin or platform, and you're ready to up your game, it might be time to move to MemberPress. It's the #1 subscription, LMS, paywall, and membership site plugin in all the world for a reason!
With MemberPress, you can create a beautiful online business with absolutely no coding required.
Some of its other game-changing features include:
When you're ready to switch from your old membership plugin or platform, the Importer makes it easy to migrate the following data types:
Users and user data
Automatically recurring subscriptions
One-time payment subscriptions or single transactions
MemberPress data (if you're moving data from another MemberPress-powered website)
Some of the more popular membership plugins and platforms for migration include:
Hosted WordPress to self-hosted WordPress
Restrict Content Pro
WooCommerce Memberships
Paid Memberships Pro
aMember
And the list goes on!
Moving Data From Another WordPress LMS Plugin
You can import courses and lessons from another LMS plugin to MemberPress with the MemberPress Importer plus the free WP All Export plugin.
The MemberPress Courses LMS is built right in to MemberPress. So when you migrate from another LMS plugin, you get all the awesome MemberPress features combined with a robust WordPress LMS.
Popular LMS platforms for migration include:
LearnDash
Teachable
Kajabi
Lifter LMS
WP Courseware
Any other WordPress LMS plugin!
You're ready to switch, right? Just in case, we'll do a quick walkthrough of the basic import process…
Set Up MemberPress
Before you start moving the data into your site, you'll want to make sure your destination site is ready.
After installing and activating the MemberPress plugin on your WordPress website, you should configure your payment gateways and create your memberships.
However, to avoid any conflicts with the existing data being imported, you'll want to hold off on creating MemberPress Rules just yet.
Enable the MemberPress Importer Add-On
Next up, you'll want to enable the MemberPress Importer add-on.
This is very straightforward, because any MemberPress-branded add-ons can be activated from inside your WordPress Dashboard.
Just click on the Activate item on the MemberPress menu in your WordPress Dashboard, then click on the Add-Ons tab.


After clicking the Install button followed by the Activate button for the Importer, you'll be ready to get started.
Create Import Files for a Non-MemberPress-to-MemberPress Import
If you're moving from a different membership platform into MemberPress, you'll want to start by checking out your current system's documentation.
Following are links to the documentation for the most common membership platforms people switch from:
If you have trouble finding the relevant instructions for your membership plugin or platform, try contacting the publishers to ask for assistance in exporting your data in CSV format.
Create Import Files for a MemberPress-to-MemberPress Import
You might be moving your data from one membership site that's using the MemberPress plugin to another site also using MemberPress. In that case, you'll need to generate four CSV files to extract all the movable data from your MemberPress-powered site.
To start the export, go to the Members section of MemberPress inside your WordPress Dashboard. Then click on the Export all as CSV link text. This will generate a CSV file you can download to your computer.


Now navigate to the Subscriptions, Transactions, and Reports pages in MemberPress to generate and download the other CSV files you'll need.
If you like, you can open these files in a spreadsheet application like Excel or Google Sheets to see the data you've exported.
Now you can begin the process of importing this data into your new MemberPress website.
Armed with Your Files, Do the Basic MemberPress Import
With your CSV files on hand, you can now import your users or members into your WordPress website.
Importing the users file will either create new users on your website, or if those users already exist, their records will be updated with the information in your CSV file.
The users CSV file can contain many fields in addition to the required username and email fields. It might also contain the name and address of the user, their registration date, and their WordPress user role on your site.
That just means you'll be able to populate the user profiles with additional information as needed.
It's also possible to import custom user information fields, giving you even more options. You can view the full details on how to import the users and user data on this page of the MemberPress user manual.
Import Automatically Recurring Subscriptions
After you've imported the users and user data, it's time to import your automatically recurring subscriptions.
Once complete, the import process will add the data for your membership site's recurring subscriptions from supported payment gateways, such as Stripe and PayPal, to your site.
Keep in mind that this process can't be used to create new subscriptions or initiate charges. You're just adding the data for existing subscriptions to your site.
The imported subscriptions will be associated with the memberships you created earlier. They'll also be associated with the users imported in the previous step. If the memberships and users don't exist in your new site, then the import won't work, so you'll have to create them first.
Importing the recurring subscriptions requires you to import two CSV files, one for the subscriptions, and one for the transactions. If there aren't too many, you might also want to manually create the transactions rather than importing them via CSV file.
The import CSV files have to include a selection of mandatory columns. So we highly recommend that you check out the tutorial videos and instructions in the relevant sections of the MemberPress user manual.
Once the import has run, you should have your users, their user data, and recurring subscriptions from your old site in your new MemberPress-powered site.
Be sure to thoroughly check and test the data in your new site before signing off on the migration.
Final Thoughts
As you can see, moving to MemberPress is fast and simple – as long as you follow the steps. And fortunately, even if you do run into a snag here or there, you only have to migrate once.
If you're like the vast majority of our awesome users, once you're here, you're here for the long haul.
Are you ready to do a MemberPress import? Let us know if you have questions in the comments section below.
If you liked this article, be sure to subscribe to our newsletter in the box up to your right!