Find out what a keyword list is and how creating and using a good one can mean more traffic to your site.
Launching your website is a landmark moment for your business. A dedicated site offers the potential for improved marketing and sales. However, you might struggle to achieve the search engine rankings and level of traffic you want.
To improve your results, you'll want to make smart use of keywords. When done correctly, keyword optimization can make a huge difference to your online visibility and sales.
Keyword research is vital to a sound Search Engine Optimization (SEO) strategy that'll get you lots of relevant views and clicks.
In this article, we'll explore how the right keywords and phrases can boost your SEO rankings and increase your website's traffic. We'll also give you a few tips for making a great list of your own. Let's get to work!
Why Keyword Research Is Important
Most of the time, "keywords" aren't singular words at all. They're phrases a person uses to describe what they're looking for online. When Google and other search engines recommend pages, they make their recommendations based partly on the presence of these important terms.
If you want the right people to find your website, you'll need to make sure it includes keywords that are relevant to these people's needs and interests
For example, if you run an online fitness club, you might want to attract the attention of users searching for phrases like "how to lose weight":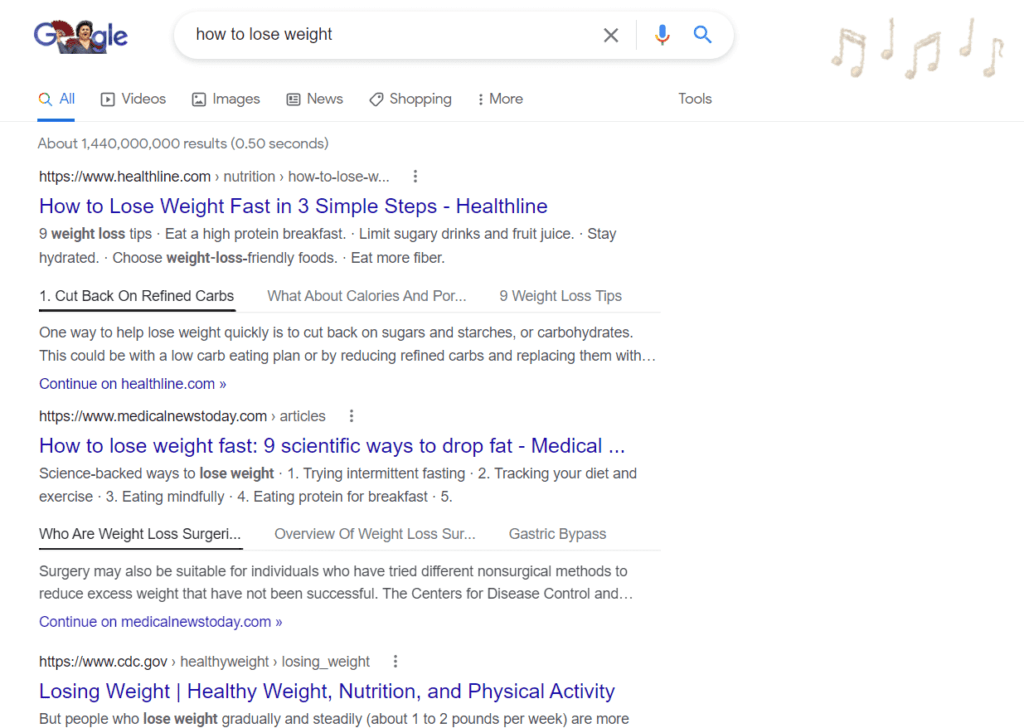 It's vital to focus on search terms your target audience is actually using. Therefore, learning to do keyword research properly is an important part of an effective SEO strategy.
By correctly identifying the phrases people type in to find websites like yours, you can increase your traffic.
How to Make a Keyword List for Your Online Business (In 4 Steps)
Before you add keywords to your website, you need to build a list of terms to use. There are four simple steps to this process.
Step 1: Understand the Different Types of Keywords
First, it's important to understand that not all keywords are the same. There are a variety of types, each with its own focus and use cases.

Following are the most common types of keywords along with examples you might use if you were running an online fitness membership site.
Short-tail keywords
Short-tail keywords typically consist of three words or less. They're broad and highly competitive (that means many websites are targeting them).
Examples of short-tail keywords:
Trail running
Fitness classes
Online coaching
Long-tail keywords
Long-tail keywords are more specific phrases of greater than three words. Fewer people are searching for them, but they're much less competitive and can be a lot more relevant to your business. Long-tail keywords are what you're after in your keyword list.
Examples of long-tail keywords:
Best fitness coaching sites for women
Advanced fitness classes for seniors
Online coaching for weight loss
Fresh and evergreen keywords
"Fresh" terms are those trending in real time thanks to recent events. "Evergreen" keywords are always relevant – they don't change with time.
Examples of fresh keywords:
Flash sales for online fitness classes today
Weather right now
Examples of evergreen keywords:
Calories burned per hour walking
Success quotes for fitness
Product-defining keywords
Product-defining keywords are words and phrases that describe specific products or services. They often have lower search volume, but return a high conversion rate.
Examples of product-defining keywords:
cross-training shoe laces
Standing computer desk
Customer-defining keywords
Customer-defining keywords seek to attract a particular audience. They describe individuals.
Examples of customer-defining keywords:
Overweight students
Fitness enthusiasts
Geo keywords
"Geo" keywords target a particular location.
Geo keyword examples:
Fitness coaching in Chicago
LA health coaching
Fitness classes near me
A note about intent
When a person types in a keyword, there's alway something they're "going after". That is, there's intent behind those keywords. The thing they're after can be informational, navigational, or transactional. You can and should select keywords for your site that match those various intents.
Examples of keywords and their intents:
Informational: "calories burned per hour walking" (this user is looking for a simple answer to a question about calorie burn)
Navigational: "fitness classes near me" (this person wants to know if there are fitness classes offered nearby)
Transactional: "online coaching coupon code" (it's obvious this user is looking to make a purchase because they're mentioned a discount code)
So there you have it. Those are the major types of keywords. Keep in mind that you don't have to use them all in your site's SEO. It's actually best to start by focusing on a few that are highly relevant to your goals, niche, and audience.
Step 2: Consider Your Target Audience and Niche
The better you know your audience, the more accurately you can predict what they might be searching for, as well as the intents behind their searches. Therefore, market research is essential in developing a good keyword list.
The first step is to identify your target audience. You can do this by conducting research into your business' niche. You can also research your competitors and your existing customers (if you have them).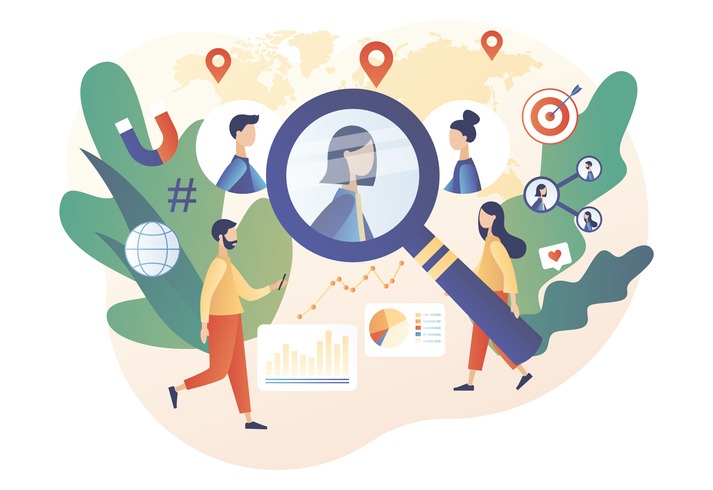 Once you do have a good sized customer list, you'll want to run a research and development (R&D) survey. You can hire a specialized organization to run your survey, but that can be pricey. A good quality form builder plugin is a much better (and more affordable) option for small businesses and startups.
We recommend WPForms or Formidable Forms. Both include excellent, easy-to-use survey builders with robust reporting and analysis tools.
Armed with plenty of target audience data, you can create a buyer persona. This is a detailed description of your ideal customer, including things like location, income level, preferences, occupation, hobbies, and more.
With this information about your unique potential customers, you'll be able to build a keyword list with the power to attract the people most likely to buy what you're offering.
Step 3: Use the Right Keyword Research Tools
Once you know who you're talking to, it's time to find the right words to say to them. And that's a thousand times easier if you have the right tools at your disposal.
There are tons of SEO tools out there, and they all have different features. However, if you're looking for the best out-of-the-box tools that'll suit the most situations, you can't go wrong with these three (in no specific order):
Google Keyword Planner is a great first option, with plenty of basic features that offer top-level accuracy and data directly from Google: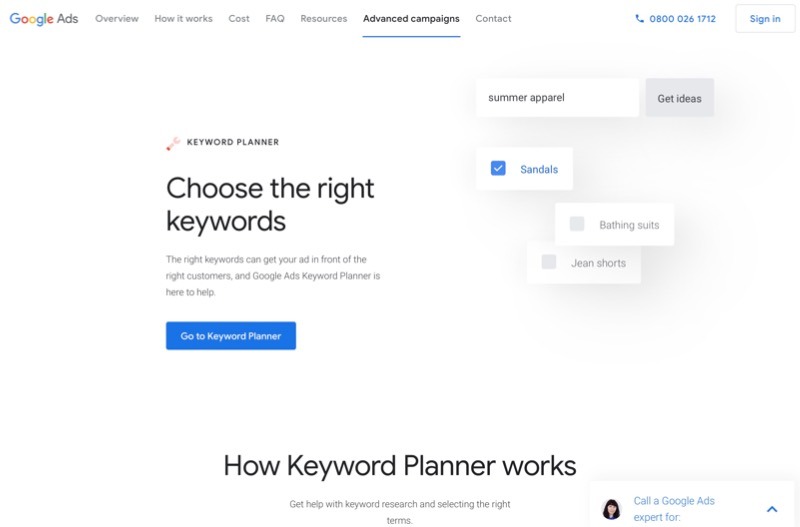 People often overlook YouTube, yet users search on YouTube more than any other website next to Google itself.
Google Trends allows you to see what keywords are gaining traction on this video platform. It also gives you other long-term trend statistics that are perfect for analyzing your evergreen keywords:
Finally, Keywords Everywhere features keyword data from eBay and Amazon. It also has an awesome Chrome and Firefox integration: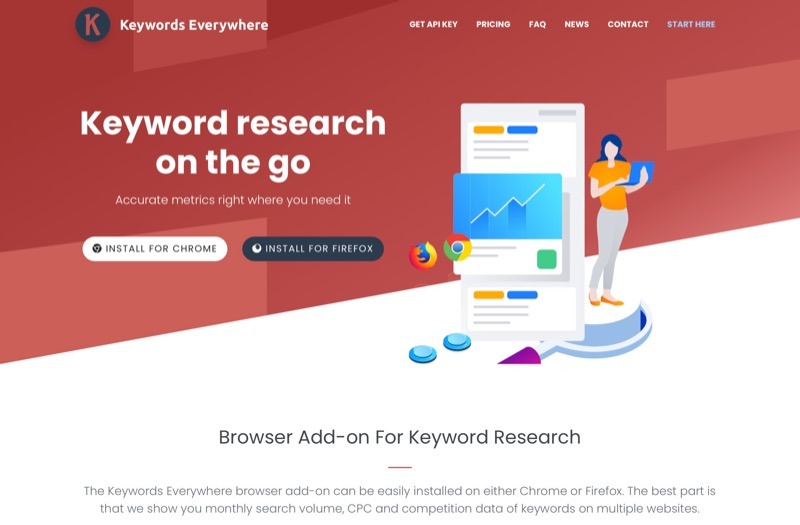 If your website is built on WordPress, you have an additional range of options. There are plenty of excellent SEO plugins that can help you find and use keywords effectively.
Step 4: Brainstorm Keyword Ideas and Refine Your List
Once you've got your audience and your tools, it's time to conduct some research and compile your list. Each tool you use will have a different process. Let's take a look at Keywords Everywhere as an example.
After installing and activating the extension for Chrome or Firefox, navigate to a competitor's website and load up a popular page or product.
Next, use the "Analyze Page" tool, and the extension will return a list of keywords you can export: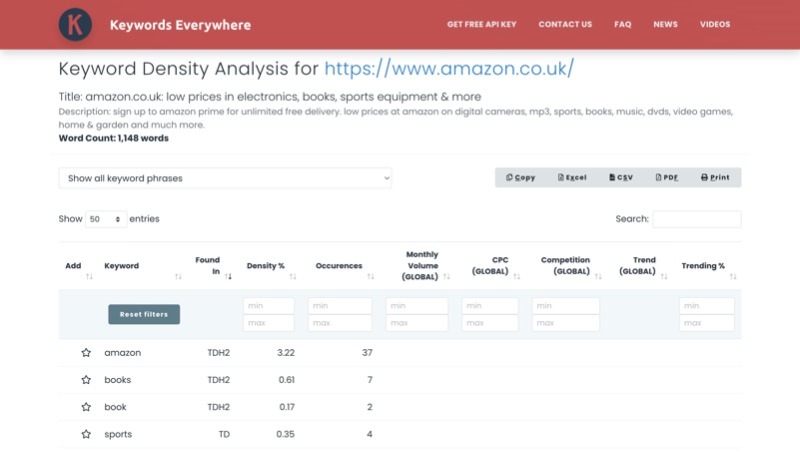 You can then filter the keywords to find the best results. For example, if you're looking for long-tail keywords, you'll want to select those with four or more words.
Expand the drop-down Show all keyword phrases menu, and select the appropriate option. The display will now refresh to show only those keywords that match your criteria.
There are plenty of other options for filtering, and you can use as many as you need: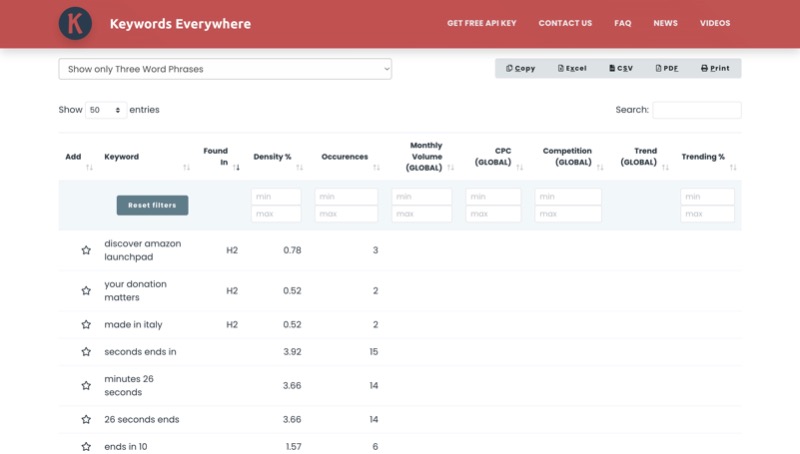 Repeat this process to explore as many competitor sites as you like. Just make sure they're popular and highly trafficked. That way you can know the resulting keywords will be relevant to your audience.
For best results, you'll also want to follow up with a tool like Keyword Planner to find terms your competitors may have overlooked.
Incorporating Your Keywords into Your Website
Once you've put together your perfect keyword list, the next step is incorporating your words into your web content. Here are two rules of thumb for doing that effectively.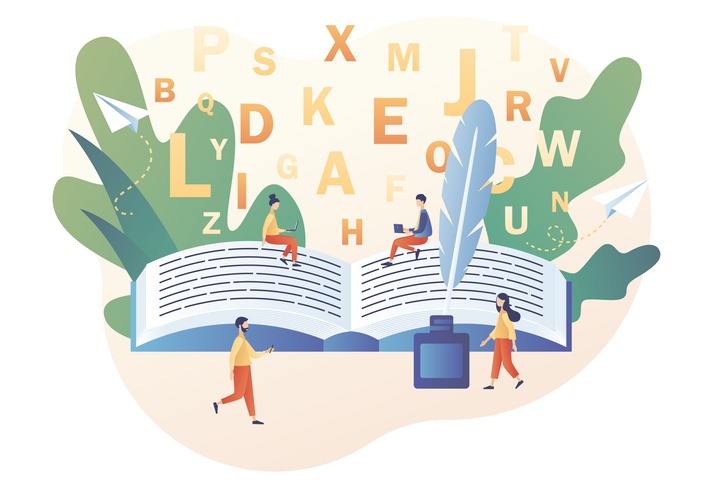 1. One page for each focus keyword
Don't target the same keyword on multiple pages (or you might end up competing with yourself!). That's not to say you shouldn't use the same keyword on more than one page (it'd be impossible not to!). You just don't want to make one keyword the primary focus of more than one page.
2. Don't use "keyword stuffing"
Avoid "keyword stuffing". That's when you use a keyword so many times on a single page that it sounds ridiculous. Here's an example of stuffing: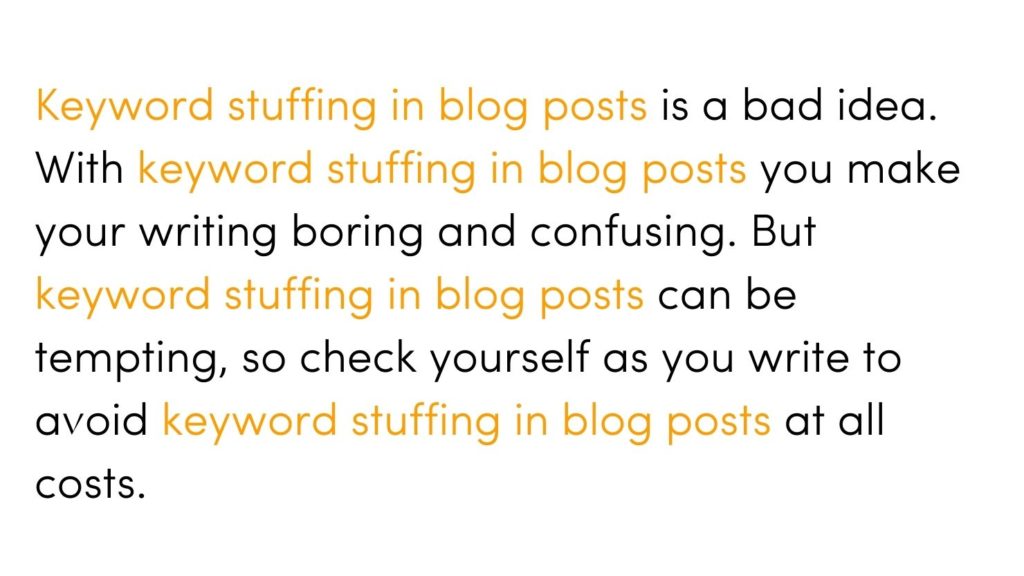 Only incorporate your focus keyword where it fits naturally.
Shoot for between three and six keywords per page, and think carefully about what you place where. Product pages have different requirements than non-sales areas of your website.
There are plenty of guides online that can help you make the best possible use of your keywords. And there are also a lot of awesome tools.
One we highly recommend is All In One SEO (AIOSEO), a tool that helps you maximize your SEO in multiple ways. One of the handiest features is its writing analysis tool. It takes the mystery out of things, helping you find that sweet spot for keyword placement in everything from your body text and headers to your metadata.
Conclusion
If your business website isn't generating the kind of traffic and revenue you want, keywords are a solution to improving your rankings and increasing sales.
Implementing these powerful words on your website is easy. Just make sure you know where to use them and precisely what your audience is looking for.
To find and compile the perfect keywords, you'll want to:
Understand the different kinds of keywords.
Find out what your target customers are searching for.
Choose your keyword research tools.
Brainstorm keyword ideas and refine your list.
With a little time, effort, and care, you should start to see your writing efforts paying off in increased organic traffic. If you have any thoughts, tips, or questions about using keywords and how to make a keyword list, let us know in the comments section below.
If you liked this article, be sure to subscribe to our newsletter in the box up to your right!