Learn how this entrepreneur created a successful hybrid model to meet the modern need for virtual coworking.
Several million of us have gotten a little taste of the work-from-home lifestyle in the past couple of years.
Whether your employer made the switch to remote work, or you were inspired to start your own home-based business, making a living without ever having to leave your house has never been easier.
But, as we've all probably experienced at some point in our work-from-home roles, easier doesn't always mean more efficient. While working from home definitely comes with its perks, it can also have a negative effect on productivity.
Creative minds like Jill Knobeloch set out to do something about this and make the work-from-home experience more rewarding. That's why we reached out and virtually sat down with Jill to learn how MemberPress helped achieve her coworking business dream.


⬇️ Watch the GrapeSeed Collective MemberPress Customer Story ⬇️

Meet MemberPress User: Jill Knobeloch
Jill is a talented web designer and marketing strategist currently developing her online business platform, GrapeSeed Collective.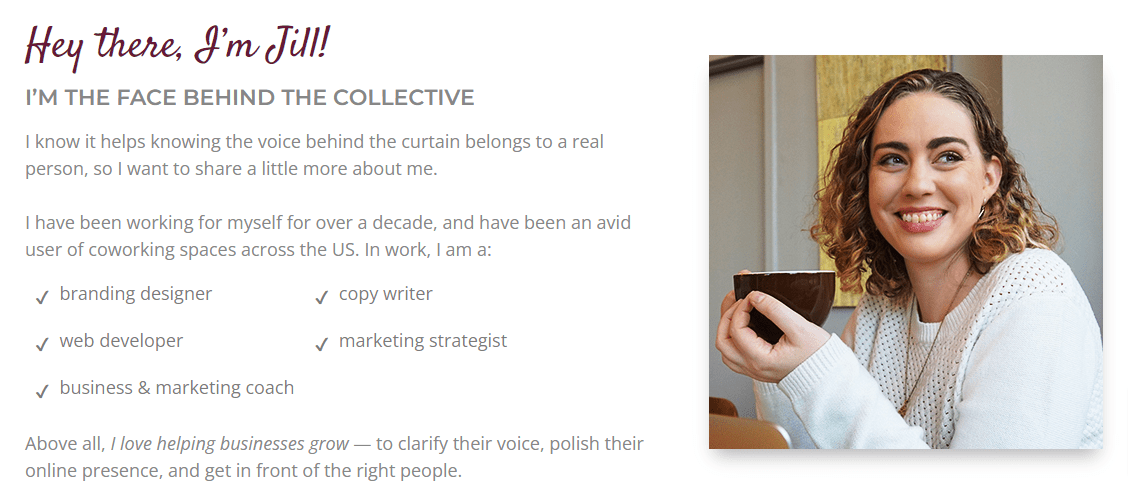 What is GrapeSeed Collective?
GrapeSeed Collective is a community dedicated to providing support and resources for solopreneurs and small business owners.
The Collective springs from Jill's existing businesses, Aville Cowork and GrapeSeed Designs:
Jill has run the two businesses side by side, but it's become clear that they serve the same audience, just at different stages of their journey.
Knowing this, Jill started The Collective to bring both brands together and offer a full spectrum of support – helping business owners grow from seedlings to a thriving success.
Jill's Solution for Stay-at-Home Work Challenges: Coworking
As a home-based entrepreneur for more than a decade, Jill is all too familiar with the everyday work-from-home struggles:
"A lot of folks really have been struggling to stay focused at home… So, one of my big focuses has been providing tools and resources to help people stay productive – myself included."
That's when she had the idea to start a coworking space in the North outskirts of Chicago.
What is Coworking?
A coworking space is a neutral environment where entrepreneurs and remote workers alike can come and work independently in a workplace-like setting.
By actually leaving your home office from time to time to work in a coworking space, your workflow can benefit from:
More motivation
Increased productivity
New-found inspiration and clarity
Better-balanced work and personal life
Establishing new friendships, business referrals, and collaboration opportunities
Jill also adds that, "a lot of folks have found value in the external accountability" a coworking space generates. By dedicating a date and time to surround yourself with fellow entrepreneurs in a work-positive environment, your accountability can skyrocket.
How MemberPress Helped Bring Jill's Coworking Business to Life
Initially, Jill envisioned GrapeSeed Collective as a physical location:
"I figured we'd start with a physical location and get our membership going there. And then grow into a virtual capacity."
But like many small business owners, she had to adjust her business plan and find a way to start a successful business during an ongoing pandemic:
"Through COVID, it just flipped the order we wound up building it…[because] being able to get out of the house and work somewhere else just hasn't been an option."
So Jill turned to the MemberPress plugin to begin building her virtual coworking business.
GrapeSeed Collective: A MemberPress-Powered Business
Jill has a lot in store for GrapeSeed Collective. Therefore, she needed a tool that could tackle it all. To start, she needed a WordPress plugin that could handle:
Automated billing
Multiple membership levels
Easy content uploading
Customizable permissions and restrictions settings
Next, Jill factored in future plans for her business to include:
Online courses
Larger membership tiers
Community communication channels
Resource library downloads
Jill also wanted to lean on her advanced web development and design skills to build a business exactly how she wanted it:
"I tend to want to build things from the ground up. And MemberPress gave me a lot of flexibility to design and build exactly how I want it to be."
To top it all off, MemberPress was also able to check off Jill's final business tool requirements in affordability, ease of use, and the ability to grow into something more:
"MemberPress was a very affordable option… and a really easy plugin to get started and just kind of roll with."
"I think that scaling into multiple tiers with MemberPress… is going to be super straightforward and simple. That was definitely a consideration when I bought into MemberPress was how to scale."
Jill's final say on why she chose MemberPress to power her online business:
"MemberPress made a lot of sense!"
Thank you, Jill, for sharing your MemberPress story with us!
For more information about coworking, visit GrapeSeedCollective.com and learn more about Jill's online membership community.
And be sure to watch Jill's feature video above!