Are you looking for a way to make money through your membership site? The pandemic has created a boom in online learning. That means building and selling your own course could be profitable.
However, if you've never designed a curriculum before, you might be wondering where to start.
Fortunately, MemberPress and the Courses add-on makes it easy for anyone to create and sell online courses.
And exploring popular education topics can help you identify which areas are most attractive to potential students. It can also highlight strategies to improve your own online curriculum.
In this post, we'll discuss online learning and outline the characteristics of a successful curriculum. We'll then highlight five of the most popular online courses right now to inspire you. Let's get started!
Why Creating Online Courses Can Be Profitable
Creating an online course could be a lucrative option for your membership site amid the pandemic and into the future.
In fact, Coursera's 2021 impact report showed massive growth in the demand for online learning. The number of registered learners reached 92 million in 2021. This is more than double the 44 million enrolled in 2019.
Using WordPress and MemberPress is an easy way to create your online courses and sell them to subscribers. This setup lets you limit user access to specific content in return for a subscription fee: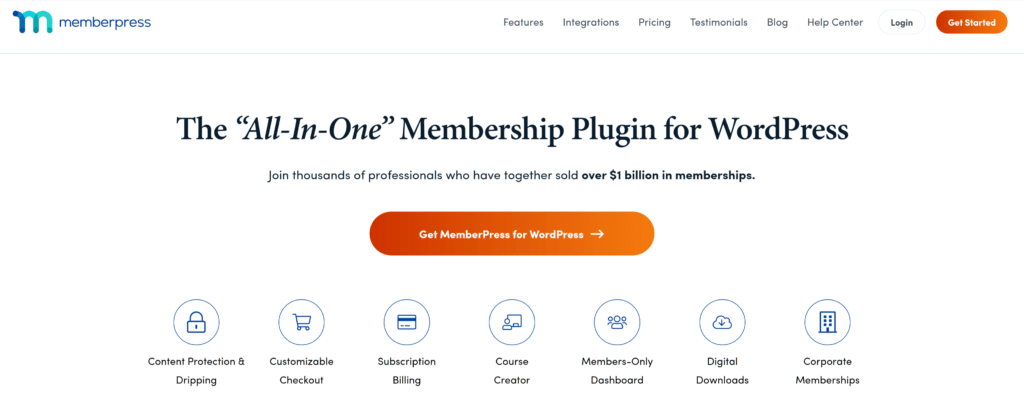 With MemberPress, you won't have to give away any of your online course profits to a third-party platform. You can also benefit from multiple income streams by creating more courses as your membership base grows.
Before you begin, you should consider what you'll include in your online course. It could be worth focusing on topics you have a personal interest in or professional experience with.
Finally, using a well-designed learning management system (LMS) to track student data is essential. MemberPress Courses provides features to build your curriculum and track learners' progress visually.
The 5 Most Popular Online Courses Right Now
Hopefully you have a better idea of why creating educational content can be profitable. Now check out these five examples of today's most popular online courses to inspire your curriculum!
Tech is one of the most popular subjects online today. It can cover various topics, including programming, Artificial Intelligence (AI), and cybersecurity.
Technology's popularity doesn't show signs of stopping either. Pew Research Center evidence suggests that our relationship with technology is only expected to grow stronger into the future.
Among the most popular online courses in this area is the Python for Everybody Specialization program offered by the University of Michigan. It currently has a 4.8-star rating and more than one million students enrolled: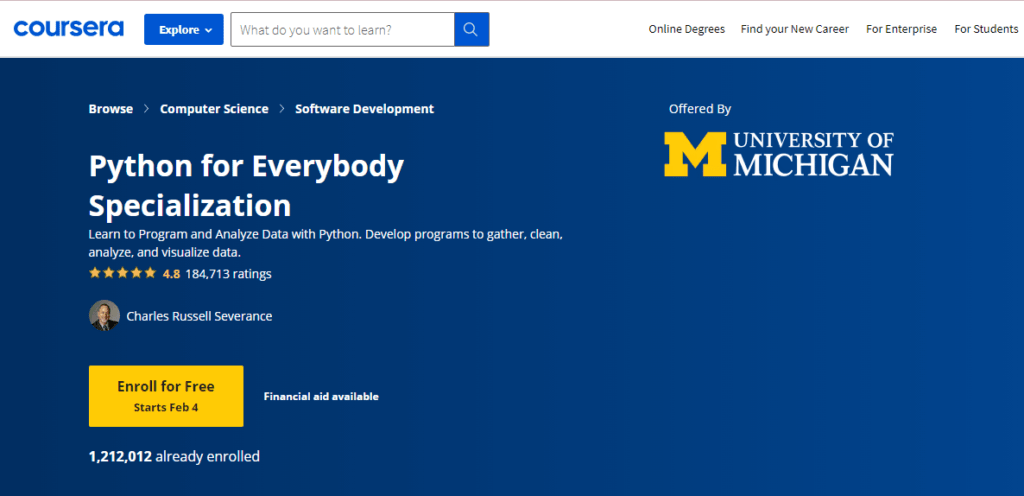 The syllabus outlines the basics of the Python programming language and how to use it. It features five courses, each with a hands-on project.
If you go the tech route, you may also consider including practical projects for your course. They can provide engaging ways for students to boost their skills and boost their resumes with proven knowledge.
Marketing is a multi-faceted industry that covers promoting and selling products and services. It has various areas to explore, such as branding, social media management, and advertising.
According to Marketing Week, demand for digital marketing roles is increasing at the highest rate. Therefore, if you have experience in this field, there's a large pool of eager students.
One popular online course of note is Introduction to Social Media Marketing from Meta, formerly Facebook. Also featured on Coursera, this curriculum has over 170,000 people enrolled with a 4.9 rating:
As part of a wider Facebook Marketing Certificate, it provides an overview of the history and role of social media in marketing. Many of its reviews praise the instructor for clear and engaging content. This is something you should aim for with your online course.
For example, you might consider using real-world case studies in your class material. You could also ask students to complete interactive projects, such as designing social media marketing plans for existing businesses.
Personal development is a broad area that covers skills for self-improvement. Subjects can range from self-discipline and time management to learning languages and handling personal finance.
FutureLearn found that personal development is growing in popularity with leaps and bounds. The research showed that 40% of Americans are interested in studying the topic within the next five years.
A popular online course in this subject area is Productivity Machine: Time Management & Productivity Hacks. It has over 40,000 learners enrolled and a rating of 4.5:
The curriculum covers different methods of productivity and organization. It has 2.5 hours of video content with access available through mobile and TV.
That said, we recommend you make sure your course is accessible to your learners on different devices. If your content is available to more students, they're more likely to log on and complete their classes.
Mindfulness and wellbeing courses are popular choices for people looking to cope with the challenges of modern life. The Global Wellness Institute predicts that the wellness economy will be worth nearly $7.0 trillion in 2025. That's massive!
The Science of Well-Being by Yale University illustrates the popularity of the subject area. It has a 4.9 user rating, and over 3.5 million students enrolled: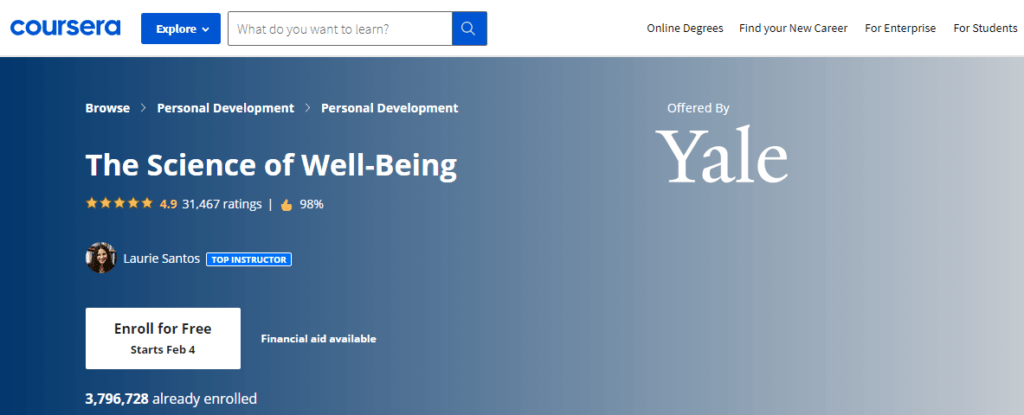 The syllabus outlines research-based strategies to increase your happiness. And students receive a shareable certificate upon completion.
You might also consider providing an achievement certificate to your online learners. This document increase the value of your course and help your students feel accomplished.
Project management courses can be helpful for students who want to progress in their existing careers or move to a new one. Additionally, LinkedIn's 2021 Workplace Learning Report showed that upskilling and reskilling were the main focuses of learning and development programs globally.
Project Management: Beyond the Basics by The Open University is among the most popular online courses for professional skills. Nearly 40,000 people have enrolled, and it holds a 4.7-star rating: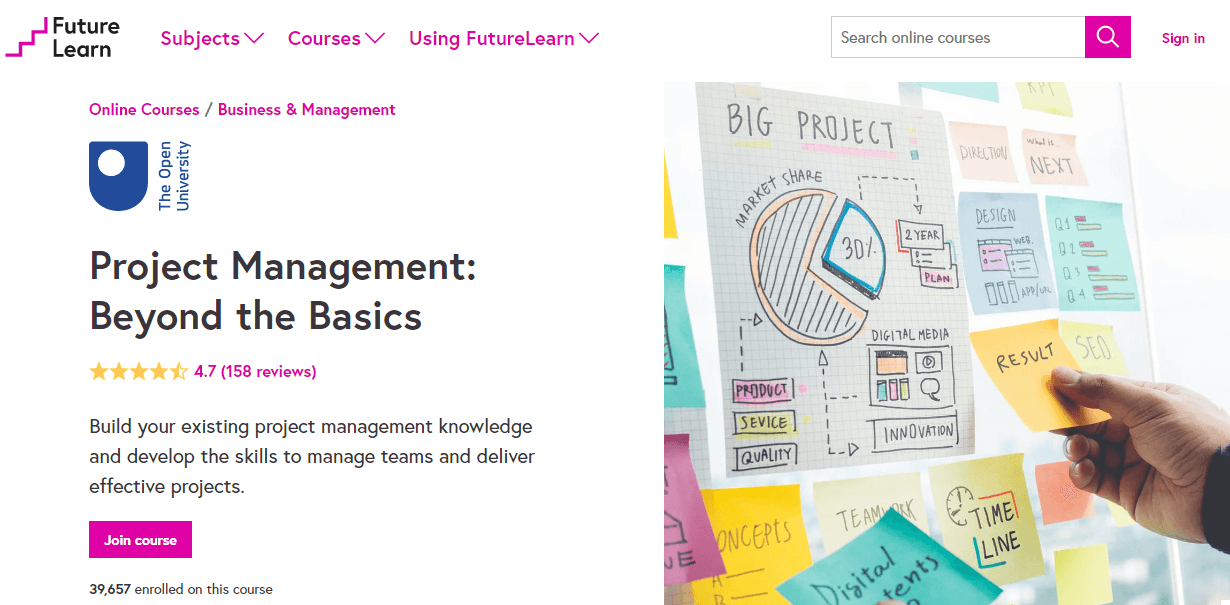 This short online course teaches skills to lead people and projects effectively in the workplace.
Furthermore, the FutureLearn platform can provide inspiration for a good LMS. It guides the learning process using notifications and a progress page.
The platform also promotes interaction, with the ability to like and reply to comments from other users. Fortunately, these features are easy to set up with MemberPress Courses.
Conclusion
When creating an online course, you'll need to choose a subject that you and your audience will find interesting.
You can then start making your plan for a successful online course and design one with our MemberPress plugin and Courses add-on.
To recap, here are five popular course topics to inspire you in different fields:
Do you have any questions about designing online courses? Let us know in the comments section below!
If you liked this article, be sure to subscribe to our newsletter in the box up to your right!