Founder of popular personal finance blog CollectingCents shares a few side-cash secrets
Despite the economic uncertainty of the past 12 months, good news is on the horizon. Many sectors of the economy are reopening, and an invigorated creator economy is ushering in a wealth of new opportunities for entrepreneurs.
It's a great time to put that business idea into action.
Whether it's a side or a full-time business, there are plenty of businesses and jobs that don't require a ton of startup capital to get going. In this article, I'll give you 9 examples of how to start a business on a budget.
Let's begin!
#1 English Tutor
Even if you feel talentless or unskilled, you still have one ability that 1.5 billion people are trying to learn: speaking English. There are a plethora of online platforms that let everyday English-speaking people offer tutoring services to those trying to learn.
Some sites – such as Verbling – require you to have certification, training, or a degree. But others– like italki or Preply – only require that you're fluent.
Better yet, if you want to be your own boss or already have clients interested in signing up with you, you could create a website of your own with a membership portal clients can use to access your services.
You could even sell English courses, worksheets, grammar practice, videos explaining key concepts, and so on.
When applying to become a tutor, you'll need to have a professional-looking headshot, a short bio, and a short video. In the video, you'll simply introduce yourself and explain what students can expect when booking a lesson with you.
Most intermediate and advanced students simply want a native speaker to chat with them so they can practice their conversation skills, which is why there's no need for you to know a foreign language.
#2 Content Creator
The term "content creator" gets thrown around a lot, and it's likely not the title you'd give yourself. But the reason it's made it on the list is that there's a variety of content types for you to create, many of which are lucrative right now.
A few examples of "content creators" are:
Bloggers
YouTubers
Social media influencers
Podcasters
Graphic designers
Copywriters
Editors
Journalists
Knowing how to create content isn't a prerequisite to entering the field, as it's easy to learn online. Plus the more you create, the more you'll improve. All you need is a passion for the niche you choose and knowledge of how to research.
Once you create the right content, you could create a course that covers a few chapters and make it accessible to paying clients by starting a membership site of your own. Here are some examples:
If you're a gym instructor, you could create an at-home video tutorial for workouts. Clients who want to pay could go through your membership portal and access your content.
If you are a lawyer, you could create templates for legal agreements that people could pay for. Mariam Tsaturyan does this by creating a VIP membership vault that allows only paying customers to access the courses/ templates they buy.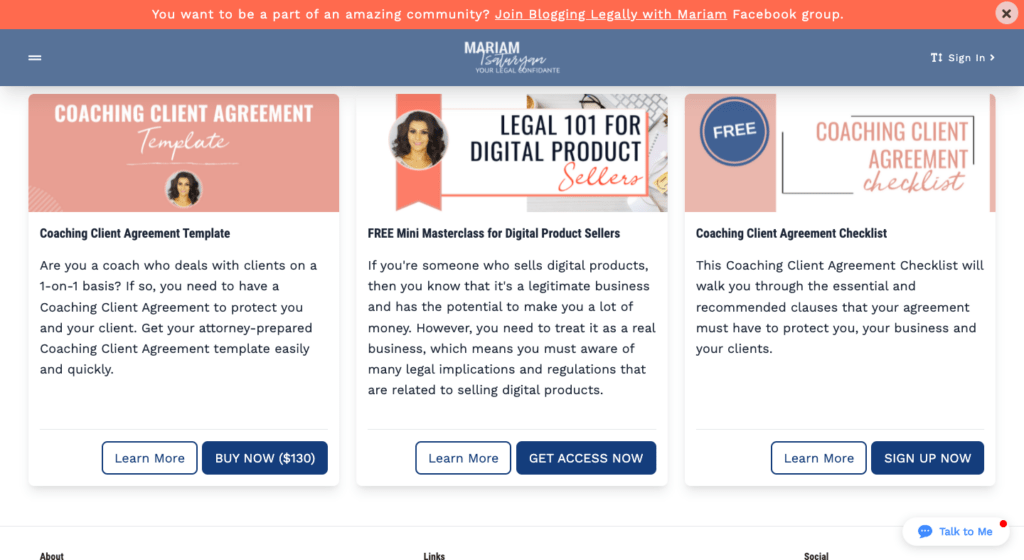 Heepsy does something similar with their platform. They have a portal that allows users to take a look at all of the different content creators they can partner with.
#3 Real Estate Investor
Investing is a superb way to earn passive income, making it not just a lucrative career, but also an excellent side hustle.
Real estate is one of the most popular markets investors place their money in nowadays. Like all other kinds of investments, it requires a bit of time and money at first, but once it starts returning a profit, you can have thousands of dollars flowing into your bank account overnight.
There are several options for real estate investments:
Buying and selling houses
Buying and "flipping" (or, remodeling) houses
Becoming a landlord (buying and renting out houses to tenants)
Renting out homes (or even your own) on platforms like Airbnb
And more
Depending on the type of real estate you plan to invest in, the startup cost can be rather high. Plus, filling houses with tenants can be a risky process, as you'll have to pay for any maintenance costs if needed.
When starting out, be sure to establish clear guidelines for your tenants and take them through a rigorous screening process. Having a bad tenant can be more expensive than a vacant property.
#4 Stock Market Investor
Stocks and bonds are another common form of investment. Unlike real estate, stock investing requires as much money as you want when it comes to startup costs. In fact, you can even get started with as little as $1.
Putting your money in the stock market can be done in a variety of ways. For example, you can use a financial advisor and investment services from companies like Edward Jones, or you can use platforms like Robinhood and Webull to make all the decisions yourself.
You can also choose between multiple investment types (or choose all of them)—stocks, bonds, cryptocurrency, options, among others. However, the two most popular types are stocks and bonds.
Stocks are riskier than bonds, as they're more volatile. However, that also means they typically give you a faster and higher ROI. Bonds, on the other hand, are less risky and take longer to yield results, but they're perfect for long-term wealth building.
Last but not least, you can also become a career day trader—perhaps the riskiest option.
Unlike regular investors, day traders use short-term strategies in the stock market. The job description is in the title – they buy and sell stocks within the same day, instead of holding onto them for years.
Of course, day trading means you can make a profit faster, but that also means you're more likely to lose money a few times, too.
Like most other skills, you can learn how to invest in stocks, bonds, and day trading through books, blog posts, and even YouTube videos.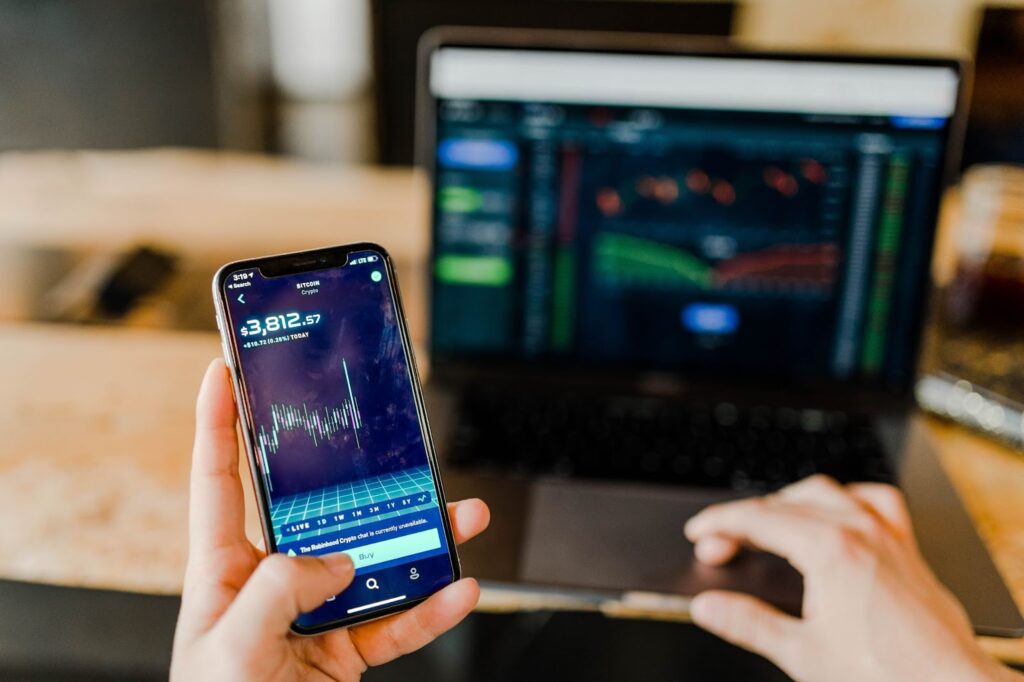 #5 Online Coach
Whether you're an expert at mountain climbing or a cooking connoisseur, there are tons of people attempting to acquire the skills you already possess. And there's no better place to learn them than the internet.
For that reason, the internet is also the best place to teach them.
Starting your own coaching business – whether you're a life coach, relationship coach, or an athletic coach – is as simple as setting up a website and networking with the right people, or creating an online course.
When it comes to building a customer base fast, launching an online course is probably the easiest route. You can film your course over a weekend, upload it to a third-party platform like Teachable, Udemy, or Skillshare, and then simply market it through a Facebook ad campaign.
But third-party platforms mean third-party fees (sometimes as high s 50%). Creating your own online course website could be a much more profitable route to take in the long run. Especially if you can start your own affiliate marketing program to go along with it.
A membership site could help you sell your courses online and process payments online as well. Once your course is created and you have a steady stream of clients, you'll start to see that passive income rolling in.
The method for customer acquisition that you narrow down on will also depend on what industry you are in, your ideal customer's persona, and the general pricing of your products.
#6 Personal Trainer
If you like the idea of being self-employed but also enjoy physical meetings with your clients, then an in-person career option like personal training might suit your fancy.
Or, if you're a fitness guru and would rather run your fitness business online, you also have the option of being a virtual personal trainer.
There are countless trainers who take on clients from around the country (or world) by having online chat sessions, communicating by email, creating a customized plan, and delivering it electronically.
And of course, there's always the option of staying local and meeting your clients at the gym.
To become a personal trainer, all you need is a high school degree or GED, the cardiopulmonary resuscitation (CPR) certification, automated external defibrillator (AED) certification, and pass the NASM Personal Trainer Certification Exam.
If you don't have CPR or AED certification, they're easy to get. Simply use your local Red Cross and receive them before taking the exam.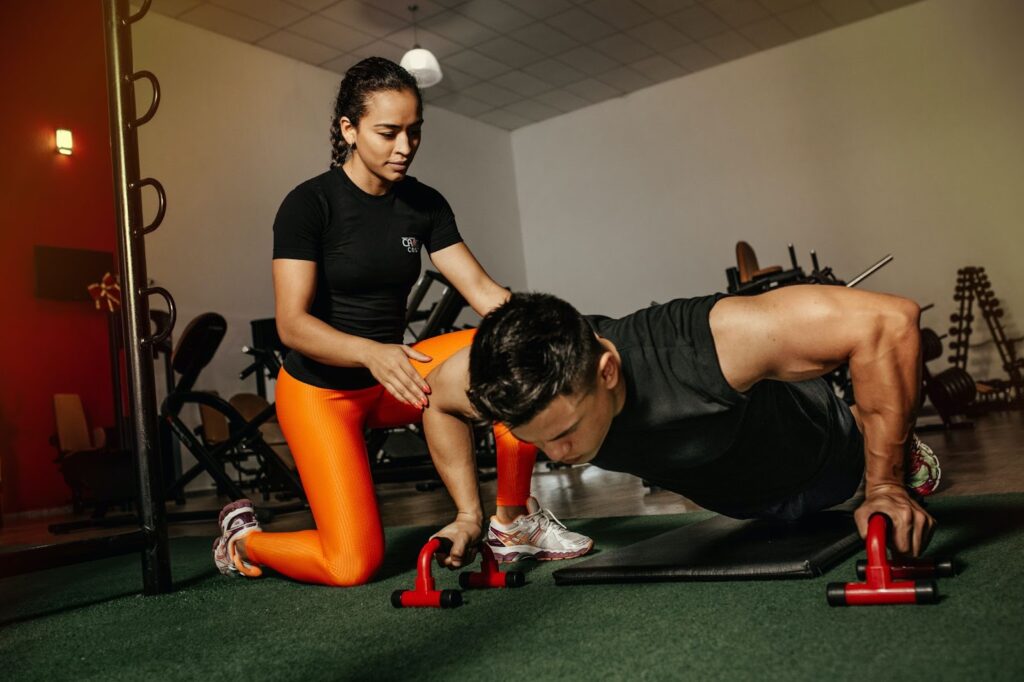 As we discussed earlier, this business is pretty expandable. You could coach multiple clients online, create online courses, workout videos, and more.
#7 Event Planner
While many professionals hold a bachelor's degree (in Meeting and Event Management), it's not always necessary or required.
You can even take event planning courses as a replacement, such as this 6-week certification course IAP Career College.
But whether you have the degree or not, the next step is to gain real-world experience by planning your own events or taking internships. You can also do volunteer work, such as planning school events, local festivals, sporting events, and so on.
A few skills event planners need for success are project management, customer relationship management, marketing, and sales software, and creating event proposals. During your training, be sure to get comfortable using programs like Microsoft Project, Active Network EventRegister, and a few others.
Lastly, start building a portfolio to show new clients your previous work. Include photos of the events you've planned, press mentions, client reviews and testimonials, invitations, and brochures.
#8 Ecommerce Store Owner
In the past, opening a store meant you had to buy (or rent) a physical location and order tons of products to keep a substantial inventory.
What if I told you that today, you can run a store 100% online and you don't even have to purchase the product(s) you sell until a customer buys them?
Well, you can – thanks to the invention of ecommerce and dropshipping.
Ecommerce simply refers to selling physical or digital products online. Dropshipping is an ecommerce selling method that lets you promote products on your online store, sell them to customers, and then purchase them from a third-party supplier who then ships the product directly to the buyer.
You can create your ecommerce store with platforms like WooCommerce, and find products to sell on sites like Alibaba.
Most dropshippers and ecommerce sellers get customers through running social media ads, email marketing, and influencer marketing, which is why it's important to ensure what you're selling is popular.
Once your profit margins increase, you can consider investing more in social media advertising and hiring influencers.
You could even consider starting a store that sells both physical and digital products. Let me give you an example. The Budget Mom by Kumiko Love is a great example of a store that sells both.
She sells physical products like her popular finance workbook:
…while also selling classes like her saving challenge course:
You can use a membership site like MemberPress to grant paying customers access to your digital products and integrate it with WooCommerce to sell physical products.
#9 Side Hustler
Last but not least, you can become a career "side hustler." If you enjoy taking on multiple projects, have several different passions, and find yourself accepting many odd jobs or freelance gigs, then why not make it your entire career?
There are thousands of side hustle ideas out there – you can drive for companies like DoorDash, Uber, and InstaCart, become a freelancer, take online surveys for money, start a local small business, perform services (like mowing lawns or having bake sales), and more.
Many people enjoy side hustles, as they keep them busy and regularly bring them an inflow of extra monthly cash.
Plus, taking on different gigs will help you figure out what kind of work you like and dislike, thus allowing you to further niche down.
Conclusion
And there you have it, 9 ways you can start making some extra income. To recap, here's a list:
English tutor
Content creator
Real estate investor
Stock market investor
Online coach
Personal trainer
Event planner
Ecommerce store owner
Side hustler
There's lots of ways to start a business on a low budget. So, go out there and jumpstart that entrepreneurial spirit.
If you liked this article, be sure to subscribe to our newsletter in the box up to your right!