You've got an awesome idea for a membership site, ready to rock with MemberPress. But hey, life gets busy, and time is precious. Imagine having an expert build your ideal site or level up your current one for you. Game-changer, right?
Well, in today's post, we've got the ultimate dream team for you.
Meet MemberFix, the WordPress developers who specialize in membership sites.
They handle all the tech stuff so you can stay focused on raking in more cash. And, if you're a WordPress developer, be sure to stick around – we've got some MemberPress secret sauce for you too.
Get ready to supercharge your site and unlock success with MemberFix and MemberPress!
Picture this…
You're struck with a sweet idea for a new membership site that's got the potential to be a total cash machine.
Excitement rushes through your veins as you race home, bust down your office door, and fly into your chair to unleash your business on the world.
You create some content, install MemberPress, and bam! Your monetized site is live and making money moves in less than an hour. Pretty sweet, huh?
But wait. What if there's a way to make your already amazing business even more profitable, all while saving tons of time?
You see, launching a site with MemberPress is a lot like buying a fresh new whip.
Honda will sell you a sweet Civic that's got everything you need for a lifetime of road trips. They'll even throw in some heated seats. But, to really pimp that ride, you need to bring in a pro.
But, not just any pro. You want a developer who's been around the WordPress block.
One that'll handle your tech tasks like magic, freeing up your time to focus on creating awesome content and profit-boosting marketing strategies.
When it comes to building and decking out MemberPress membership sites on WordPress, MemberFix is that pro. They might as well have their own MTV show.
The One-Stop-Shop For Membership Sites
MemberFix is a WordPress development company that sets up, supports, maintains, and fixes membership sites.
They've been in the membership site game for over a decade – helping clients, running their own sites, and writing books on the industry. Needless to say, when it comes to selling subscriptions online, they know their stuff.
Because of that, we decided to sit down with MemberFix founder Vic Dorfman to talk about what it takes to create, customize, and maintain membership sites on WordPress.
MemberFix: How It Started + How It's Going
It all started when Vic was running a membership website of his own to make some cash online back in the early 2010s. One of his members was so impressed with his site, they hired Vic to create a membership site for them.
As more and more requests rolled in, he realized he was onto something.
"It just kind of hit me. Nobody's really doing this membership site thing as a thing. I thought, 'Maybe this can be its own service.'"
So, he dove right into pro membership site development. Now, MemberFix has a whole team dedicated to helping their customers generate recurring revenue on WordPress.
They strive to build the most efficient WordPress membership sites out there, so their customers can focus on creating content, fostering amazing communities, and growing their businesses.
MemberFix has worked with all kinds of clients – from those just starting out to some really big names.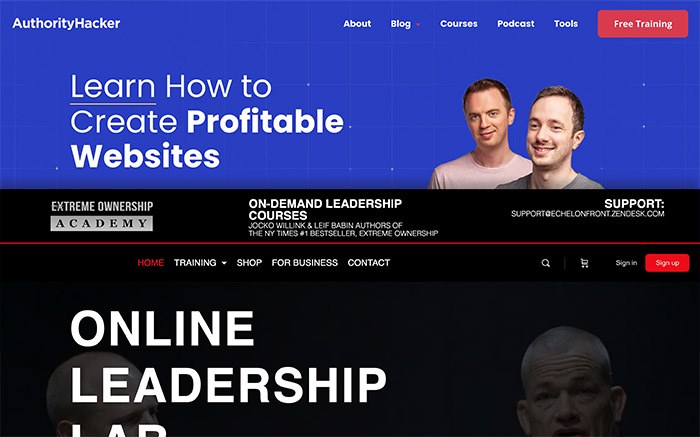 And they've worked with just about every niche under the sun. Dream interpretation, fitness, crochet, screenplay writing, B2B, video making, and a lot more.
MemberFix truly handles it all:
Setup
Design
Security
Third-party integrations
Site speed
Membership plugin migrations
They even have their own hosting solution custom tailored for high traffic membership sites.
So, MemberFix is truly a one-stop-shop for people looking to take MemberPress to the next level.
When it comes to membership plugins, MemberFix has tried out a bunch of different solutions. Back in the day, options were slim, but now there's a ton to choose from.
According to Vic, one has always stood out from the pack: MemberPress. Memberfix's clients absolutely love it, so it's become their go-to membership plugin.
MemberPress + MemberFix: A Match Made In WP Heaven
MemberFix has seen it all. They've braved the war torn plugin trenches and lived to tell the tales. Amidst countless battles, MemberPress triumphs as the membership plugin of choice for their clients.
It's no surprise, really. With its solid codebase, endless flexibility, extensive documentation, and user-friendly interface, MemberPress proudly wears the crown as MemberFix's go-to membership solution.
"It's such a well-coded, extensible, easy-to-work-with plugin for customers who are just starting out, but also development teams looking to extend functionality and customize their sites for customers."
As a Certified MemberPress Developer, MemberFix attracts clients who already have MemberPress in mind. So, when it comes to the world of memberships, they're well researched and already know what's up.
"MemberPress is by far the most widely used membership plugin in the world. So, a lot of folks are coming to us saying 'Hey Vic, we already bought MemberPress and would like some help with this or that.'"
And then, other clients are lost in space. Floating around on janky plugins causing all kinds of chaos on their site.
"We see customers who have issues with their current membership plugin. We'll say, we can fix your issue, but it may just be putting a band-aid on it."
"Instead, we can migrate you over to MemberPress, which is a more fundamentally sound solution."
This leads us to the first item on MemberFix's list of top-notch MemberPress features.
MemberFix's Fav MemberPress Features
Easy Migration
We can all be brand-hoppers. Take my buddy, for example. He used to be all about Wendy's, but one savory sip of a chilly Grimace shake converted him into a die hard McDy's 4 Lifer.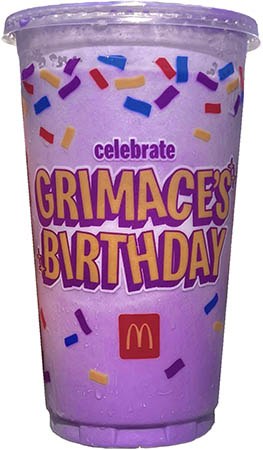 Turns out, people do the same with membership plugins.
Sure, they might make a switch for a new feature, or just because they feel like it. But, most people make the switch to MemberPress from other plugins due to tech issues bogging down their business.
For MemberFix clients, the switch works magic.
"A lot of the problems they're experiencing are immediately resolved. We see issues with payment processing with other plugins. We'll migrate over to MemberPress… fixed."
"MemberPress just works."
The demand to switch to MemberPress is so high, MemberFix has even developed their own custom solutions for migrating.
Which is a perfect testament to another fan favorite MemberPress feature in the development world…
Flexible Codebase + Developer Tools
MemberPress knows what developers need, plain and simple. The code base was handcrafted in Utah's pristine mountain country to be a playground of customization possibilities and creative flexibility.
"The MemberPress code base is so well written. It's just easy to build on top of."
So breezy to build on that MemberFix has cooked up a bunch of custom add-ons for MemberPress. These babies can:
But that's not all! If you're a developer whose clients could use some extra juice from third-party integrations, the MemberPress Developer Tools Add-on is just a few clicks away.
It's like unlocking a secret treasure trove of integration magic.
As a dev armed with the MemberPress Developer Tools, you have the power to dispatch POST requests to a wide range of URLs for various events within MemberPress.
Whether it's a member being added, logging in, canceling, completing a course, or countless other actions, you've got the flexibility to configure multiple webhook URLs to suit your needs.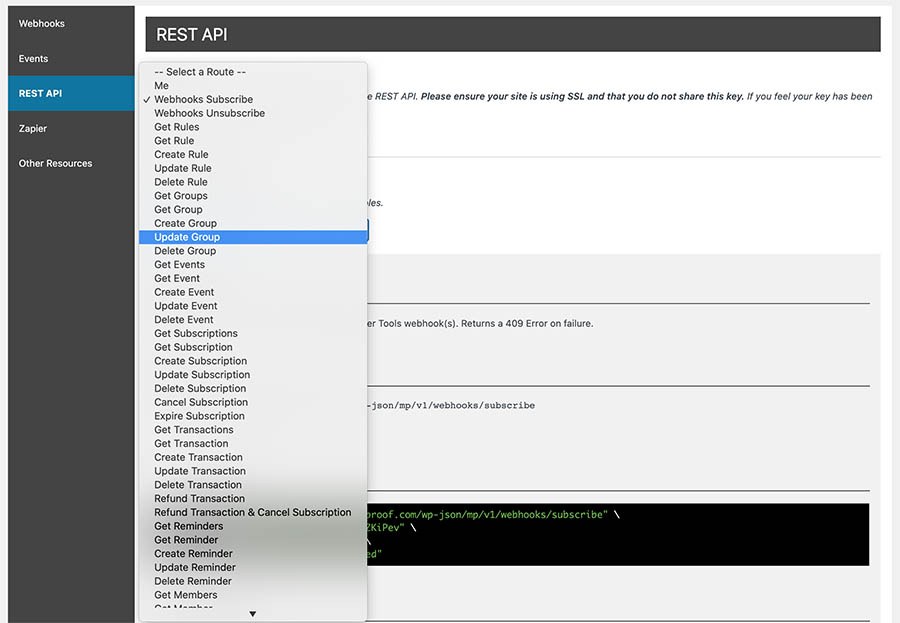 As long as a service has an API, you're all set to unlock a world of customization for your clients.
Courses
A huge number of MemberPress users have a common desire: they have valuable knowledge and skills to share, and they see MemberPress as the perfect platform for teaching and coaching.
With MemberPress Courses, you can build and sell online courses in no-time. It gives our users a full LMS and online course creation experience right inside the plugin.
Having worked with all types of clients throughout the years, Vic has noticed some trends related to this…
"A lot of people are doing different kinds of coaching. Some will just deliver it on WhatsApp or Zoom. But, a lot of them are going the extra mile and setting it up on WordPress with MemberPress."
Lucky for developers, MemberPress Courses gives out-of-the-box functionality to create and sell online courses without additional plugins or customizations.
The days of creating custom taxonomies and fancy workarounds to achieve an online learning environment are long gone.
Whether someone's selling an online course, a package of coaching calls on Zoom, live classes, ebooks, or lesson plans – they can easily create any type of e-learning content, make it exclusive, and sell it with MemberPress.
Corporate Accounts
With MemberPress, you can give members the power to handle their own sub-accounts thanks to our Corporate Accounts Add-on.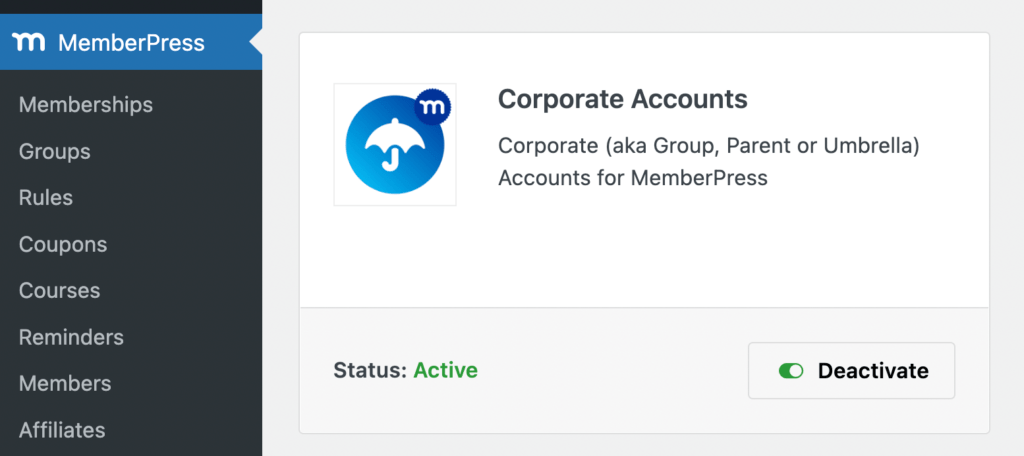 It's perfect for all kinds of situations. Think corporate clients, groups, and even parents managing their kids' educational memberships.
The site owner gets total control over the number of sub-accounts handed out, making it a really attractive option for businesses and individuals alike.
If you're a developer for groups or business oriented clients, Corporate Accounts is a game-changer.

"We also see a lot of people in B2B. Oftentimes, we'll set up corporate memberships where they can sell a bunch of seats. So, our customers can sell to bigger businesses."
Alright, we've been going on an awful lot about all the features, add-ons, and third-party integrations MemberPress has to offer.
But hey, let's hit the pause button on the MemberPress hype train for a moment and shift gears to the platform, and community, it's built for.
WordPress: More Than Meets The Eye
WordPress and MemberPress go hand in hand when it comes to flexibility.
With WordPress' wide array of plugins, themes, patterns, and page builders, along with the power of MemberPress, the possibilities are endless.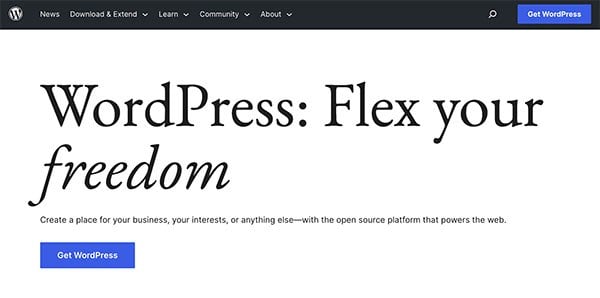 Whether you're a creator or developer, you'll find the support and resources you need to bring your visions to life on WordPress. A user-friendly interface makes things easy, and its large network of users and developers means you're never alone tackling even the most advanced use cases.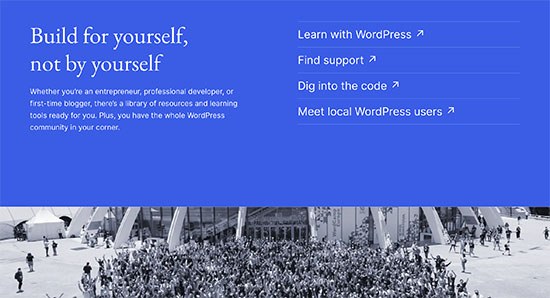 For developers, WordPress provides a customizable codebase to meet specific client needs. It empowers you to create a never-ending parade of happy customers.
"The great thing with WordPress is that you can look at someone else's site and get inspiration. Or, you can approach your tech guys and they'll give you ideas."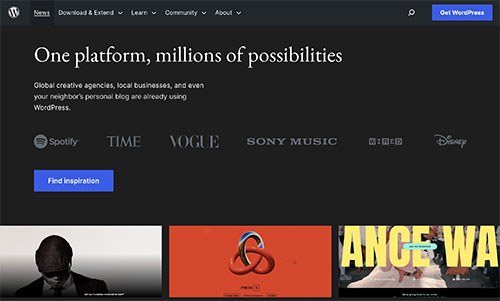 "They realize they can just think it, and their tech team can handle it."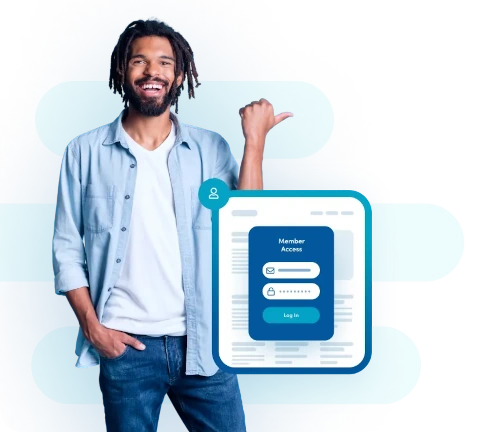 Get MemberPress Today!
Start getting paid for the content you create.
Get MemberPress Now
See All Features
Conclusion
Launching a dream membership site has never been easier, thanks to MemberPress.
For most users, MemberPress' extensive support documentation, step-by-step guides, courses, and video tutorials are more than enough to find success on the platform.
But hey, we get it. Sometimes, you wanna go 10 extra miles and really customize your membership experience beyond MemberPress' core features. No hard feelings. In fact, we love to see it!
For creators looking to crank their sites up a notch, MemberFix has been a star-studded recommendation of ours for a long time. They're the perfect solution for setting up, maintaining, troubleshooting, and hosting your WordPress membership site.
And, MemberFix feels the same about MemberPress!
"It's the whole package. It's definitely the #1 membership plugin on the market."
If you're ready to kickstart your membership site or need assistance with your current one, head over to our MemberFix page to get connected with them.
And if you're a developer looking to discover the awesome benefits of MemberPress for your clients, check out our post on why MemberPress is a lifeline for WordPress developers.
Don't miss out on the opportunity to level up your membership game with MemberFix + MemberPress. Start building, optimizing, and thriving in the membership world today.
HEY DEVELOPERS! Got questions on how MemberPress can land you more clients? Ask away in the comments section!
If you liked this post, make sure you subscribe to the MemberPress blog!