The road to recovery can be a long one. It can feel even longer for individuals who do not receive any help. Traditional support groups can be helpful, but those that meet exclusively in person can be restrictive to some.
Fortunately, the digital age offers a solution. Support group membership sites can provide the same degree of assistance in a more convenient and effective way. By creating one of your own, you can take the first steps towards helping people heal.
In this article, we'll cover a few reasons why you might want to start a membership site for support groups. Then, we'll share some tips to help get you started, using our MemberPress plugin. Let's dive right in!
Why You Might Want to Start a Membership Site for Support Groups
There's a huge number of reasons why someone might want to reach out for help. As a support worker, you're probably already familiar with a few of them. These may include:
Alcohol dependence
Gambling issues
Mental health struggles
There are dozens of other potential problems out there. However, all support groups have one thing in common: they exist to help their members recover.
Support groups can offer a variety of valuable resources to their members. One of the biggest advantages is a great community made up of individuals who share the same problems. This kind of access to people with similar experiences can go a long way towards making members feel less alone.
Creating a membership site for support groups can be very beneficial for members. Signing up for organizations like these can help users stay motivated to reach their goals. Plus, people who meet these goals can then support newer members.
At the end of the day, support groups are a key part of helping people overcome their problems. By creating a MemberPress membership site for them, you can help facilitate that process.
How to Start a Membership Site for Support Groups (3 Tips)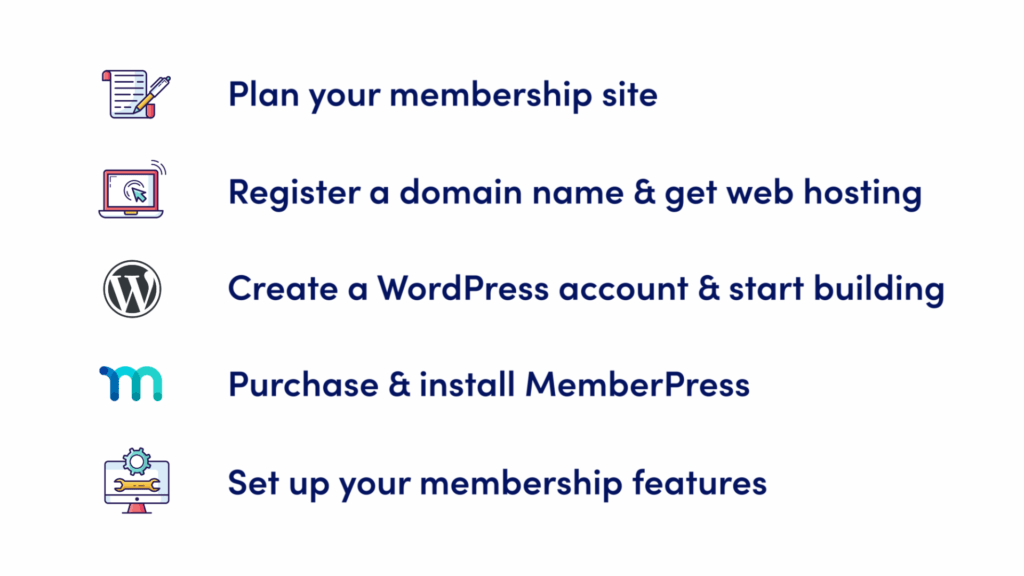 Here are three tips to help you get started with your MemberPress site for support groups. Before you begin, you need to build a WordPress site. Don't worry, it's a super easy process. Check out this Getting Started resource to get going on it.
Once that's all good, you need to make sure to set up MemberPress on your site – we'll be using it in each section.
1. Create a Members-Only Support Forum
First up, we recommend that you create a support forum exclusively for your members. This can help emphasize the importance of community. It can also help preserve your members' privacy.
Start by adding bbPress to your website. Don't worry about technical issues – this plugin integrates seamlessly with MemberPress. It's also free, though you can purchase paid add-ons if you want more functionality.
Once you've added the plugin, go to Forums > New Forum. Name your forum, and enter the content you want to include:
When you're done, publish your work. This will make it a public forum. However, we can change that with MemberPress.
Head over to MemberPress > Rules > Add New. Then, click on Single Forum and insert the name of the forum you've just created. You can then add the conditions to control who can see it. This may include all members or those with certain user roles:
When you add that rule, only those selected users will have access to the forum. You can then repeat this step for any other forums that you publish.
We recommend that you create several different forums with different access roles. For example, you might want to build one that only recently registered members can access. This may help nervous newcomers feel more comfortable when they subscribe to your program.
By the same token, you might want to set up a forum for long-running members only. This may be an opportunity for them to discuss ways to help new members. This strategy is a smart way to create online communities that appeal to different micro-niches.
2. Include Inspirational Content
Support groups typically rely on inspirational material. This is because recovery can be incredibly difficult. By seeing the possibilities that lie on the other side, participants may be more motivated to work towards their goals.
As such, we recommend that you include plenty of inspirational content on your membership site. If you're not sure what that'll look like, consider working backward: what is the main goal your members want to achieve?
For example, some might want to see ways that they can enjoy themselves without alcohol. In that case, you may want to create content that reflects sober individuals participating in fun activities. As a bonus, knowing these goals can also benefit any other life-coaching projects you have in mind.
Another valuable way to create inspirational content is to go straight to your users. If someone has had a lot of success in their recovery, consider asking them if they would like to share their story with others. This can be especially effective if they achieved those goals through your membership site.
If you have specific ideas of how you want to pace this strategy, consider using MemberPress's drip functionality. This rule will determine who sees what content at what point in time. All you have to do is create a new rule and check Enable Drip:

From here, you can set up the drip rules. You might also want to use the Enable Expiration options as well.
3. Consider Offering Courses
MemberPress sites can offer a wide range of features. If you want to help more users, you might want to think outside of the box. That's why we recommend that you consider offering courses.
Courses are a flexible MemberPress feature that can enable you to teach just about anything. For example, you might offer courses on healthy cooking to those struggling with weight issues. The courses might even be unrelated to their problems – instead, they could be a fun way to connect with their community.
To get started, download the MemberPress Courses add-on. You'll find this under MemberPress > Add-ons. Then, go to MemberPress > Courses > Add New:
From here, you can start building a course for your support groups. The content can be as simple or as complex as you need. For more information on the specifics, you can check out our full guide to creating a course.
We recommend that you start with a single course. That way, both you and your members have an opportunity to adjust. You'll also be able to collect feedback that you can use to improve future courses.
Conclusion
When it comes to MemberPress sites, few are as community-oriented as those for support groups. A strong sense of community can help people resolve their problems and work on bettering themselves. By starting a site dedicated to these groups, you can help members reach those goals faster and easier.
In this article, we provided three tips to help you start a membership site for support groups, using MemberPress:
Create private forums for members only.
Make sure to include plenty of inspirational content.
Consider offering courses to actively involve your members.
Do you have any questions about starting a MemberPress site for support groups? Let us know in the comments section below!
If you liked this article, be sure to subscribe in the box up to your right.