Optimize your content marketing efficiency and effectiveness with these tips and tools. Create a content calendar your whole team will benefit from!
Welcome to the bustling, ever-churning world of content marketing, where deadlines come at you faster than a cheetah on a caffeine buzz.
Now, imagine trying to navigate this dynamic landscape without a map, a compass, or even a vague idea of your destination.
Sounds pretty daunting, right?
That's what it's like to create and manage content without a content calendar.
A content calendar isn't just a fancy scheduler. It's the heartbeat of your content strategy. It keeps your marketing objectives on track and your audience engaged.
In a world where content is king, a content calendar is the royal advisor making sure you're ruling your kingdom effectively.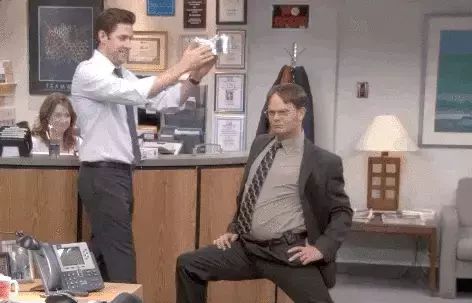 Stay tuned as we delve deeper into the realm of content calendars and unveil the secrets to creating one that's both powerful and practical.
Content Calendar Benefits
If you're planning your content on the fly, you're missing out on some major advantages that come with using a content calendar.
Here are a few reasons why you should make the extra effort to plan ahead with a well-organized calendar.
Streamline Your Creative Process

A content calendar takes all the key information for your creative team and any outsourced help and puts it all in one place. It outlines…
what needs to be done
when it's due
and who's responsible for it.
This clarity can cut down on confusion, limit last-minute scrambles, and destroy the dreaded too-many-cooks syndrome.
Everyone knows their role and can focus on doing their best work. That's efficiency at its finest!
Craft Well-Planned Content
With a content calendar, you're not just throwing content into the wind and hoping it sticks. Every piece of content has a purpose and fits into the bigger picture of your content strategy.
It ensures your content flows logically, follows themes, and tells a consistent brand story. You can also make sure that each content type and topic gets its time in the sun, so nothing is neglected.
Plan Content in Advance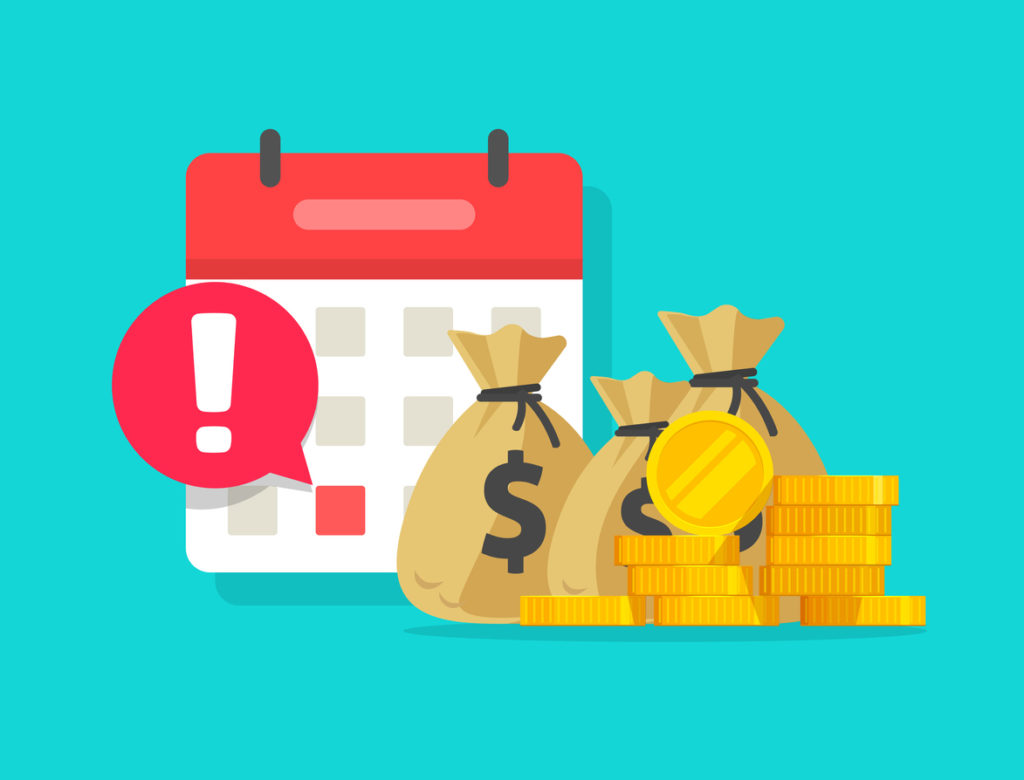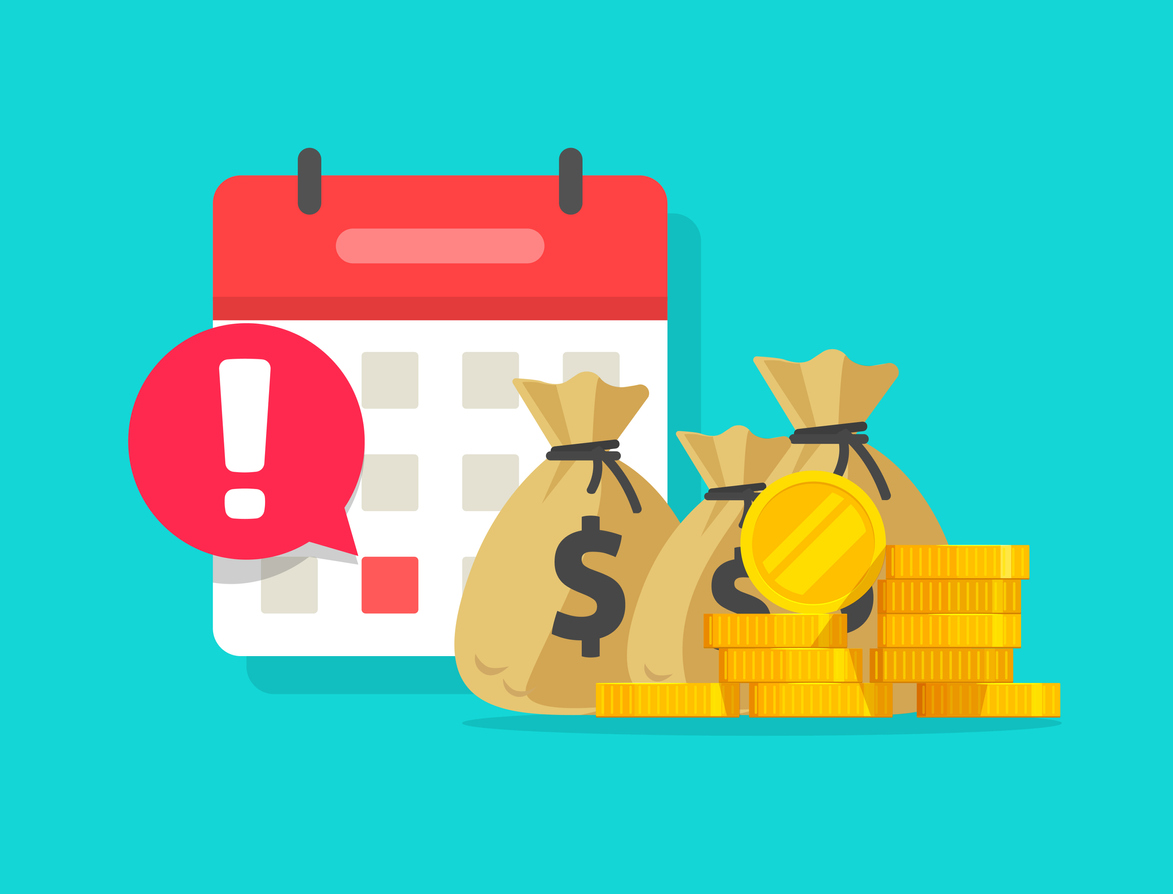 We've all been there – the midnight oil is burning, the deadline is looming, and you're frantically trying to whip up a blog post, or design a social media graphic.
With a content calendar, these panic-driven scenarios can be a thing of the past.
You can plan your content weeks or even months in advance. This gives you ample time to gather resources, do your research, and create more interesting, dynamic content.
Plus, it allows you to schedule content around key dates or events relevant to your business or industry.
Mix It Up
A content calendar gives you a bird's eye view of your content landscape. At a glance, you can see if you're striking a good balance between different types of content, be it blog posts, social media updates, podcasts, or videos.
This helps keep your content diverse and engaging, so your audience doesn't get tired of seeing the same thing over and over.
So, if you're ready to reap these rewards (and more!), stick around!
How to Create a Useful Content Calendar
So we've hopefully sold you some solid reasons why you should create a content calendar. Now here's a step-by-step guide to nailing one!
Step 1: Square Up Your Content Marketing Objectives
If "creating content" is on your to do list, after a while you might lose sight of the reason why you're creating content, and who you're doing it for.
If you really want to make your content work harder for you, you first need to understand your aims and the direction you want to go in.
Find Your "Why"
Why are you creating content in the first place?
Are you looking to boost website traffic? Perhaps you're aiming to increase brand awareness or foster a deeper connection with your audience. Or maybe you're all about driving product sales or leads.
These are all excellent reasons to have a content strategy.
Find Your "Who"
Once you know your goals, it's time to get up close and personal with the other key player in your content game – your target audience.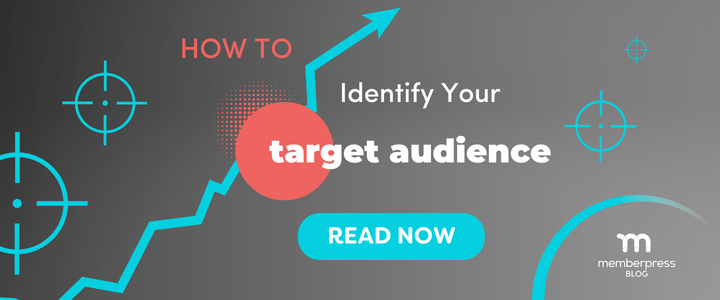 These are the folks you're trying to reach with your content. The more you understand them – their needs, their interests, their pain points – the better able you'll be to create content they (and Google) consider valuable.
Use Your "Who" to Inform Every Piece of Content You Create
Your content marketing objectives and understanding of your audience should be top of mind each time you come up with new content.
These two things should determine the type of content you create, the topics you cover, and even the channels you use to distribute your stuff.
Step 2: Planning Your Content Strategy
Alright, now that we've laid down the foundations with your objectives and target audience, let's get into the fun part: planning your content strategy.
This is where creativity meets strategy, and where your content calendar starts to take shape. So, grab a coffee (or tea if that's your jam), put on your thinking cap, and let's dive in!
Brainstorming Content Ideas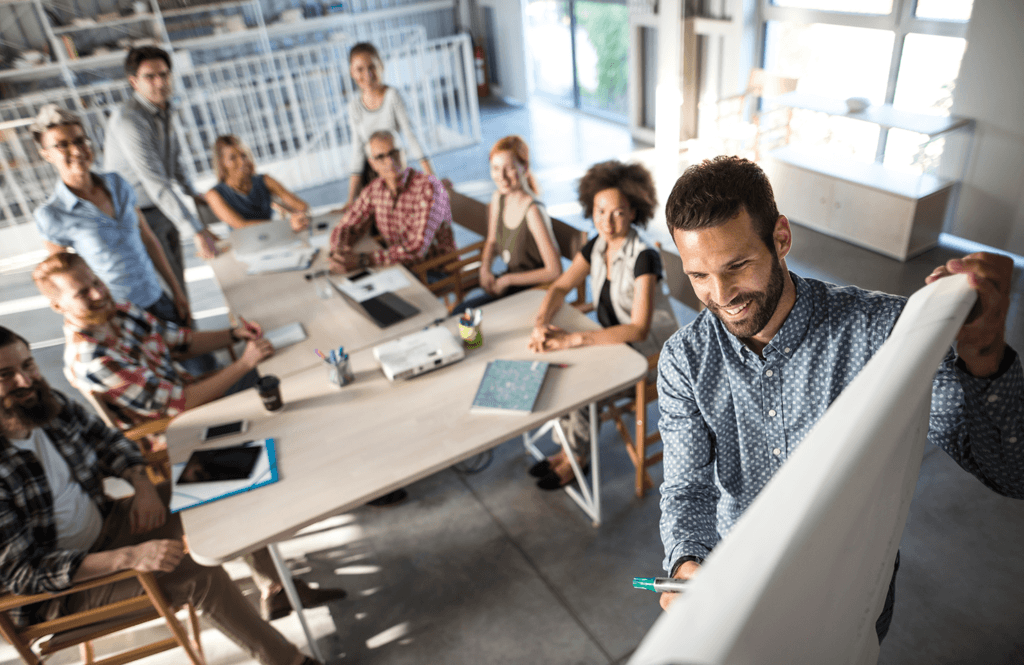 Content idea brainstorming is the first order of business. And when we say content, we mean all sorts of content:
Webinars
Videos
Infographics
Motivational quotes
Testimonials
Product announcements
Product demos, etc.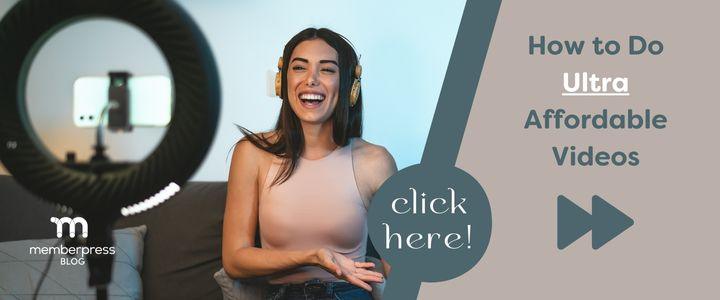 Content brainstorming can be an exhilarating, all-hands-on-deck kind of process, where no idea is too outlandish or too ordinary.
Remember to look at your goals and audience for inspiration.
For example, imagine you're a fitness brand targeting busy professionals. And your goal is to inspire your audience to stay healthy despite their hectic schedules.
Your content calendar could include things like quick workout videos, easy-to-follow meal prep guides, and motivational posts.
And you could share these pieces of content on platforms where busy professionals are most likely to engage, like LinkedIn and Instagram.
TOP TIP: Use ChatGPT for Content Ideas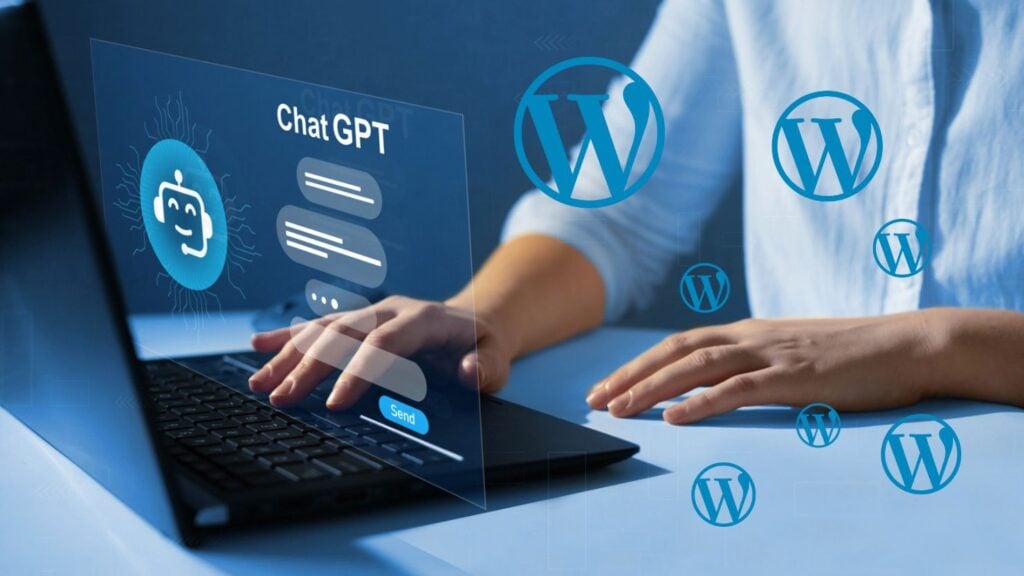 Unless you've been living under a rock since January 2023, you've probably experimented with (or at least heard of) ChatGPT.
If you're all out of creative juice (it happens to the best of us) consider using ChatGPT to come up with ideas.
Content Calendar Chat GPT Prompt
Here's a prompt template you can use to get ChatGPT to create useful content ideas:

I run [describe your business], a business that aims to [insert your aim from step 1]. My target audience is [insert your target audience from step 1]. Can you formulate some content ideas to promote my business?
Here's an example of how the prompt looks once it's filled in:

And here are some of the ideas ChatGPT came up with: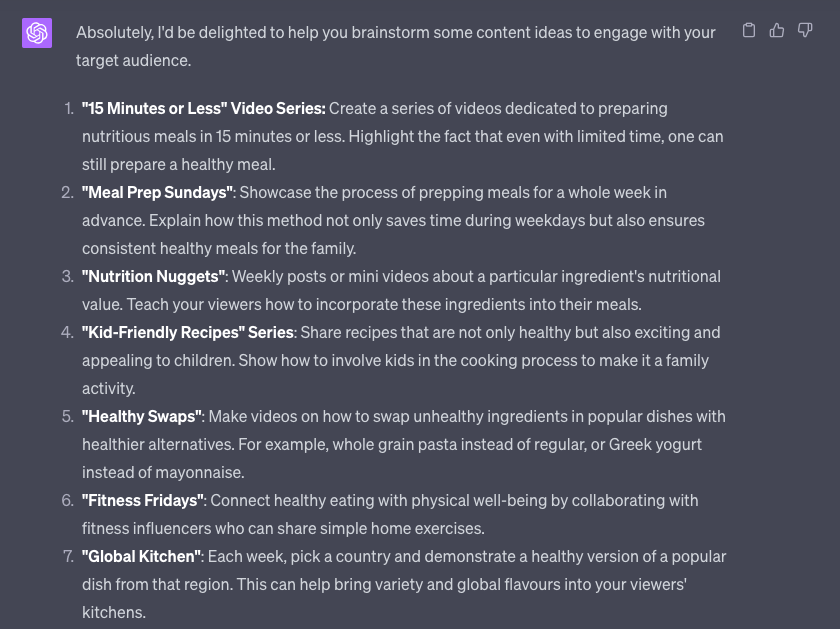 Some of the ideas will suit your business better than others. Choose your favorites, and ask ChatGPT to expand on these ideas. Using this example, you might ask for blog title suggestions for the "Nutrition Nuggets" series.
Keyword Research and SEO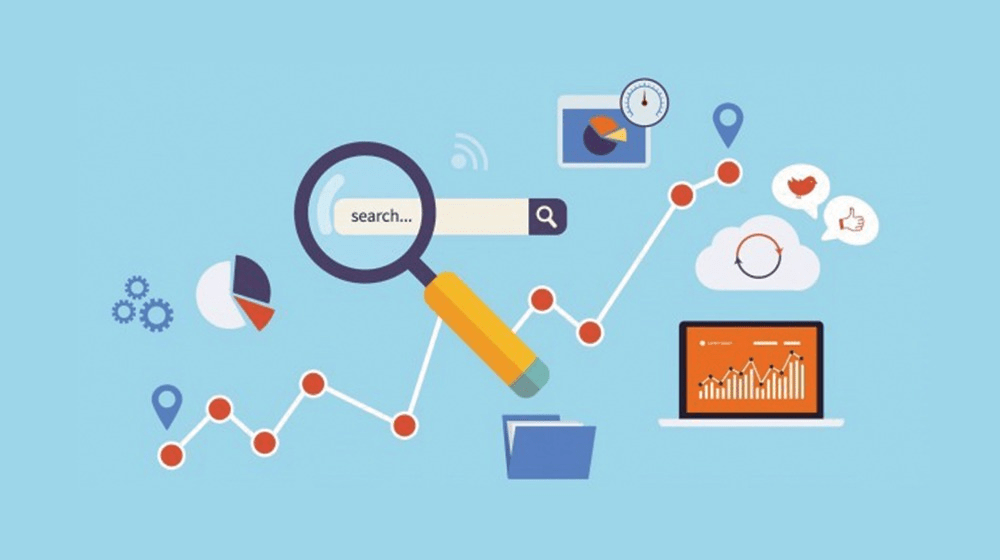 Next up, let's talk keyword research and SEO. These are essential for making sure your content gets found in the crowded online world.
By using keywords your audience is likely to search for, you can create content that answers their questions or fulfills their needs.
Tools like Google Keyword Planner or Semrush can help you discover your best keywords. Once you've got them, incorporate these nuggets into your content to boost your SEO, and rank higher in search engine results.
Step 3: Choose the Right Tools for Your Content Calendar
Now it's time to choose your weapon! What tool is best for your needs?
You can definitely use a good old trusty spreadsheet or even a wall calendar, but there are plenty of digital tools to make your content calendar more accessible, more collaborative, and simply more effective.
Let's check out a few options.
Contender #1 Google Calendar
Simple, familiar, and free, Google Calendar is a great starting point for a content calendar. You can create events for each piece of content, set reminders for deadlines, and even share the calendar with your team.
The only problem you might face is if you use your Google Calendar for multiple projects, meetings, and personal errands, it's easy for it to get overcrowded and confusing.
Contender #2 Asana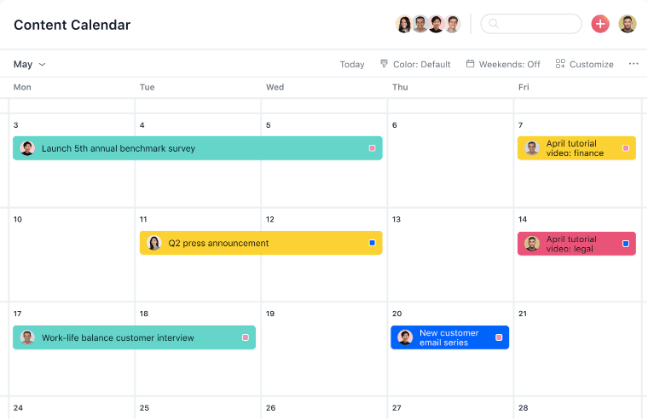 Asana is a project management powerhouse, and it works just as well for content calendars.
You can create tasks for each piece of content, assign them to team members, set deadlines, and add notes and attachments. You can organize tasks in various views including list, board, or calendar view.
Contender #3 Trello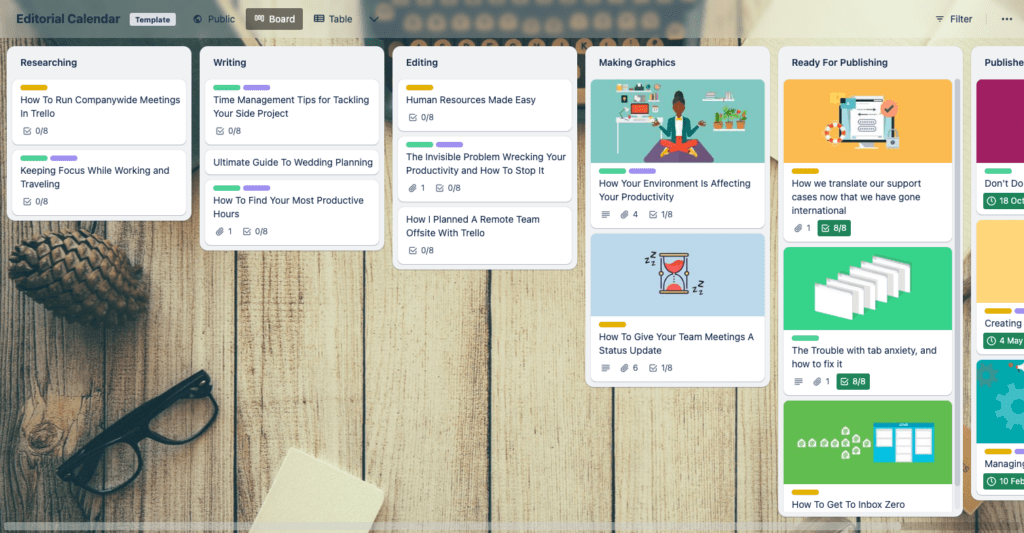 If you're a fan of visual organization, Trello's card-based system might be just what you're looking for.
You can create a card for each piece of content, add details, attachments, checklists, and more, and move it from list to list as it progresses from idea to publication.
Contender #4 ClickUp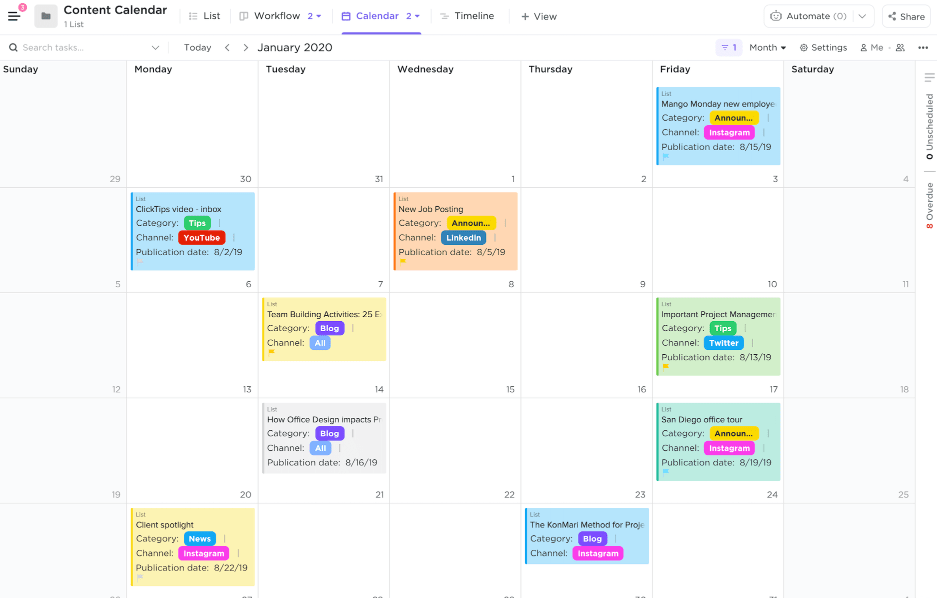 Similar to Asana, ClickUp is another versatile project management platform that can serve as an effective content calendar.

They even have a dedicated content calendar template to get you started. And with custom statuses, you can track the progress of each content piece from ideation to publication.
Step 4: Create a Useful Content Calendar
We've chosen to demonstrate how to set up a content calendar with popular project management tool, Asana.
QUICK NOTE: You may decide to use a free tool like Google Sheets. In that case, some of these steps won't apply. However, you'll get the gist here, and you'll want to include all the same information in your calendar.
1. Set Up a Project
Once you're logged into Asana, click on the plus icon (+) next to Projects in the sidebar. Then click on New Project.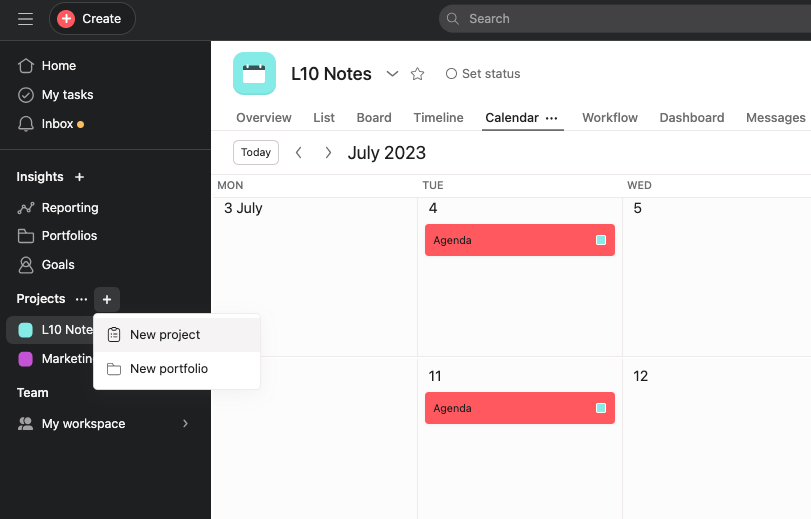 Asana has a content calendar template, which is worth looking into, but we found it a little confusing. If you want to explore that option, select Use a template> Content Calendar > Use template.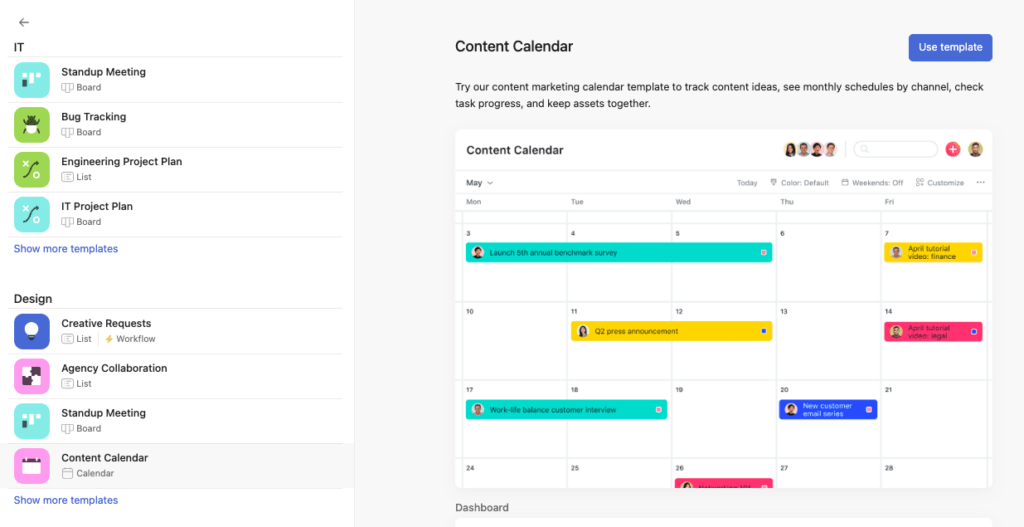 Alternatively, select Blank project to create a fully customized content calendar from scratch.
In the New project window, enter the Project name (Content Calendar), keep the Work type as Task, and select Calendar as the Default view.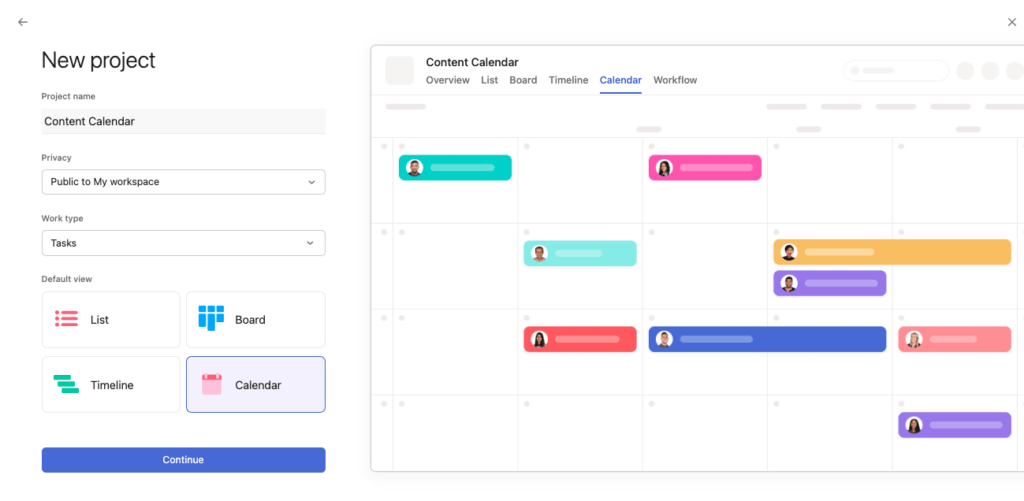 Hit Continue > Start adding tasks > Go to project.
Now you will see the Calendar view for your project.
2. Create sections
Before you add your first task, head over the Board tab towards the top of the screen.
Rename each section on the type of content you want to produce, e.g. blog, social media, podcast, etc.
This will help you later when you want to organize your tasks or view them in a different way.
3. Add Colors
Colors not only make your calendar more visually appealing, they also make it easier for you to see at a glance what type of content you have lined up.
This can help you check that you're content is varied and consistent.
Click the Customize button at the top right of your screen
Click Add custom field.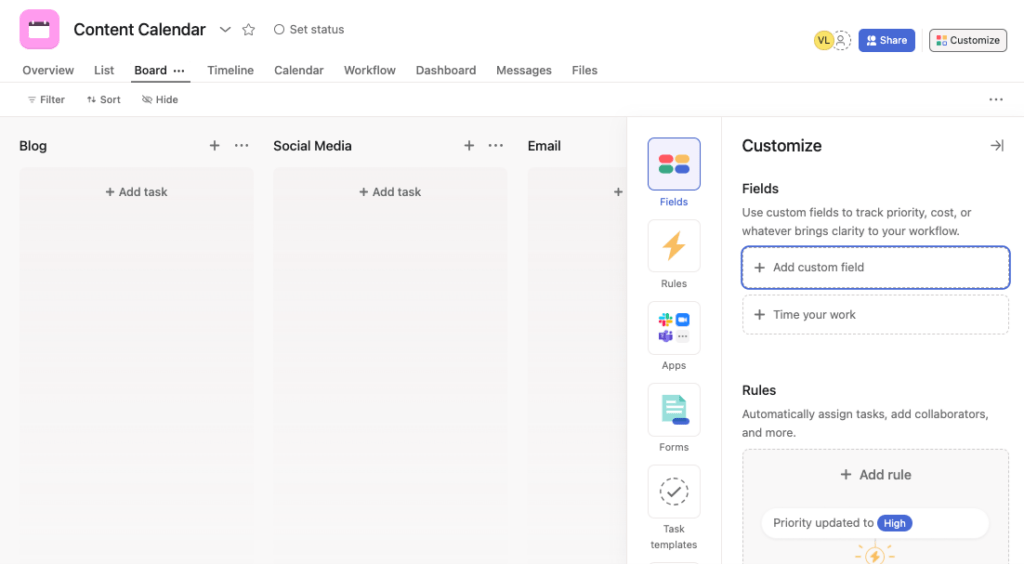 Under Field name write Content Type
Add each of your content types as an option. They will automatically be assigned a color, which you can edit by clicking on the default color.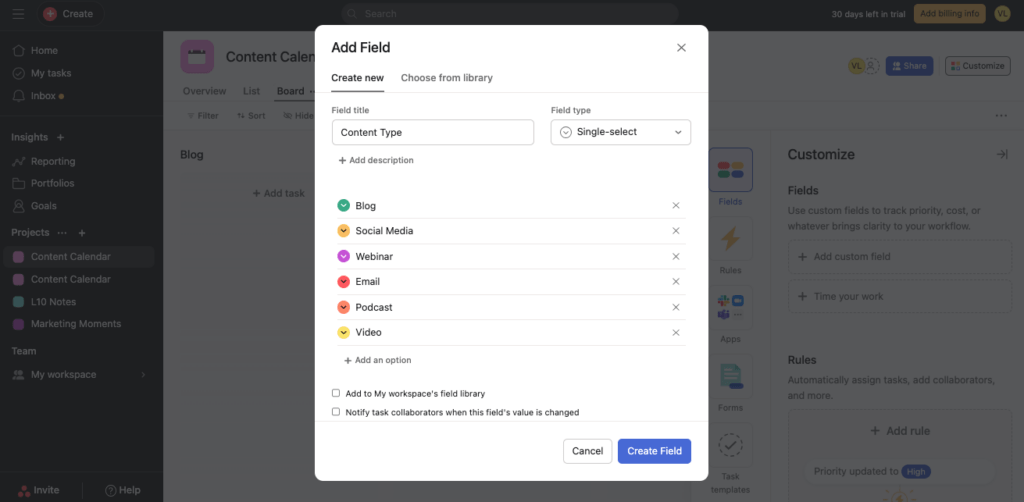 Hit Create field
You can also add another field to visually see the progress of the task.
Now go back to the calendar view. It's time to add your first task!

4. Add Your First Task
Click on the date you want to add the task and write a name for it. It's a good idea to start the name with the content type, just for clarity.
Then click on your new task to open the task details. There you can
Assign a team member, or external writer by entering their email address. This will automatically send the task to the assignee.
Set a due date. This is automatically done when you click on a date from the calendar view. If the task lasts several days, you can set a start and end date here.
Define the content type to bring color to your calendar
Assign the status if you created one in the previous step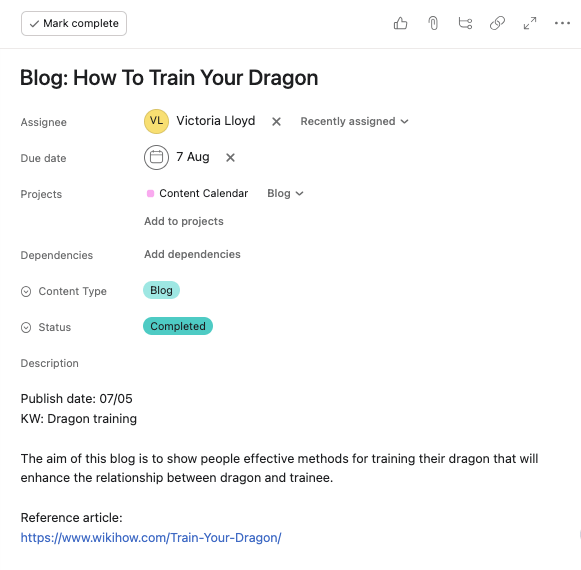 Add details. In the details section, include a brief with key information to help whoever is assigned the task. For example, for blog briefs, you could include a keyword and relevant reference articles.
Create subtasks. Most tasks involve several steps. For example, if you're creating a podcast you may need to: Arrange a time to meet with your interviewee, record, edit and publish the podcast.

With subtasks, you can break one task down into 4 separate steps, each with their own assignee and due date. This saves you from overcrowding your content calendar with separate tasks.

Use the comments section to share progress updates, and tag team members to call their attention to the task. You can even add collaborators if multiple people are responsible for project fulfillment.
5. Continue Populating Your Calendar With More Tasks
This is an example of a fully populated content calendar!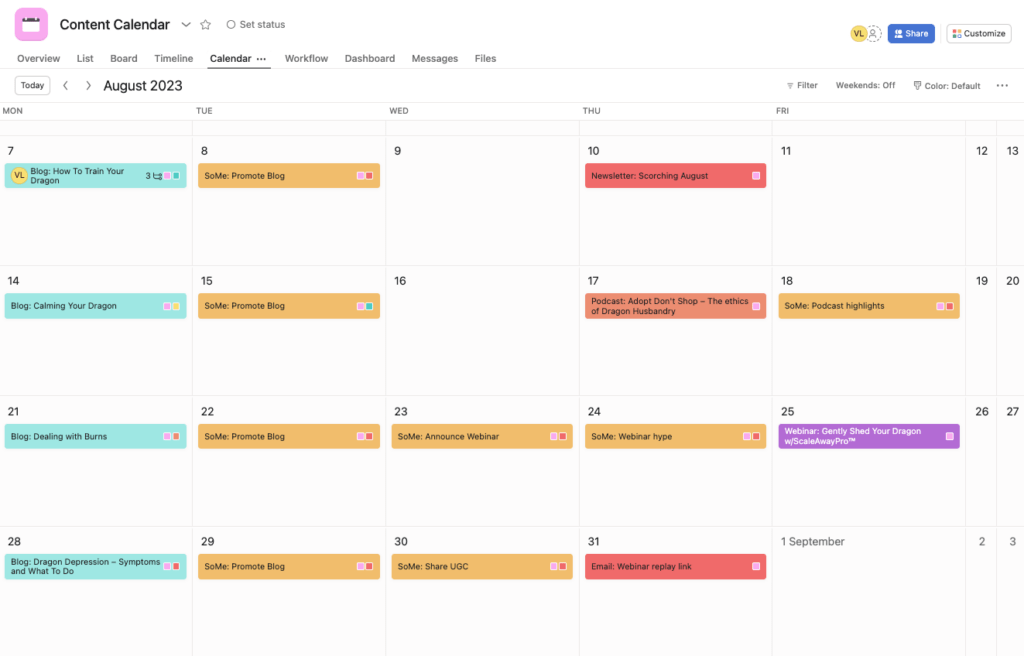 As you can see, with the use of color and tagging systems, in a flash you can see what content task is due to be published and when. Clicking into each task, you can see who is responsible for each stage.
TOP TIP: Consider Using Strive for Blogs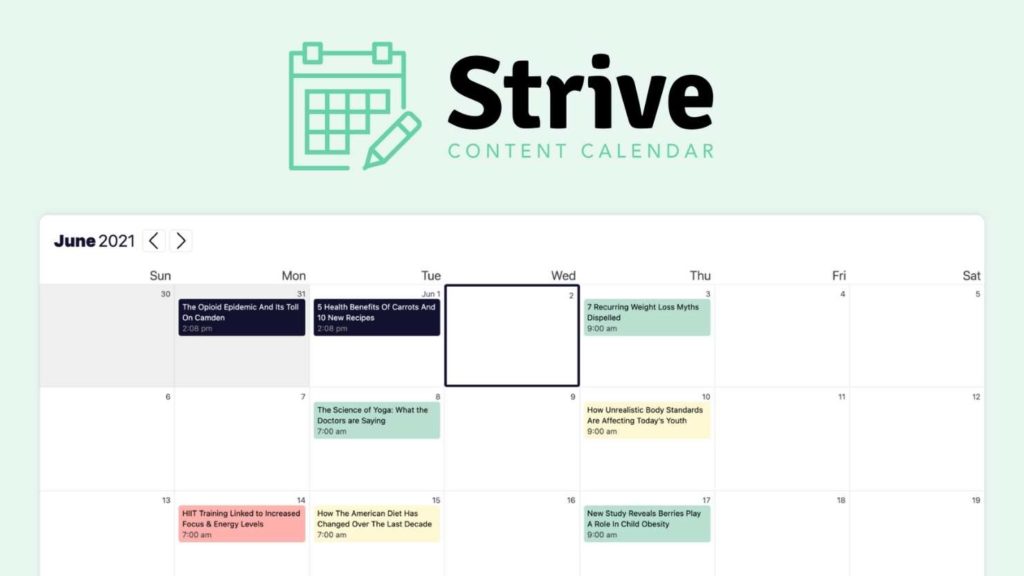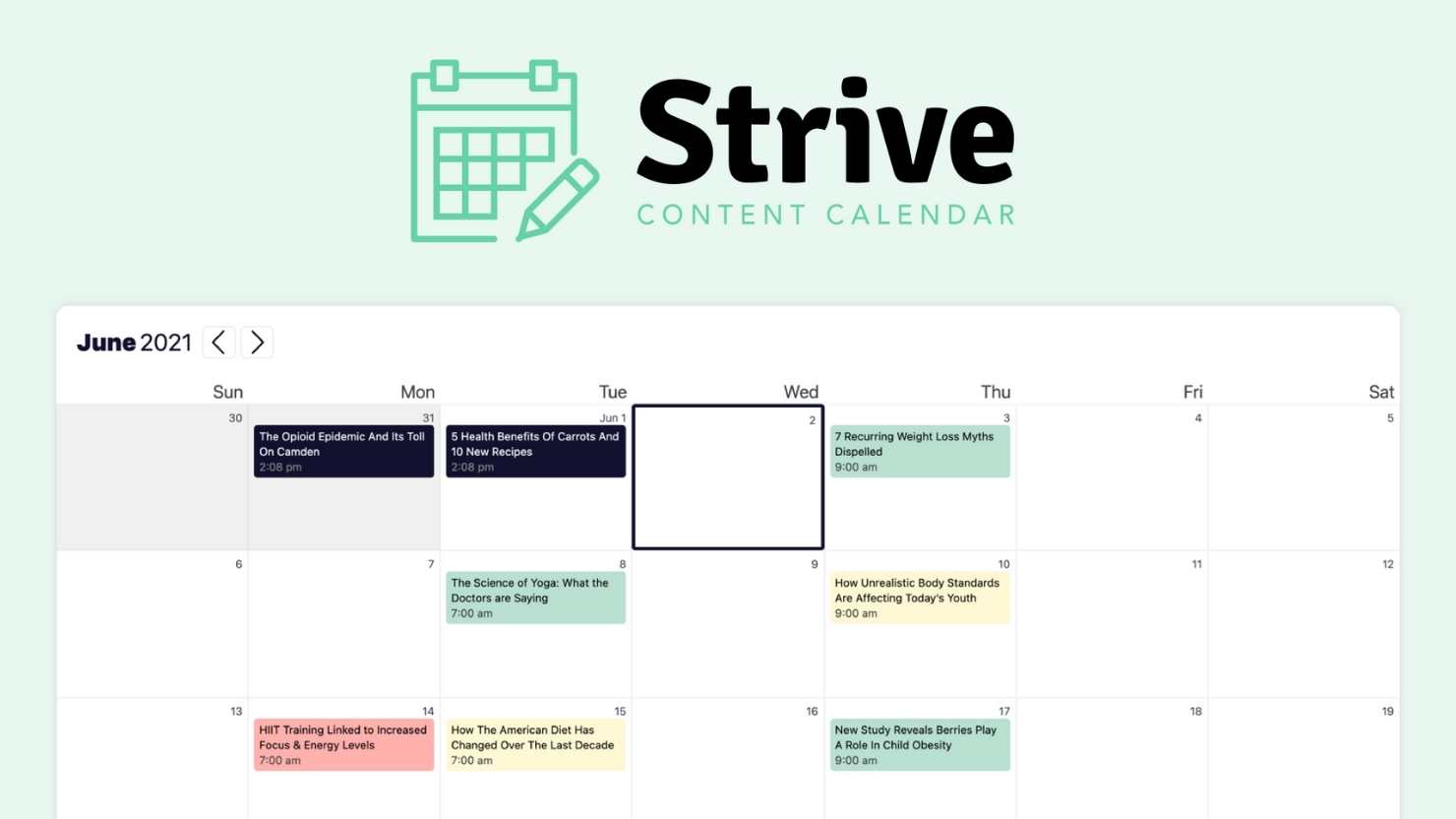 If, like us, you…
manage multiple blog sites on WordPress,
you're continually turning over blog content, or
you just want to save time and money (who doesn't?)
…we recommend supplementing your content calendar with Strive.
We've previously written at length about why we love using Strive to manage our blog writing process. The best thing is it lets you spearhead your blog writing process right from your WordPress dashboard.
However, it's still best practice to use a master calendar like the one we've created in Asana. That way, you can see how your blog content fits with your other content channels and ensure your strategy is cohesive.
Summary
So, class, that's the 411 on content calendars! What have we learned?
Well, your content calendar is more than a simple scheduler. It's an essential part of your project management toolkit and your overall marketing strategy.
With your content calendar on a roll you can make sure you deliver a healthy mix of high-quality, well-planned content all while keeping your sanity in check!
Here are the key points to remember:
Set a clear objective for your content with your target audience front of mind
Plan a variety of content relevant to your objective (use ChatGPT for inspiration)
Choose a tool that's appropriate for your team and budget
Populate the calendar with your planned content.
Include key information including content type, assignee, due date, and publish date
Break down large tasks into smaller subtasks
And hey presto! You've got a useful content calendar populated with great content ideas!
So, if you've been winging it so far, it's time to step up your game. Trust us, your future self (and your audience) will thank you.
Keep creating, keep planning, and most importantly, keep having fun with your content!

Do you have a template you use? What's the biggest benefit to using content calendars you've found? Please share with us in the comments below.
If you liked this post, make sure you subscribe to the MemberPress blog!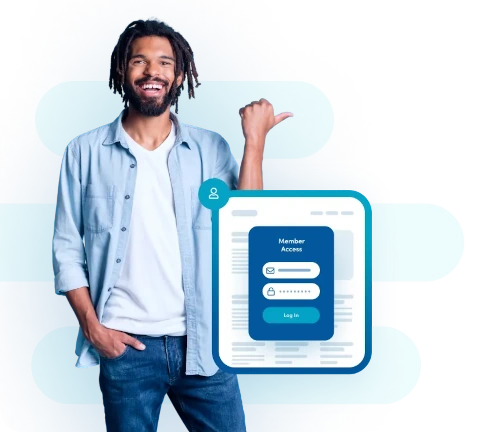 Get MemberPress Today!
Start getting paid for the content you create.
Get MemberPress Now
See All Features