Making 6 figures blogging without ads has got to be a pipe dream. It's too good to be true, right?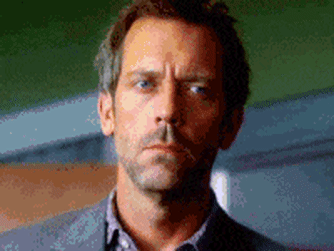 Nope. It's actually 100% do-able.
And it only requires 3 simple ingredients…
A solid niche
Killer content, AND
Dedication
If you've got those 3 ingredients, all you need next is 2 essential tools.
Tools You'll Need
WordPress
MemberPress
Here, we'll show you how you can take a solid niche, mix in some killer content, add a dash of dedication, and cook it all up with MemberPress.
We'll also give you 3 specific ways to monetize your blog without ads. And we'll throw in some pro tips to help you along the way.
It's an ad-free recipe for a 6-figure blog – so let's get cooking!
Why WordPress and MemberPress?
There are countless ways to monetize your website without ads. But however you go about it, WordPress and MemberPress are essential.
That's because, together, these two tools make monetizing your blog easy – even for beginners.

WordPress is the world's most popular content management system (CMS) for a few reasons. First, it's incredibly user friendly.
Second, with thousands of WordPress plugins to choose from, you can customize it any way you like.
MemberPress is one of those plugins.
To be more specific, MemberPress is the world's most widely used monetization and membership plugin for WordPress. It lets you protect and sell any kind of content, including…
PDFs
White papers
Consulting sessions
…and just about anything else you can imagine.
MemberPress has all the built-in features you need to turn your WordPress blog into a money-making machine – no coding or ads required.
But First, You've Got to Find Your Niche
For this article, we'll assume you've already drilled down and found your niche. But, if that's not the case yet, the post below will help you out.
So, once you've…
It's time to get busy generating your 6 figure income.
How to Make 6 Figures Blogging without Ads
Like we said, there are about a zillion ways to monetize your blog. But the following 3 blog monetization methods…
Are tried-and-true
Are simple for just about everyone
Can be done with WordPress + MemberPress
Can be combined to maximize your profits
So here we go!
#1 Paywall Your Content
First up is content paywalling. When you paywall your content, you charge users for access to it.
This monetization method is at the top of our list because it's the easiest and most straightforward way to make money blogging without ads.
It's also very common. You've probably seen paywalls all over the place online. Sites like The New York Times and The Wall Street Journal have used them for years.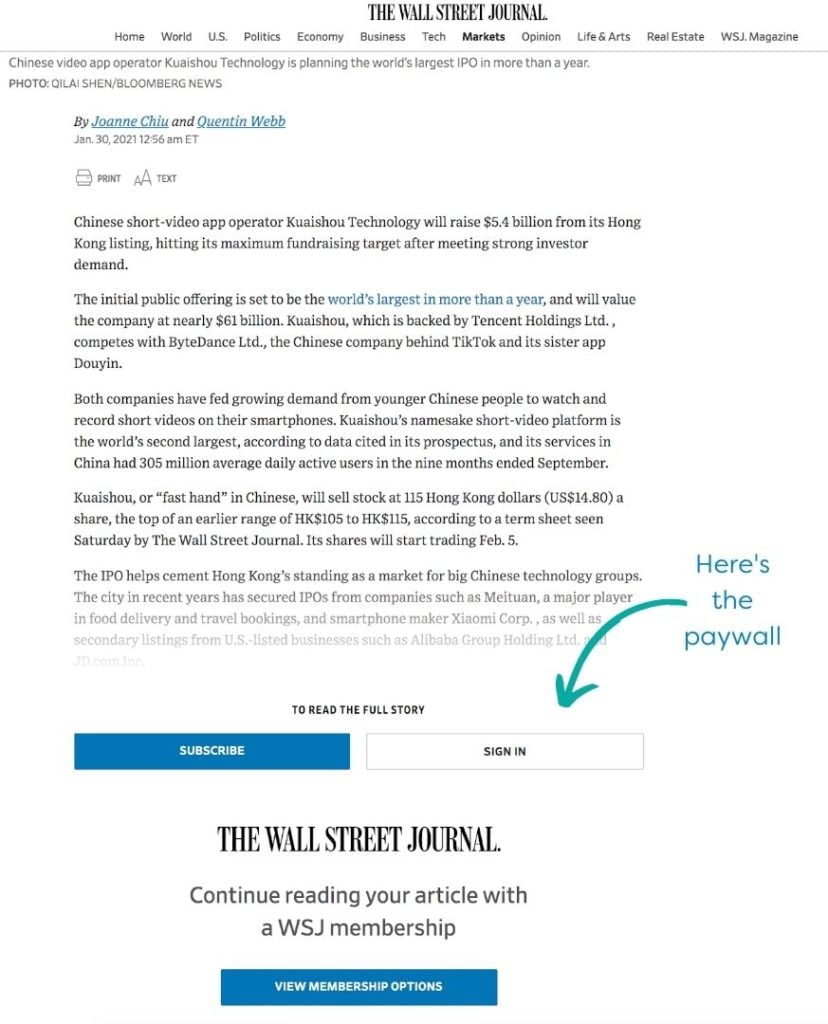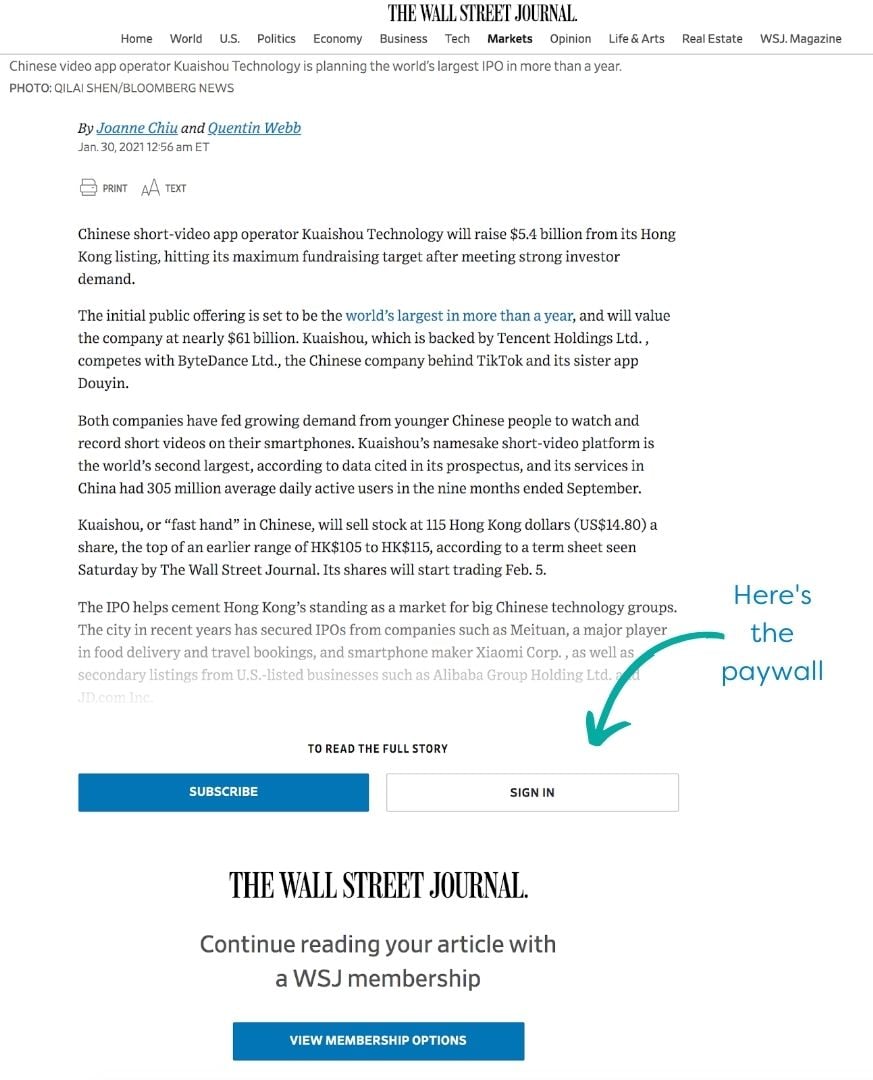 Yep, paywalled content is everywhere. But successful paywalled content always has one thing in common – high quality.
People won't pay for content unless they believe it's worth the expense. And Google won't rank content if it's not useful.
Therefore, your most important job as a paywalled content creator is making sure your content is useful.
Creating useful content
In your quest to produce valuable content, we highly recommend you learn about Google EAT. It's what high-ranking content is made of, and it stands for…
Expertise
Authoritativeness
Trustworthiness
Study the elements of Google EAT, apply them to your content, then watch your rankings and conversions climb.
PRO TIP: Paywalls and SEO
Speaking of Google, if you decide to monetize your content behind a paywall, you'll need to pay special attention to your SEO.
Google will rank paywalled content – as long as it's done right.
And "doing it right" means using flexible sampling. It's an SEO strategy that keeps your content both protected and visible to the bots.
You can learn more about the 3 main types of flexible sampling (lead-in, metered, and hard paywalls) at the page below.
How to paywall your content
Setting up a paywall can be time-consuming, difficult, and expensive. But the MemberPress plugin makes it fast, easy, and affordable.
And, best of all, you don't have to know how to code.
First, you'll need to install and activate MemberPress by visiting the Settings > License page, entering your license key, and clicking Activate.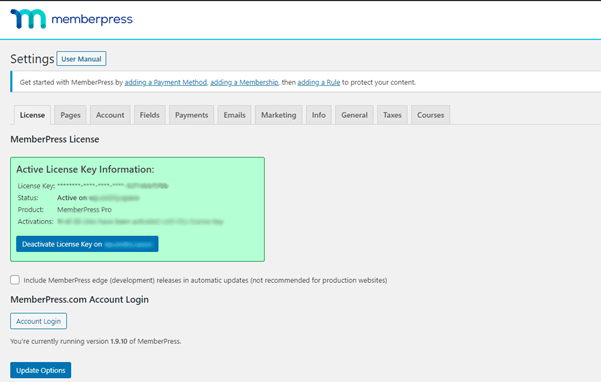 Once that's done, you can set up your payment methods.
MemberPress has built-in integrations with several popular payment gateways, including Stripe and PayPal.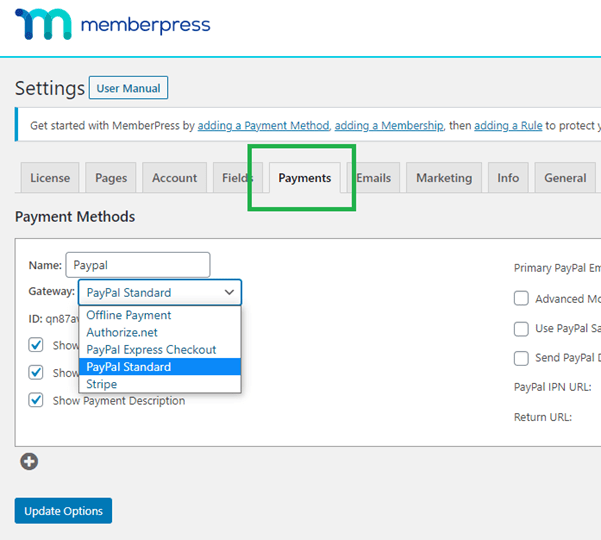 With payments squared away, you're ready to create a paywall and a subscription plan to go with it.
Just go to the MemberPress > Memberships page, and click the Add New button at the top left.
Then name your membership plan, and set your price.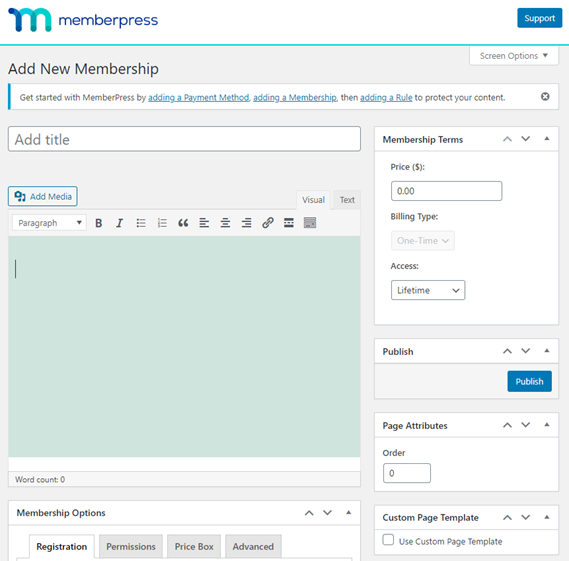 Here, you can set up one-time or recurring subscription types – whichever works best for your business model.
For recurring payments, you'll choose from weekly, quarterly, monthly, or yearly intervals, or you can set up a custom timeframe.
In the Membership Options box, you'll find even more ways to customize your membership plan.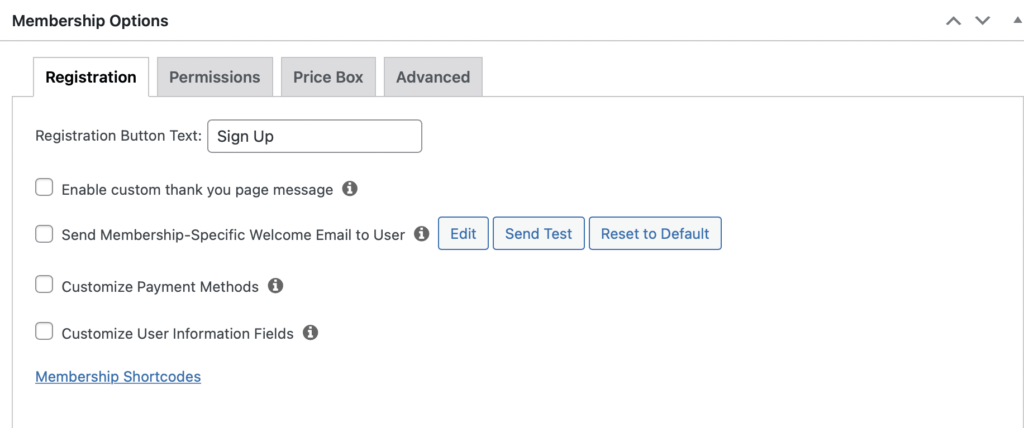 If you're in a hurry to get your paywall up and running, just go with the default settings. In most cases, they'll work just fine, and you can go back to make changes later.
When you click the Publish button, your membership will be ready to go, and you can start adding content.
With MemberPress Rules, you can restrict any piece of content to specific membership plans.
To set up your rules, go to the MemberPress > Rules page, and click on the Add New button.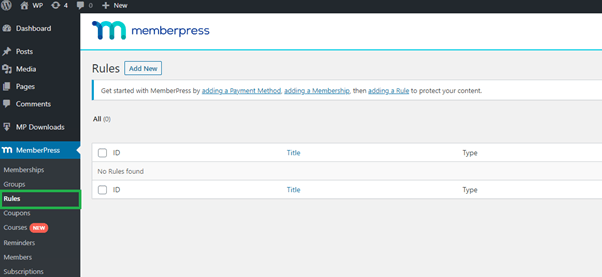 Use the first dropdown menu to pick the type of content the paywall will protect. This can be based on things like tags, categories, individual posts, and more.
After that, select the membership plan the content will be associated with. When everything's squared, click the Save Rule button.
Next, visit MemberPress > Settings > Pages, and make sure Show a login form on pages containing unauthorized content is checked under Unauthorized Access.
Now, whenever someone tries to view that content without a subscription, they'll see a customizable notification.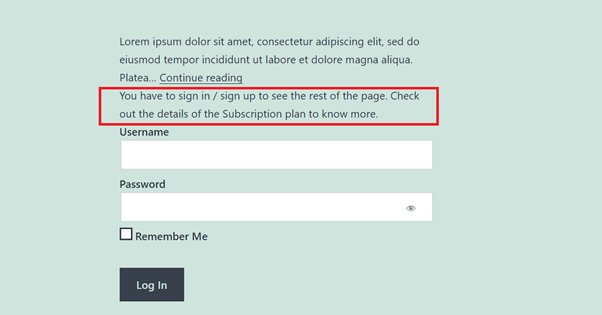 That's it! Now, each protected piece of content will be labeled on the backend. And you can quickly double check your settings anytime you like.
For example, when you go to Posts > All Posts in the WordPress dashboard, you'll see that the posts protected with your new rule are now marked Membership in the Access column.
Each of those marked posts is only accessible to people who've signed up for the specific membership indicated. So it's an easy way to get confirmation that a piece of content is paywalled.

You can also do a lot more with your MemberPress paywall. For example, you can do things like offer non-members a free sneak peak, or connect multiple membership levels to a single piece of content.
Learn about these settings and more in the video below.
#2 Sell Digital Content
Next up we've got selling digital content – yet another simple and easy way to monetize your blog.
Digital products can be things like…
Stock photos (like you find on iStock or ShutterStock)
Templates (think of a Google Sheet that's already set up for a specific function, such as a content calendar)
Printables (like worksheets and coloring pages)
White papers and case studies (imagine a marketing research report)
Calculators (think of apps that calculate percentages or mortgage rates)
Ebooks (fiction, non-fiction, even workbooks)
Obviously, the above isn't a complete list, but it gives you an idea of the types of digital downloads you can sell online.
The stuff you sell will depend on your blog's topic. For example, you might find a printable anxiety journal for sale on a blog focused around mental health.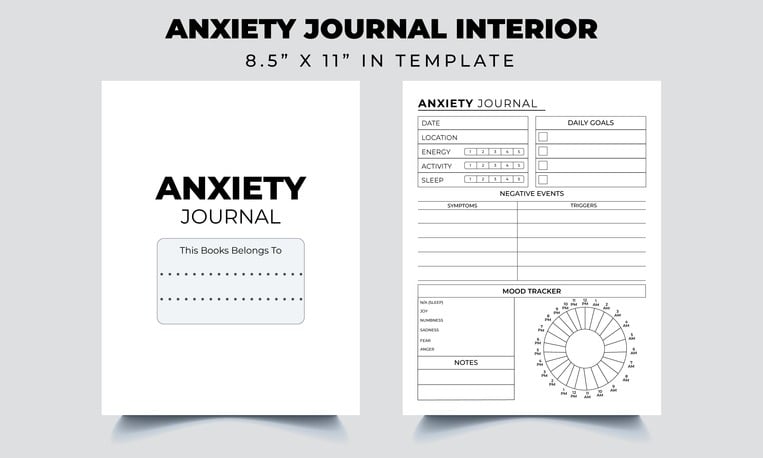 In the same way, if you run a travel blog, you could sell digital products like customized trip itineraries and comprehensive travel checklists.
The possibilities are endless.
How to sell digital content
With the MemberPress Downloads add-on you can create memberships that give members access only to specific files or groups of files.
In other words, you can sell digital content right from your WordPress website.
To get started, make sure you've got MemberPress installed and activated. Then download and install the MemberPress Downloads add-on.
Once that's squared away, watch the video below to get your first digital product up, running, and ready to sell.
PRO TIP: Good starter products
When you're just starting out, your resources are limited. So you'll want to go with digital content that's fast and affordable to produce. Things like printables are an excellent choice.
Also, to avoid wasting your valuable time, always focus your efforts around stuff that will appeal to your niche audience.
#3 Do Affiliate Marketing
Affiliate marketing is another excellent (and easy) way to get your blogging efforts up into the 6 figures.
With affiliate marketing, you promote a seller's products or services on your blog by placing unique links within your content. These links contain codes the merchant uses to track sales or actions attributed to your efforts.
You earn a commission for each action or sale, depending on your affiliate contract.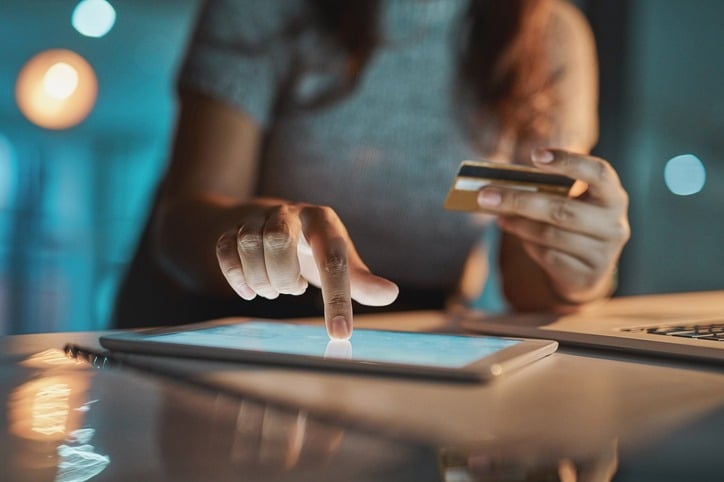 How to do affiliate marketing
Getting into affiliate marketing is pretty straightforward. You just sign up to become an affiliate, then add your unique links to content throughout your blog.
The most important part is finding and choosing the right affiliate programs to sign up for. And that should mainly come down to – you guessed it – your niche.
Market to your niche
By now you've probably figured out why we listed "a good niche" as one of the key ingredients in a revenue-generating blog.
With affiliate marketing, your niche should define which affiliate programs you choose.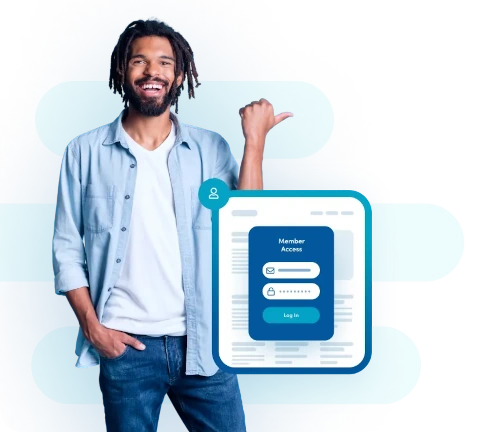 Start Your 6-Figure Blog Today
Get paid for the content you create – with MemberPress.
Get MemberPress Now
See All Features
Back to the travel blog example. There's a good chance your audience will buy digital products like travel apps, and physical products like travel pillows.
However, they're not as likely to be in the market for baby shoes or gardening supplies. So don't bother with affiliate programs like that.
Promoting products that are irrelevant to your audience or unrelated to your blog topic will make your site seem spammy. And you definitely don't want that.
Use affiliate marketing SEO
Your affiliate revenue depends on site traffic. And about 53% of all site traffic comes from people doing online searches (organic search).
That means you can significantly boost your affiliate marketing revenue with a good SEO strategy.
A solid SEO strategy starts with identifying keywords that are relevant to your niche. And using a high quality keyword research tool is one of the best ways to find good keywords.
We really like Semrush for this. The platform's Keyword Overview, Keyword Magic, and Keyword Difficulty tools make research fast and simple.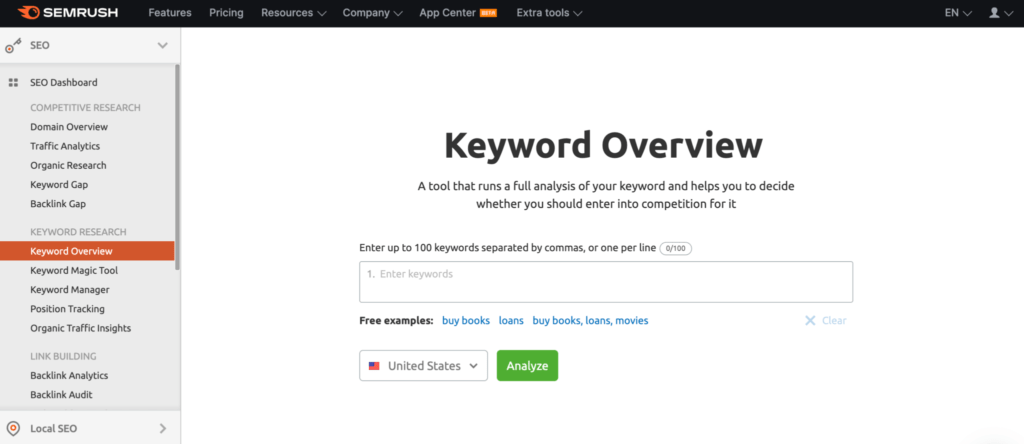 Use an affiliate link management tool (LMT)
Link management tools, like our sister product Pretty Links, serve 3 essential functions in affiliate marketing…
First, an LMT keeps track of your links and their performance.
If you sign up for 5 different affiliate programs, you've got at least 5 unique links placed in hundreds of spots throughout your blog.
A tool like Pretty Links gives you a central dashboard where you can keep tabs on the click-through rates (CTRs) for each of those links.
If a link isn't performing well, you'll know it.
Then you can do things to improve performance, like optimize the anchor text or change the link's placement.
Second, an LMT increases customer engagement with your links.
All the affiliate programs in the world won't get you any closer to 6 figures if no one's clicking on your long, ugly affiliate links.
A good LMT will fix that problem by allowing you to cloak your affiliate links.
Link cloaking is when you replace a complicated, unattractive URL with a short, descriptive one to increase conversions. And it works!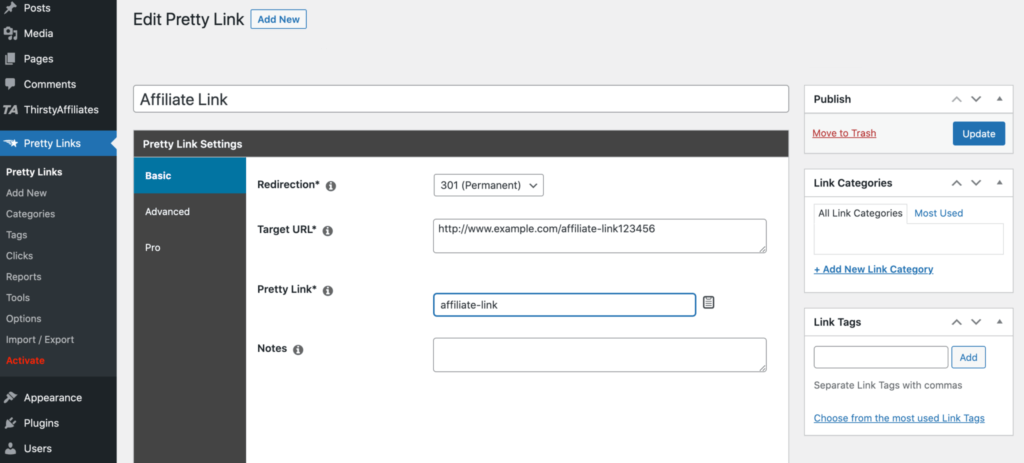 Last, an LMT automates your link placement process.
Affiliate marketing is a numbers game: The more links you've got, the more click-throughs (and sales) you'll get.
However, there is one caveat. You never want to overload your content with affiliate links. Doing so will give your blog a spammy look and ultimately hurt your efforts.
But that said, even placing a reasonable number of affiliate links in a good size blog is incredibly time consuming.
An LMT (if it's worth its salt) will allow you to set parameters that automatically attach your links to anchor text across your site.
Final Thoughts – How to Make 6 Figures Blogging without Ads
Hopefully you noticed you can apply all 3 monetization methods to a single blog. It's an excellent strategy to really rev up your money-making potential.
For example…
Do you already have a bunch of high quality travel content in the bag?
Sign up with some travel product affiliate programs.
Paywall one of your travel guides.
Create and sell a couple of printable travel checklists.
Have you been running a homeschooling blog?
Paywall a few comprehensive lesson plans.
Create and sell a few printable worksheets.
Build and sell an Excel-based homeschool transcript template.
However, if you're still in the content-production phase, start by really digging into one monetization method.
For example, learn all you can about setting up and using a paywall with MemberPress.
Remember, you just need 3 ingredients to get rolling…
A good niche
A touch of killer content
A dash of dedication
Then, with WordPress + MemberPress, you've got everything you need to cook up that 6-figure site you've been dreaming of. Totally ad-free.
Do you have any questions about how to make 6 figures blogging without ads? Ask away in the comments section below.
If you liked this post, make sure you subscribe to the MemberPress blog!