How to Create a Business Directory in Your Membership Site
A business directory can be a great resource for both your visitors and your members. Creating a directory in your membership site where your members can list their services, or adding a directory to your site that contains details of resources that your members will find useful are two possible uses for adding this feature to your membership site. Of course, there are many reasons to add a business directory to your membership site.
In this guide, we cover how to create a business directory in your membership site, using a free plugin alongside MemberPress. However, you should be able to use your own choice of plugins to get similar results.
So if you want to start listing businesses online in a directory, as part of your membership site, you'll soon know exactly how to do so.
Choose a Business Directory WordPress Plugin
Once again, WordPress users are spoilt for choice when it comes to adding a business directory to their membership sites.
For this guide, we'll be using the aptly named Business Directory Plugin for WordPress. It's a free, popular, and powerful option that you can upgrade when needed by installing the premium modules that unlock extra features.
However, there are many other options out there. So depending on your needs, the Business Directory Plugin might be the best choice, but in other situations, another extension could be a better option.
To help you choose a business directory WordPress plugin, here's a quick overview of some of the best options:
Business Directory Plugin – as mentioned, this free plugin is popular and powerful with lots of useful features and options for unlocking additional premium modules.
GeoDirectory – another free option with paid upgrades that's easy to use and should work with any WordPress theme.
Connections Business Directory – start with the free version then pay to unlock more features as and when needed.
You can find more detailed information about these plugins in the WordPress directory plugins article on the Kinsta blog.
Configure Your Chosen Directory Plugin
If you've chosen a free plugin that's available from the WordPress Plugin Directory, you can easily install it from inside your WordPress dashboard. If you've sourced your plugin from elsewhere, then follow the instructions provided by the vendor.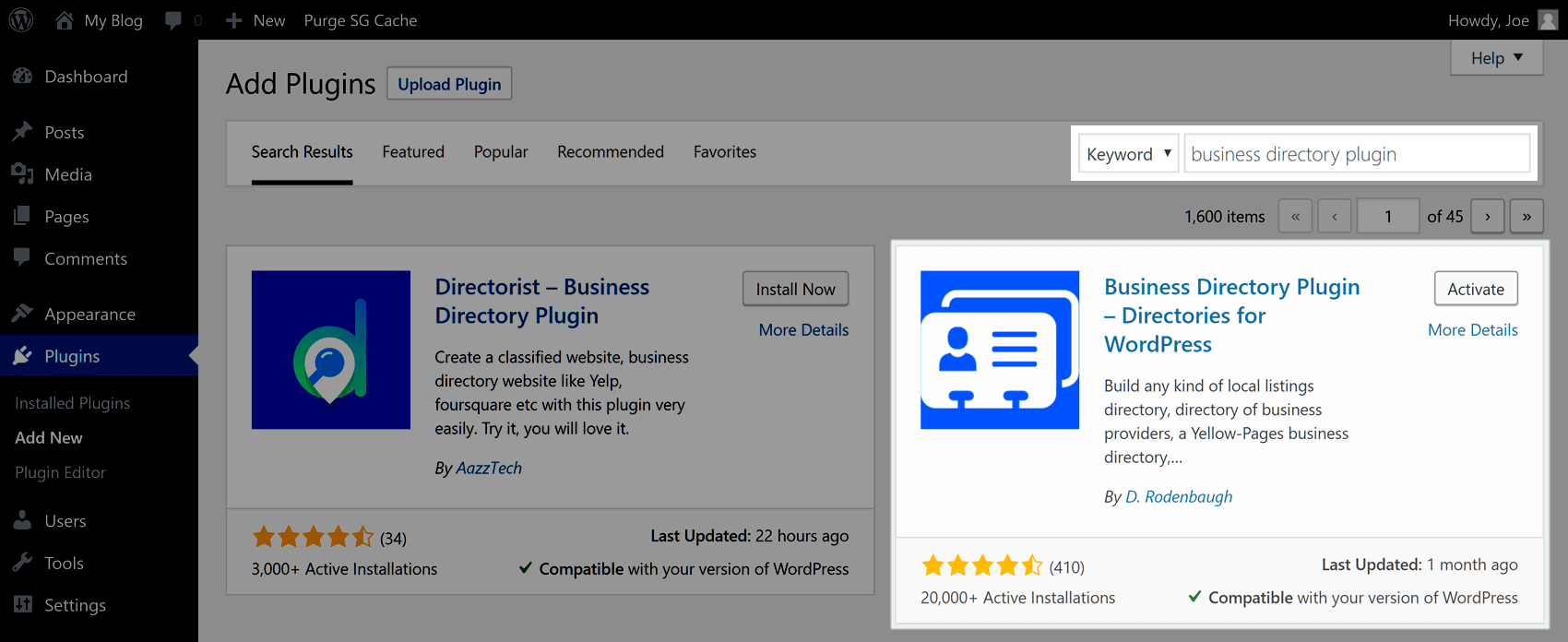 Once you've logged in to your WordPress dashboard and installed and activated your plugin, you can start configuring it to work in the way that you want. As we're using the Business Directory Plugin, we can use the helper to quickly create the necessary pages for our directory.
Once the pages have been created, you can move onto configuring the plugin itself. The Business Directory Plugin adds new items to the WordPress dashboard sidebar menu titled Directory and Directory Admin. From these two menus, you can find the controls that let you configure how the plugin and your business directory will work. A good place to start when setting up your directory is the Manage Form Fields screen.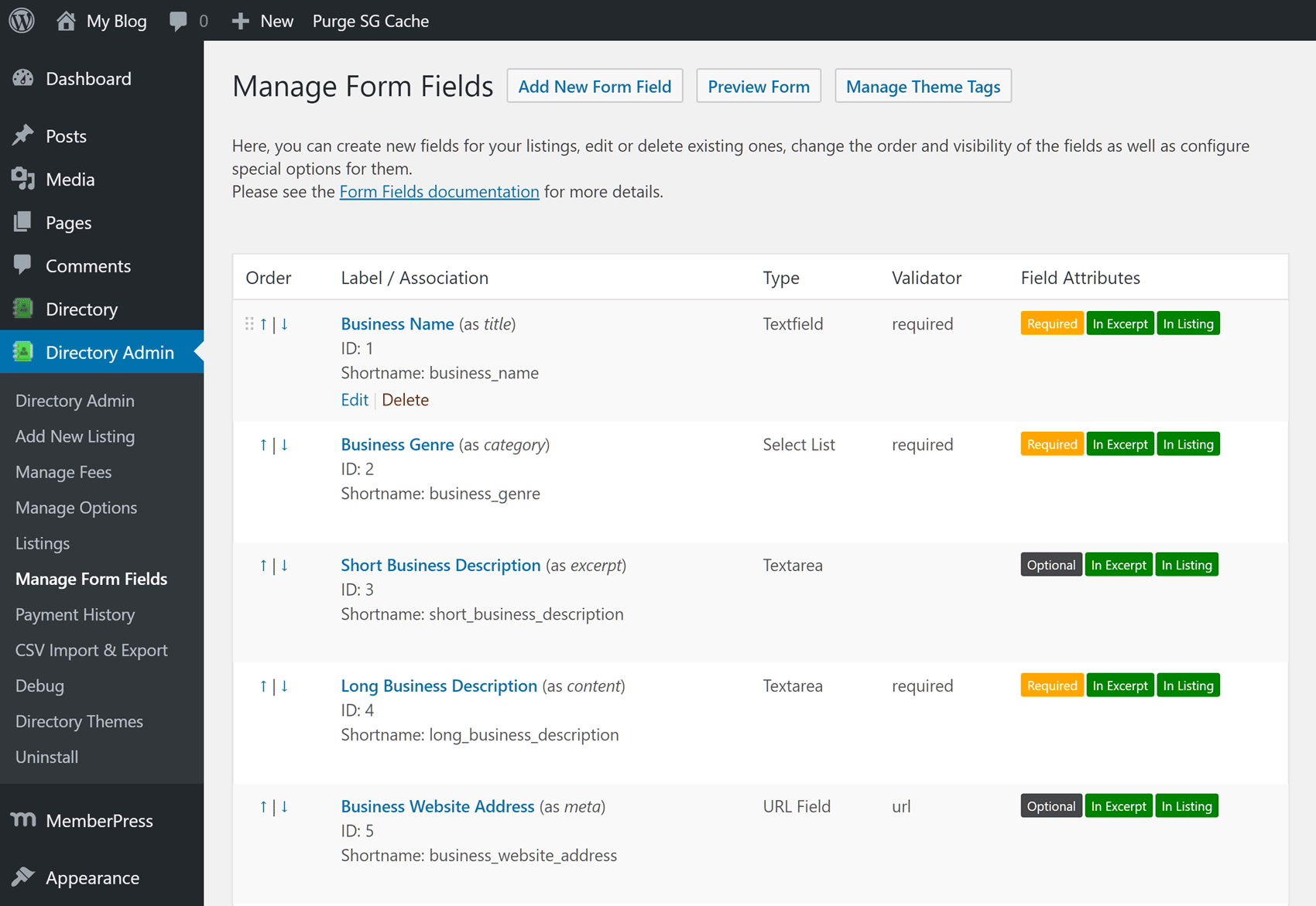 These controls let you determine which fields are available for your listings. This, in turn, defines what information your listings can handle. Some examples include the business name, address, and website URL. A good business directory plugin will let you easily add new fields to your listings.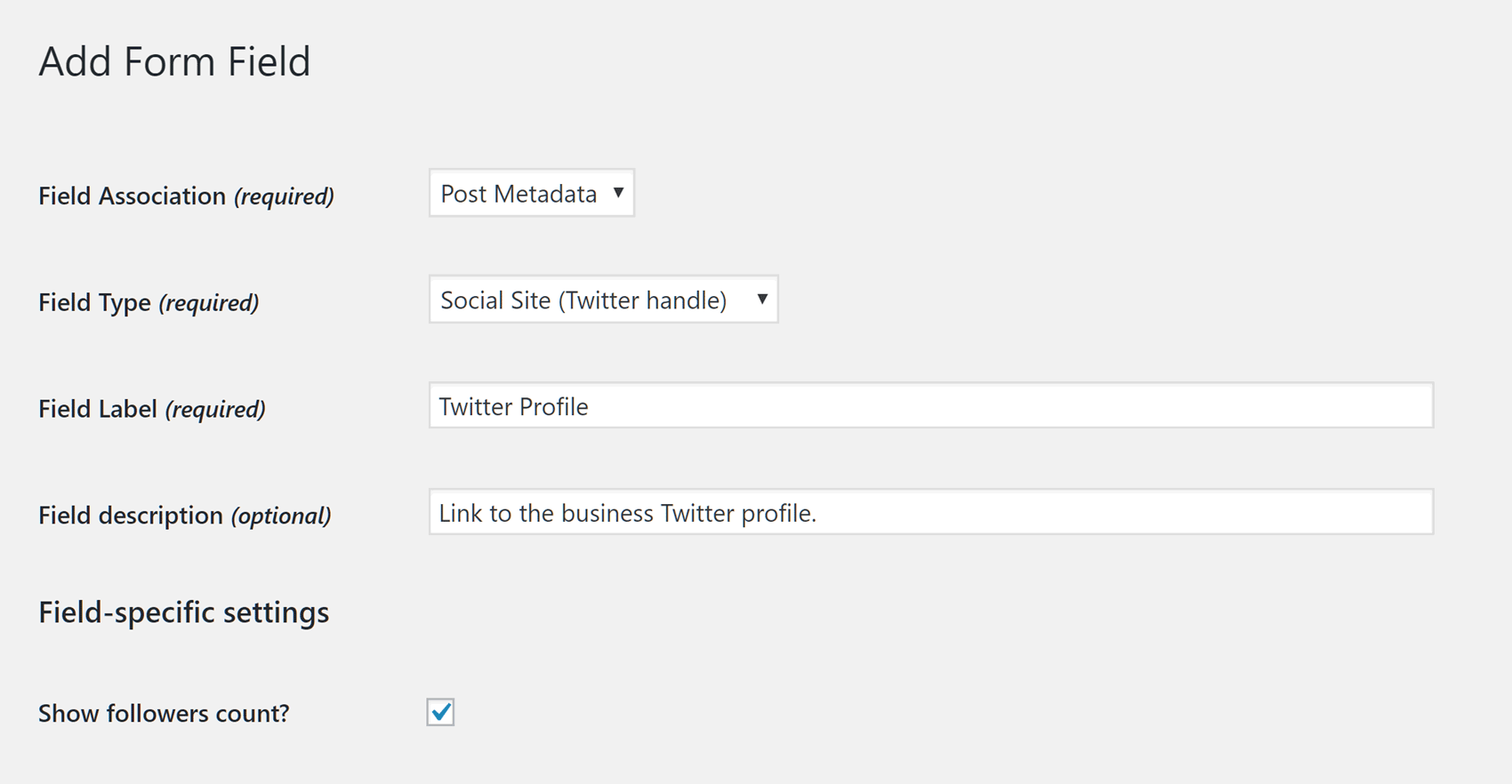 Other areas of the plugin and your business directory that you might want to customize include:
Directory categories and tags to help you organize your listings.
Listings duration settings to control how long listings are active for.
Contact settings to allow users to contact listing owners or not.
Listings fees and payment settings to charge and collect money in exchange for accepting listings.
As most directory plugins let you charge a fee for accepting listings on your site, you can use this feature independently from the fee functionality of your chosen membership plugin. For example, you could restrict access to your directory so that only paying members can access it using your membership plugin, while also charging a fee for listing submissions via the functionality of the directory plugin.
Restrict Access to Your Business Directory
Depending on your preferences, you could completely restrict access to your business directory so that only your active members can view and interact with it or alternatively, you could make it available to all.
If you're using a good membership plugin though, your options for restricting access to your directory are almost unlimited. A plugin like MemberPress makes it easy to protect certain parts of your directory from non-members, giving you lots of options for setting up and monetizing your business directory.
If you do want to make your directory private, you can control access to the business directory listings page on your website with your membership plugin.
To do so using MemberPress, you can simply visit the Rules page under the MemberPress menu on the sidebar of your WordPress dashboard. From there, you can create a new rule using the A Single Page option and then choose the page that contains the business directory.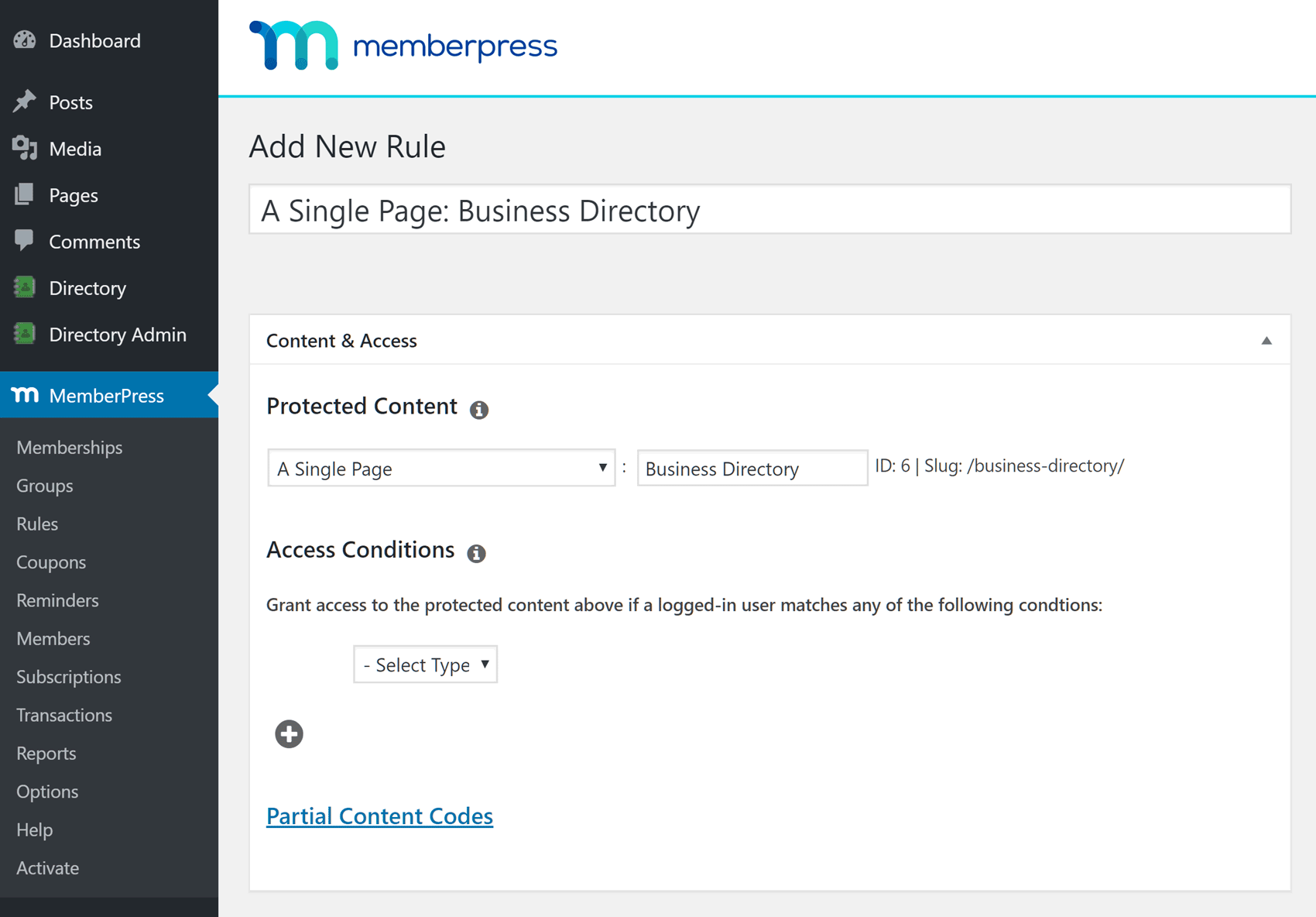 You can then use the Access Conditions settings on the same screen to define which members can view the protected page, based on their membership plan or their member name.

Depending on how you configure your plugin, when a non-logged in user or member tries to access the page, they will see the login page, a registration page, or a custom message.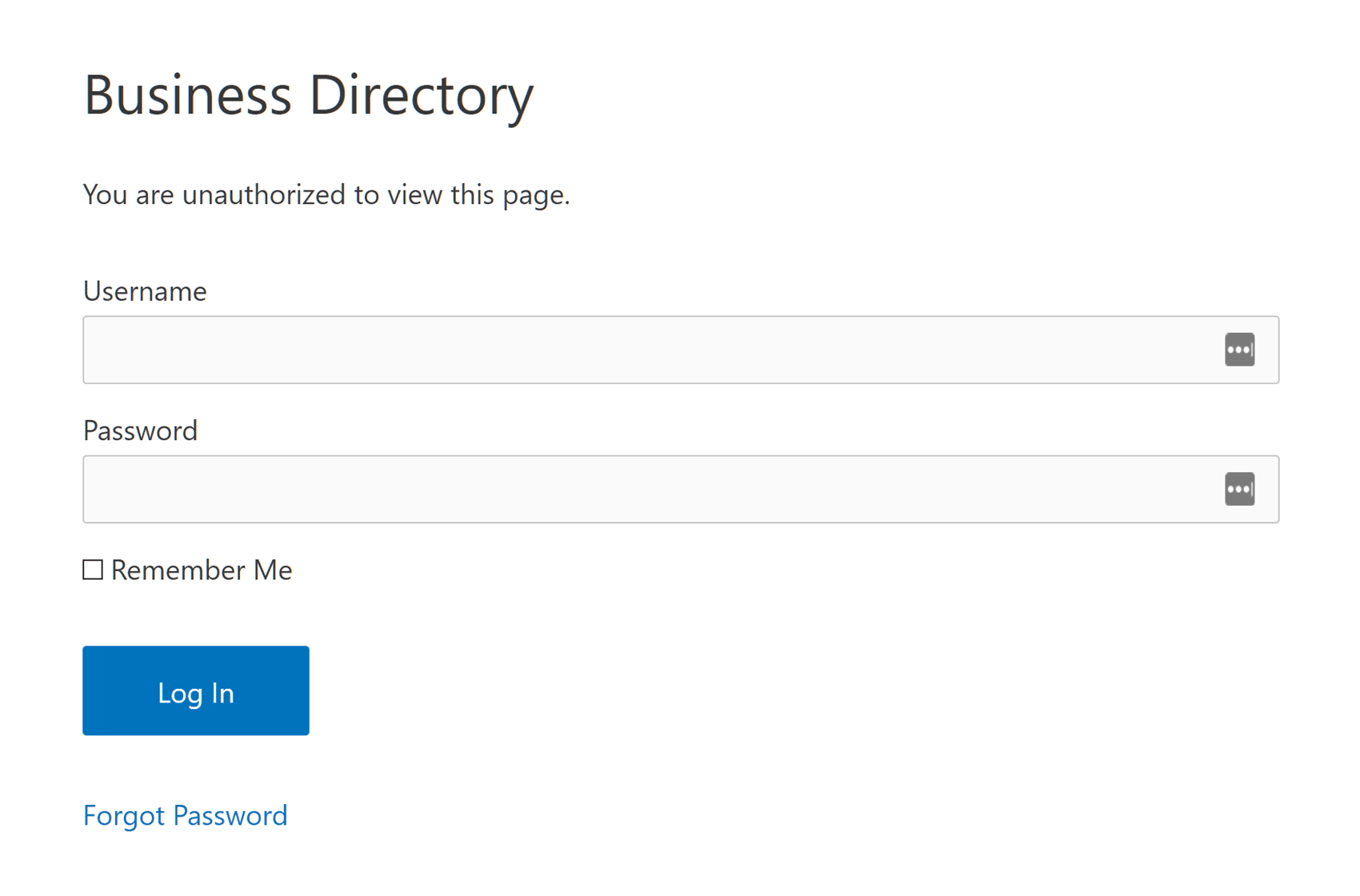 As MemberPress has sophisticated rules functionality, you can control much more than just access to the entire business directory. Depending on how you configure your site, you could restrict access to listings tagged with specific tags, the ability to access the listings creation page, and much more.
Final Thoughts
As we've just seen, if you pick the right tools, it is very easy to create a business directory in your WordPress membership site.
While there are lots of good business directory plugins out there, including the one we used for this example, be sure to think about what features you need for your particular project. Then look for the solution that best matches your specific requirements.
Whether your membership site is already up and running, or you're about to start a new one, adding a business directory to it is very straightforward.
Are you ready to add a business directory to your membership site? Please let us know in the comments below.