You already know that creating a website is one of the best ways to build and grow your business. However, as the internet evolves, you need to consider adapting to new content creation techniques.
Otherwise, you might miss out on the best opportunities.
By moving your business to the metaverse, you can develop more immersive experiences for your customers.
Whether you create a hands-on virtual classroom or an interactive shopping event, the metaverse could present some new and incredible opportunities for you business.
In this post, we'll explain what the metaverse is and why it's important. Then, we'll show you how you can start preparing your business for this exciting new platform. Let's get started!
What is the Metaverse?
The metaverse was originally a cool idea in a sci-fi novel. And today it's a real concept in development by the creators of Facebook. (Maybe life really does imitate art!)
In a nutshell, the metaverse will be a 3D version of the internet.
The theory behind the metaverse is to create a virtual space parallel to real life. Using a 3D avatar, you may be able to do anything, like buy a house, eat, shower, and more.
Right now, the metaverse is a very theoretical concept. Since it's still being fleshed out, we don't know exactly what it will include or the effects it will have.
However, if the metaverse does come to life, it could have a serious impact on the digital economy.
The metaverse could become the central place to buy and sell virtual products. And that has the potential to drastically change the way businesses market, brand, and advertise their products.
Why You Should Consider Preparing Your Business for the Metaverse
More than a few experts believe the metaverse could end up being a multi-trillion-dollar marketplace. Naturally, this has encouraged many companies and businesses to take advantage and get onboard.
For example, Sotheby's recently unveiled a digital auction house with a selection of non-fungible tokens (NFTs). This auction house is now the first immersive NFT-focused marketplace: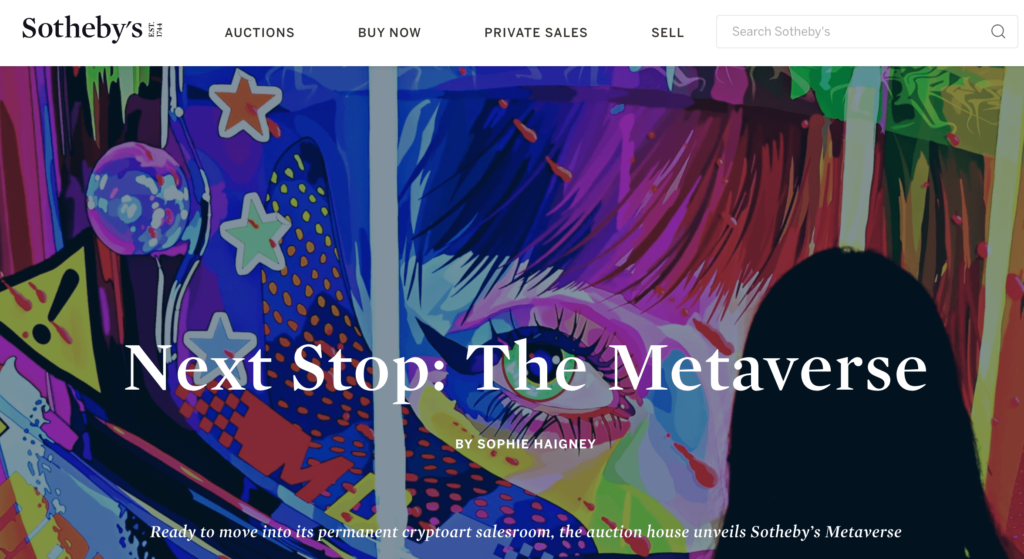 Since the metaverse is a new concept, you still have an opportunity to get in on the ground floor. If you play your cards right, your business could be one of the first to offer a unique, virtual experience for your customers.
The metaverse could lead to completely new forms of content development. While other businesses are still publishing static product pages, you could offer a way for users to physically interact with your goods – entirely from the comfort of their own homes.
While the metaverse is a great idea, there are some potential downsides. For one, getting involved will likely require expensive virtual reality hardware. And the metaverse might be inaccessible to people with visual impairments or motion sensitivity.
Nonetheless, investing in technology to push your business forward is just part of the game. And with innovations constantly popping up all over the place, innovative ways to make the metaverse more accessible are bound to come about.
How to Prepare Your Online Business for the Metaverse (In 4 Steps)
While the metaverse is still a theoretical concept, it certainly can't hurt to start preparing your business for this new and exciting marketplace. And you might be surprised to learn that the things you can do now to get prepared are really pretty basic. Let's check it out…
Step 1: Start Thinking About User Experience
First, you'll want to consider whether your business is a viable option for the metaverse. In this new format, users will want to experience your products or services first-hand.
Second Life was an early attempt at an immersive virtual world, where users could socialize, buy products, trade property, and more:
As Second Life became popular, many businesses tried to market on this platform by featuring their logos. The marketing tactic didn't see much success because it didn't deliver an interactive, memorable experience.
If you want your business to succeed in the metaverse, you'd be wise to deeply consider how your customers can interact with your products or services.
If you can give your customers an engaging experience, they will be more likely to come back for more.
If you're not sure whether your business could succeed in the metaverse, here are some projected popular industries:
Immersive shopping
Entertainment
Education
For example, if your site offers online yoga classes, there's a good chance you could spin this into an amazing virtual experience.
Ultimately, the only limit is your imagination. Virtually any business could become popular in the multiverse with the right idea, so it's important to stay open-minded and creative.
Step 2: Strengthen Your Online Presence
The metaverse doesn't exist yet, but it's important to launch your online business now. Since it will be an evolution of the existing internet, some of the same ideas and practices will transfer over.
So to start preparing your business for the metaverse, you'll need to build a website. This is one of the most important first steps in boosting your online presence.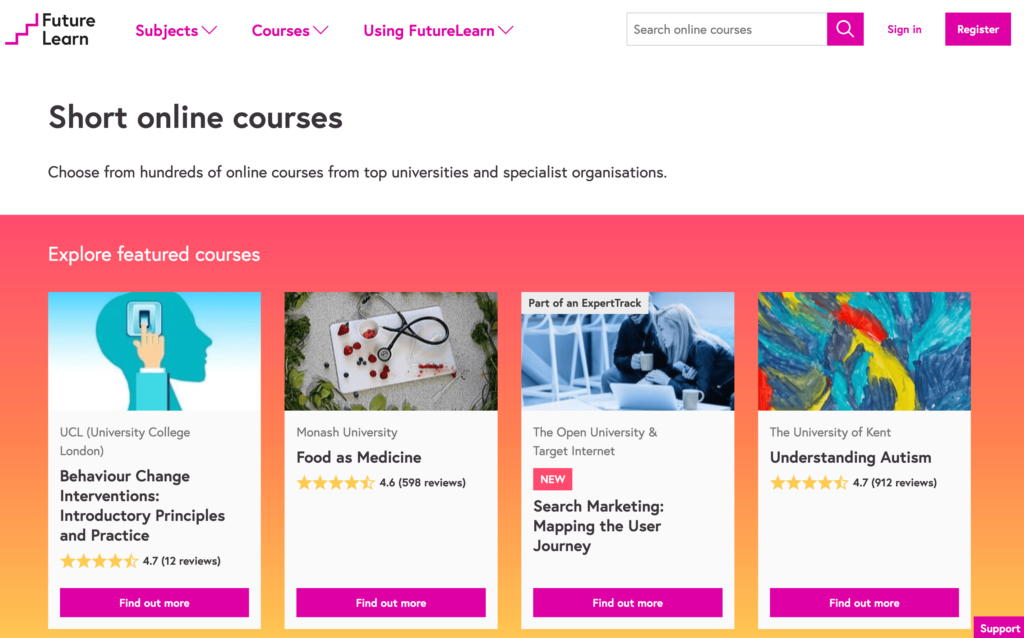 Plus, this enables you to create an online store for your company. By testing marketing methods, you can figure out your most popular products. Then, you can consider how to convert these products to virtual reality.
When you learn how to build and grow your business now, these techniques can help you break through in the metaverse down the road. You have time to establish your brand identity and attract new customers now before the metaverse actually launches.
Step 3: Target the Right Audience
The next step is to find your target audience. By identifying the specific needs of your ideal customer, you can better understand how to move your brand to the metaverse.
To drive the right users to your site, you can start by improving your search engine optimization (SEO). This can boost your visibility in search results and attract your best customers.
An easy way to start doing this is by installing an SEO plugin. For example, AIOSEO is a tool that makes it easy to customize your SEO settings all in one place:
Using AIOSEO, you can add keywords, meta descriptions, title tags, and more. With an SEO audit, this plugin can automatically check your entire website for errors.
You'll also want to consider whether your audience is a right fit for the metaverse. Generally, new technologies like virtual reality will be more suited to a younger generation.
If your products are designed for older adults, they might not want to explore virtual reality.
Step 4: Create Adaptable Online Courses
Although the metaverse could be popular for gaming and entertainment, there's a huge opportunity for education. Moving to the metaverse can be an effective way to engage your students in your online courses.
Here are some benefits of teaching in the metaverse:
Immersive classroom with hands-on learning
Customizable virtual space
Ability to socialize with teachers and other students
Opportunities for gamification
When the metaverse becomes real, many companies, membership sites, and online schools will likely shift courses to fit virtual reality. If you start considering how to create an immersive educational experience now, you can be ready for this change.
To start fine-tuning your online courses, you'll need to build them on a website first. Our MemberPress Courses add-on makes this easy for everyone – tech-savvy or not.
With MemberPress Courses, you can customize your learning materials and track your students' progress.
You can also start improving lessons and quizzes, with the goal of eventually moving them to the metaverse.
Conclusion
The metaverse only exists in theory, but you can start planning your transition to this platform. By turning your products or courses into engaging, immersive experiences, you can prepare to take advantage of this new technology.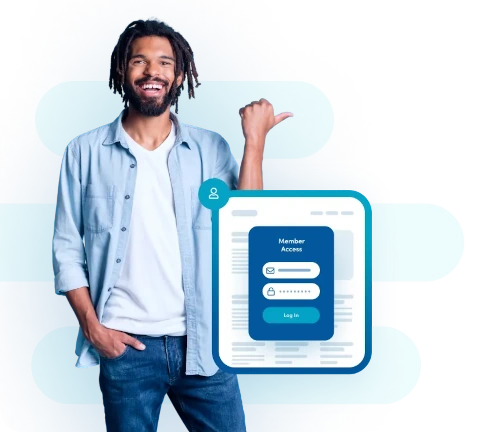 Get MemberPress Today!
Start getting paid for the content you create.
Get MemberPress Now
See All Features
To review, here are four steps you can take to start moving your business closer to the metaverse:
Think about user experience.
Strengthen your online presence.
Target the right audience.
Create adaptable online courses.
Do you have any questions about building a business that can transition to the metaverse? Ask us in the comments section below!
If you liked this article, be sure to subscribe to our newsletter in the box up to your right!