Setting up a website can be an effective way to make money online. However, you might not know which passive income method will bring in the most revenue.
To help you out, we've selected some of the most powerful tools for creating a passive revenue stream. For example, with a tool like MemberPress, you can sell subscriptions to courses and other online content.
In this post, we'll look at the best passive income apps for WordPress. Then, we'll explain how to use them to start monetizing your website.
Let's get started!
1. MemberPress
With our MemberPress plugin, you can monetize your website with paid memberships, paywalled content, subscription billing, and much more: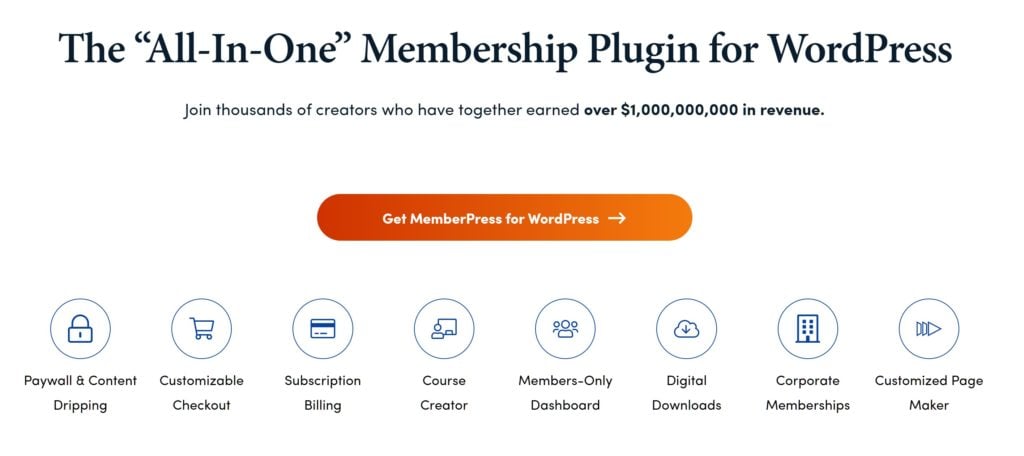 Plus, our Courses add-on enables you to sell online courses on WordPress. You can turn your website into a feature-packed learning management system (LMS) and earn a passive income through enrollments.
Another way to make money online with MemberPress is by selling digital downloads.
For example, you can create things like software, ebooks, templates, and graphics. Then, you can use MemberPress to make this content available to subscribers only.
Key features:
Online course builder
Drip content
Multiple payment gateways like Apple Pay and Google Wallet
Automated subscription billing
Customizable coupons
Pricing: Our plans start at $179.50 per year. The basic plan supports unlimited members and courses.
2. Easy Affiliate
If you'd like to grow your online business through passive income, consider starting an affiliate program. In affiliate marketing, bloggers or influencers will promote your products for a commission fee.
Easy Affiliate can help you set up a self-hosted affiliate program on your WordPress site:
With this plugin, you can accept affiliates on your program, set different commission rates, track referrals, and more.
Plus, your affiliates will be able to generate links and monitor their own performance.
Key features:
Personalized affiliate dashboard
Commission tracking
Payment integration with MemberPress, WooCommerce, and Easy Digital Downloads
Fraud detection
Support for email marketing software like Mailchimp and ActiveCampaign
Pricing: Easy Affiliate's subscriptions start at $99.50 yearly. These plans support unlimited affiliates and tracking requests. You'll also be able to perform one-click PayPal payouts.
3. Pretty Links
Rather than starting an affiliate marketing program, you might want to become an affiliate yourself.
Since you'll be promoting third-party products, you'll need to optimize your referral links. To do this, you can use a plugin like Pretty Links: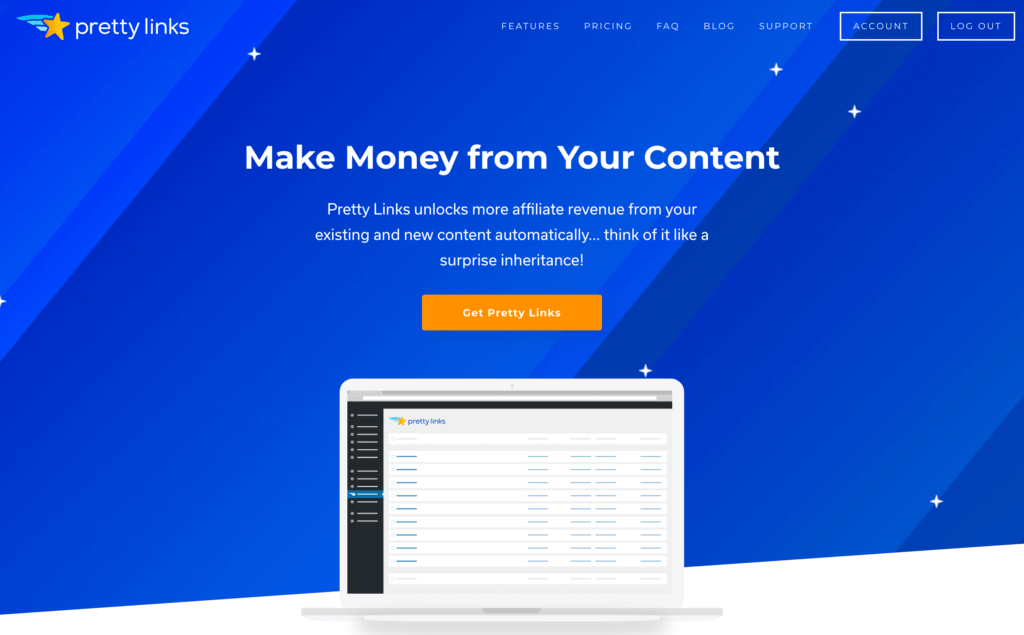 Pretty Links is a link shortener that eliminates any unnecessary characters from your affiliate links. It makes your URLs look cleaner and more professional, which can lead to more clicks and conversions.
Key features:
URL shortening
Custom URL slugs
One-click link sharing
URL redirects
Click tracking
Keyword auto-linking
Pricing: You can download Pretty Links as a free WordPress plugin. However, if you want to access keyword auto-linking or advanced redirect types, you'll need the premium version. This starts at $99.50 per year.
4. ThirstyAffiliates
As an affiliate, you'll want to be able to easily insert product links into your posts. ThirstyAffiliates is designed to automate this task.
With this tool, you can automatically link certain keywords in your content:
Like Pretty Links, ThirstyAffiliates will shorten and cloak your URLs.
What makes ThirstyAffiliates stand out, however, is its link management tools. Using the Automatic 404 Checker, you can ensure that every affiliate link works correctly.
Key features:
Link shortening and cloaking
Keyword auto-linking
Automatic 404 checker
Proactive link fixer
Click tracking and reports
Geotargeting
Integration with Google Analytics
Pricing: If you just need a basic URL shortener, ThirstyAffiliates is available for free. However, you can purchase a premium version starting at $79.50 per year. The upgraded plugin provides essential features like geographic redirects and Amazon API importing.
5. Adsanity
Another passive-income generating alternative is to use Google Adsense. This platform automatically displays ads on your website. Since these ads are cost-per-click (CPC), you'll earn some money with every click.
To run Google Adsense on your website, you can install the Adsanity plugin. This enables you to display ads with widgets, shortcodes, and template tags:
Key features:
Graphical performance stats
HTML5-ready ads
Infinite or date-based publishing
Add-ons for Google Analytics tracking, advertiser reporting, and more
Pricing: Adsanity is a premium WordPress plugin that starts at $59 per year. With the basic plan, you'll receive add-ons for custom ad sizes, group widgets, and image cache busters.
How to Start Using Passive Income Apps in WordPress
You're probably wondering which tool will generate the biggest payout. To improve your results, feel free to install all of them!
Using MemberPress, you can create paywalled content on your website. This can be anything from video tutorials to blog posts.
In WordPress, go to MemberPress > Memberships > Add New to create your first membership. Then, give it a title, description, and price:
You can then create your protected content. You might install the Courses add-on to build elearning material. On the other hand, the Downloads add-on can help you set up digital products on your site.
Next, you'll need to protect the content from unpaying guests. Navigate to MemberPress > Rules > Add New. Here, select your protected content and choose the membership that offers access:
You can also install Easy Affiliate to create an affiliate program for your website. For example, bloggers can promote your courses with banners and affiliate links. This can help boost your revenue: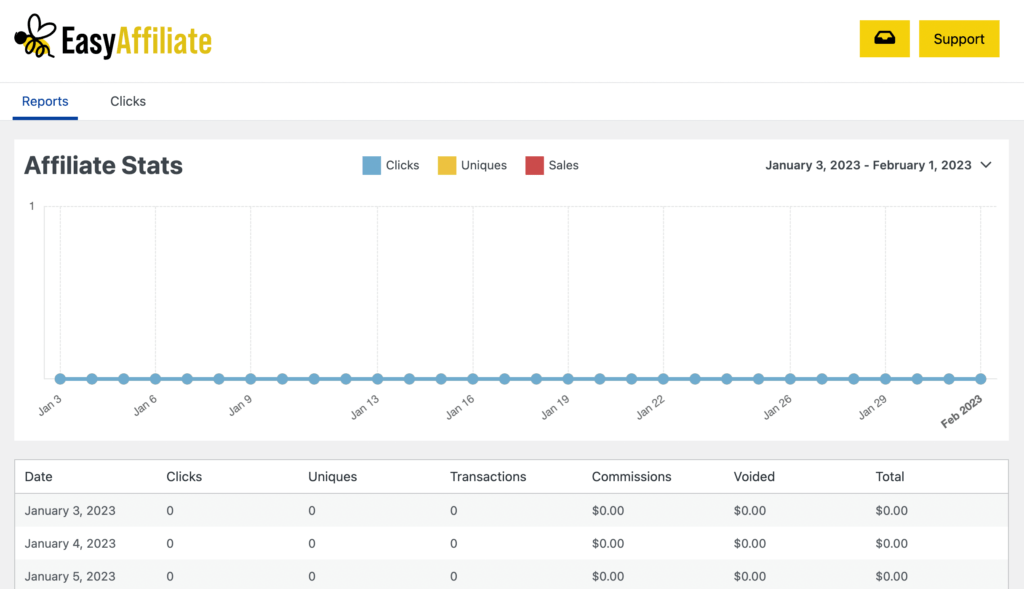 Becoming an affiliate can also increase your passive income. You could promote products that complement your own.
For example, if you offer digital marketing courses, you can recommend your favorite search engine optimization (SEO) tools.
With Pretty Links, you can easily create optimized affiliate links and insert them into your content:
If you're an Amazon affiliate, ThirstyAffiliates will import your links. This can be easier than manually creating them in WordPress:
Lastly, Adsanity can help you integrate Google Ads into your website. You could display these ads within your course content or blog posts.
Once you start using all five of these tools, you'll have a fully monetized, powerhouse site!
Conclusion
Although you likely already have a website, you may be looking for an effective way to start pulling in passive income from it. With a passive income app, you can successfully monetize your content.
To review, here are the best passive income apps for WordPress:
Do you have any questions about the passive income apps featured in this post? Let us know in the comments section below!
If you liked this post, make sure you subscribe to the MemberPress blog!