If you're still posting flyers around your neighborhood to advertise your handyman services, you're probably not getting too many takers.
In fact, you might be starting to realize that, without a website, it might be tough to grow your business and increase your profits in any significant way.
You might also be thinking starting a website is time consuming and expensive, right?
Well, there's good news. With WordPress, you can get your handyman business online in no time, for very little investment.
As long as you've got the right tools.
In this post, we'll explain exactly what those tools are. We'll also discuss why you should consider creating your own online business, and we'll show you how to start a handyman business with WordPress online.
So let's get busy!
Tools You'll Need
When working with your hands, the right planer or pliers can make all the difference. Same goes for the tools you use to build your online business. You've got to go with the best.
The cool thing is that the most expensive doesn't necessarily mean the best when it comes to website creation tools.
The following 3 tools are not only the most trusted and widely used, they're also some of the most affordable out there:
WordPress – the leading content management system (CMS)
MemberPress – the world's most popular and comprehensive WordPress membership site and monetization plugin
Simply Schedule Appointments – the best appointment booking plugin for small businesses
That's everything you need to market and sell your services online. We'll go over just how you do that in a few. But first let's talk about why you might want to.
Why You Should Start a Handyman Business Website with WordPress
If you're still reading this post, you're probably fall into 1 of 2 categories:
You're already running a handyman business
You're interested in starting a handyman business
Either way, online is the only way to go if you want to succeed in the modern economy.
Here's why…
You Benefit from Local Search
You've probably heard the phrase local SEO. It's the practice of optimizing your website for local searches, and it's a really big deal for small businesses.
Of all the folks who do local searches online, 88% reach out to a company related to those searches within a day. And almost 64% of all people searching Google are looking for local info – things like services and products nearby.
To put it simply, people go online to find everything these days, including handyman services. So if you don't have an online presence, you're majorly missing out.
With a handyman website, you can continue posting flyers and even advertising on social media, and you can benefit from local search.
It's Scalable (because you avoid third-party fees)
Many handyman businesses opt for a hosted solution to get online. These are sites like Thumbtack or HomeAdvisor, where you can list your services on the internet to benefit from local SEO.
The only problem with this method is third-party fees. The majority of these sites will charge you a percentage of your revenue for each job you gain through their services.
This arrangement can be fine in the beginning. But, remember, that percentage stays the same (or can even go up). So as your business grows, the cut of revenue you pay out grows right along with it.
On the other hand, WordPress is a non-hosted solution. You just pay a regular flat fee for your web hosting plus a flat renewal fee for each of your plugins.
That means an online business built with WordPress + MemberPress is scalable. As your business grows, the gap between your expenses and revenue increases in your favor.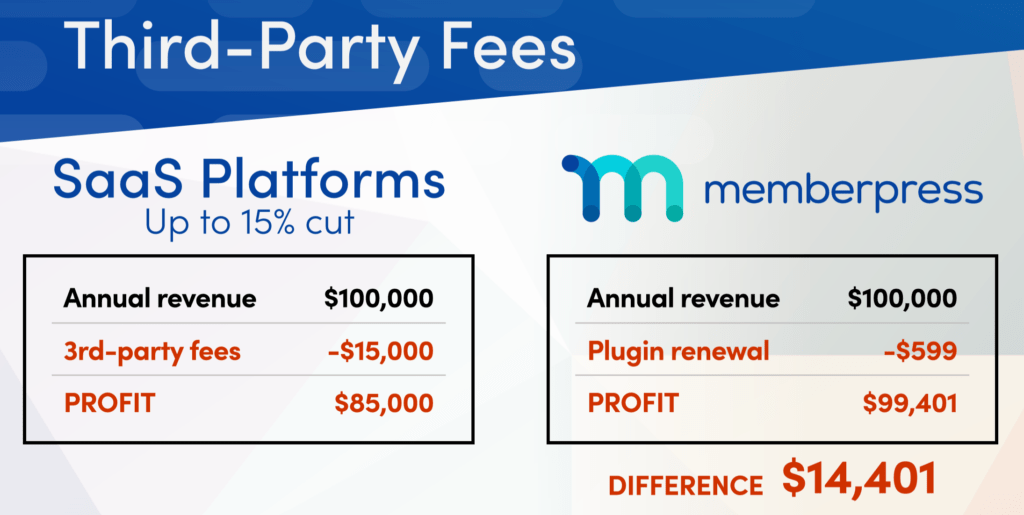 Not only do you save on fees, a self-hosted website also gives you a forum to showcase your qualifications and positive reviews, which can give your business a lot more cred:
Other monetization opportunities
Last, a service business website built with WordPress + MemberPress gives you all kinds of additional ways to create passive income streams. Here are a few excellent examples we've seen.
Paywall premium content
As a handyman, you probably have a ton of valuable knowledge in a whole lot of different areas – everything from remodeling to house painting and pouring concrete.
With MemberPress, you can create content around those areas of expertise, then place that content for sale behind a paywall. Think things like DIY videos and deck plans.
There's really no limit to the things you can monetize this way.
Do affiliate marketing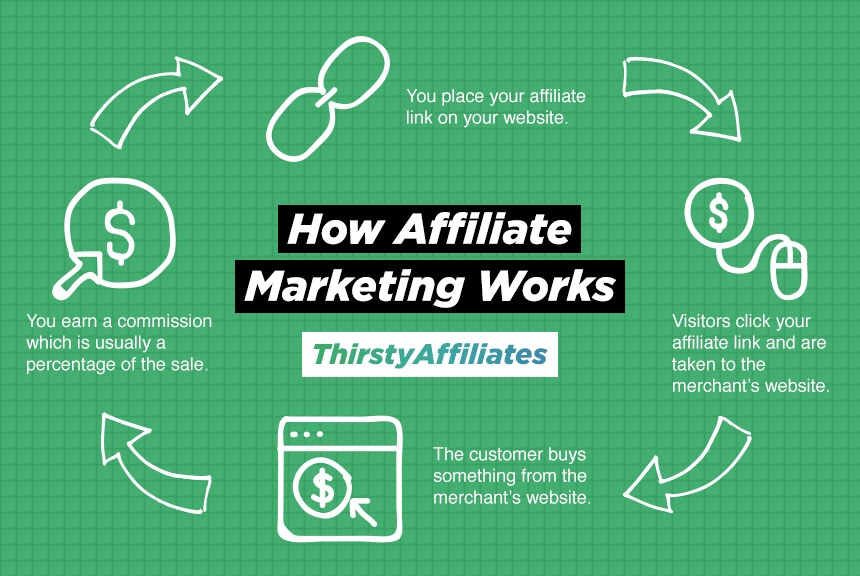 Every online business should have a blog as part of its SEO strategy. But a blog isn't just for SEO, it's also an ideal arena for affiliate marketing.
---
DEFINITION >> Anchor Text: Text to which a link is attached; when clicked, it takes the user to a specific web page.
---
Affiliate marketing is big business these days because it's a simple and effective way to monetize any kind of site.
And because it's such a big industry, there are all kinds of tools, like our sister product ThirstyAffiliates, to make it easier to manage your links.
Offer maintenance subscriptions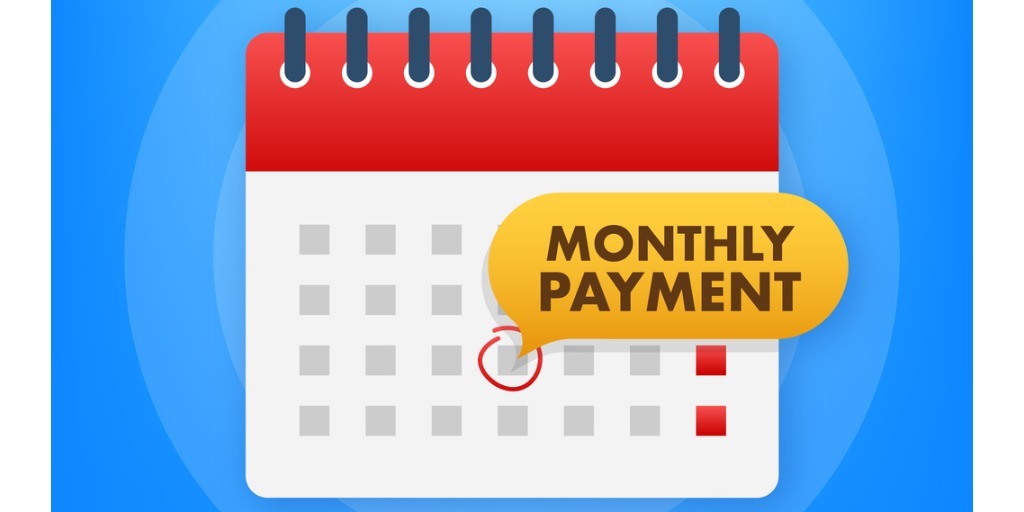 Maintenance subscriptions and plans are a favorite among MemberPress creators running service businesses.
That's because the subscription/membership business model allows you to create recurring revenue streams that keep on giving, even when the going gets tough.
For example, think of the services your customers need on a regular basis. Things like snow removal, lawn care, and seasonal pressure washing.
Now consider creative ways you could offer these services on a subscription basis. Take pressure washing for instance. You might have 3 plan levels based on number of sessions:
Plan A – 4 pressure washing sessions per year
Plan B – 3 pressure washing sessions per year
Plan C – 2 pressure washing sessions per year
MemberPress has a built-in pricing table that's connected to your memberships. So you can customize your plan levels just about any way imaginable.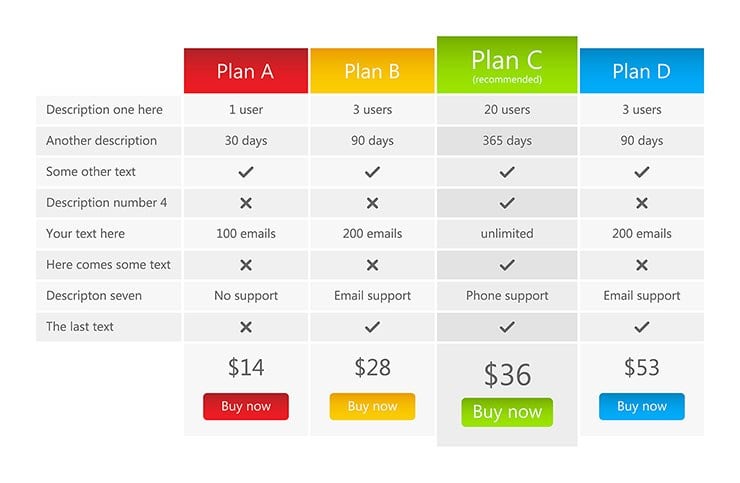 To learn more about creating membership levels and plans for your services in MemberPress, watch our comprehensive video tutorial:
How to Start a Handyman Business With WordPress (In 4 Steps)
Now that you know how much a WordPress website can benefit your handyman business, you're probably chomping at the bit to get one going. So let's take it from the top with the how-to!
Step 1: Consider Narrowing Your Niche
Since pretty much everyone needs a handyman at some point, there's really no limit to your customer base. Still, it can be a good idea (though not mandatory) to find a specific niche and narrow your audience.
If that's something you'd like to do, start by considering your skill set. This can help you determine which services you want to provide.
Although you may be familiar with many trades, it can be more profitable to specialize your services.
Instead of being a general handyman, you might want to focus on plumbing, HVAC, or electrical problems. Then, you can narrow your niche even further. For example, a carpenter might build or repair custom decks:
Choosing a niche can decrease your competition. While general handymen will be competing for the same clients, you can find customers who are looking for very specific services.
Additionally, you can earn a higher income as a trade specialist. Often, customers are willing to pay more for expert services.
Step 2: Create a WordPress Website
Once you've got your niche, it's time to build your website. And, as mentioned, there's no better tool than WordPress for website building.
One of the easiest ways to get started with WordPress is to find a web hosting provider to set up server space for you.
With an option like Bluehost, you can purchase a cost-effective hosting plan designed for WordPress websites. And you get a free domain name out of the deal.
After you buy a plan, your host will usually install WordPress automatically. The host will also give you instructions on how to sign into your new dashboard.
---
NOTE: If you'd rather set your WordPress site up yourself, visit the WP Beginner guide below. WordPress is known for its user-friendliness, so you shouldn't have any trouble – especially with this guide by your side.
---
Once you've got your WordPress site up and running, go to Appearance > Themes > Add New to start customizing your site design.
Here, you can browse thousands of free WordPress themes. To narrow your choices, you might want to apply an ecommerce filter:
In the results, look for layouts that'll best suit your services. You'll be amazed by how many awesome, free themes are available.
WordPress themes make it super easy to create an awesome, attractive, professional-looking website.
Elements like buttons, navigation, menus, search fields and even different page types are pre-coded. So you just plug in the info you want, and you're all set.
Once you find the right theme, just install and activate it to automatically apply the new design to your website, then get busy building. It's really that simple!
Step 3: Highlight Your Services
To encourage online visitors to book appointments with you, you'll need to create a Services page. This should help customers understand:
Your level of experience
Your qualifications
What services you offer
For each service, include a brief explanation of what you do. After you show visitors why they should hire you, you should always include a call-to-action (CTA).
A CTA is usually a button, and it always prompts users to take some action such as:
Contact you
Book an appointment
Download something
…and so on
To allow visitors to schedule consultations or services, you can set up appointment scheduling.
When you install the Simply Schedule Appointments plugin, users can start booking open time slots based on your availability:
This beginner-friendly scheduling tool can help avoid time-consuming back-and-forth emails and phone calls between you and your clients.
Step 4: Create Members-Only Content
As we've already discussed, a website is an excellent move for businesses in any field, because it provides a place to create multiple passive income streams.
For instance, you might make tutorials teaching people how to repair their own homes. Or you could film how-to videos or write articles about various DIY projects:
To earn revenue from this content, you simply place it behind a paywall. To do that, you'll need to buy MemberPress, and install it.
Once installed, go to MemberPress > Memberships > Add New:
Add a title for the membership, and set a price for it. If you want to enable a paywall, be sure to select One-Time as the Billing Type:
Under Membership Options, you can add thank-you messages and welcome emails for your new members. You can also customize the payment methods:
Then, you'll need to set rules for your paid content. To learn how to do this, watch our Rules tutorial video:
In many cases a paywall offers each reader a limited number of content views before it prompts them to buy a membership.
To enable this function, go to MemberPress > Settings > General and select Enable PayWall:
Last, choose the number of times a user can access the content before the paywall appears. After you save these changes, you'll be able to make money from your handyman tutorials!
To learn more about paywalls with limited pageviews, watch the video below:
Other paywalls use what's called a "lead-in". You've definitely seen this method on sites like The New York Times and The Wall Street Journal.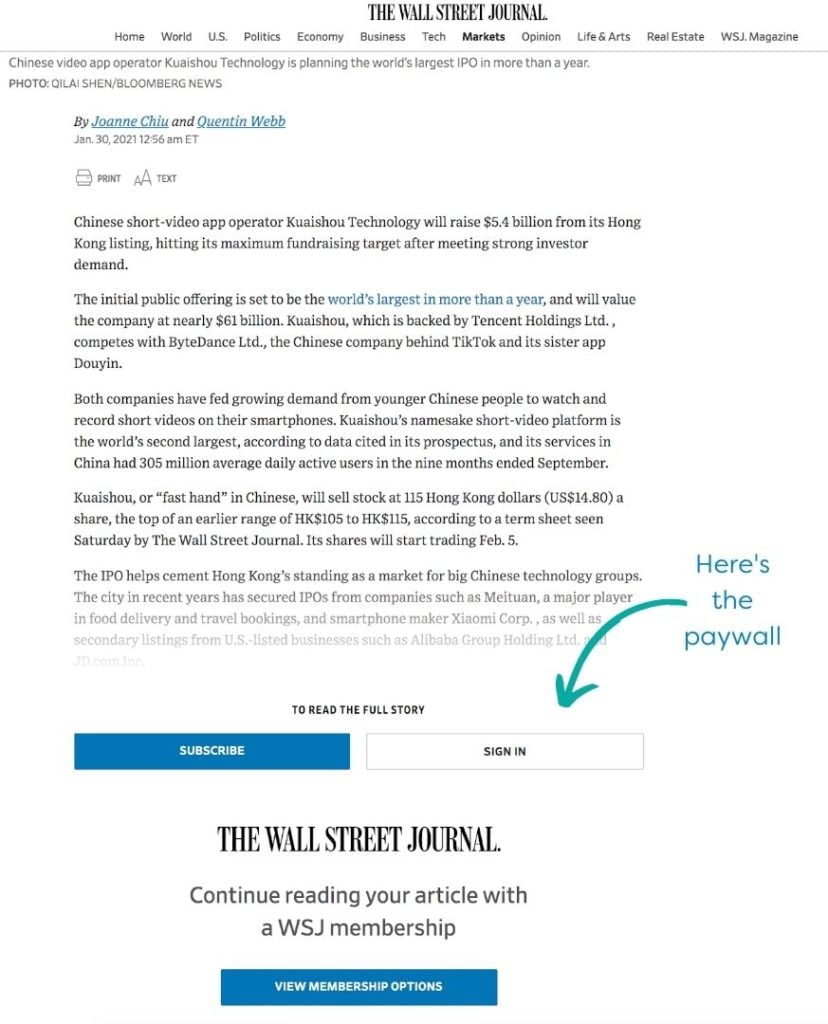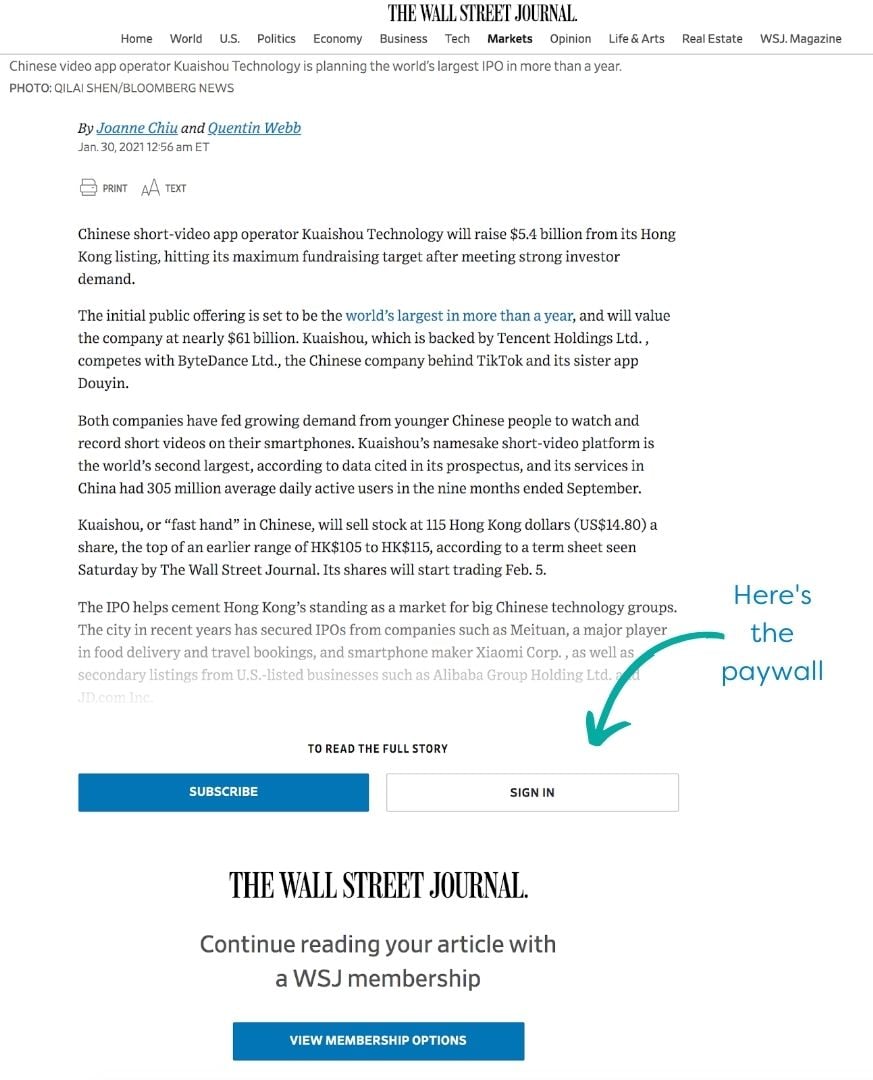 For great info about lead-in paywalls and how to use them, visit this resource:
Conclusion
As a handyman, starting a website is one of the best ways to grow your business. When online visitors can easily book your services, your client base should begin to expand.
Plus, you can even use your site to start generating passive income by selling premium content, selling online courses, and doing affiliate marketing.
To recap, here's how you can create a handyman business website with WordPress:
Choose your niche.
Create a WordPress website.
Enable appointment booking with Simply Schedule Appointments.
Create members-only content using MemberPress.
If you liked this post, make sure you subscribe to the MemberPress blog!