(6 Steps to Sustainable Success)
If you have specialized knowledge in a particular software, technology, or programming language, you have what it takes to be a software consultant.
Information sharing can be a highly lucrative business, especially as companies struggle to find talent with the appropriate software training and knowledge.
And if you're sick of the corporate rat race, the time is ripe to start your own software consultancy.
There's nothing more rewarding than becoming the master of your own destiny and having full control over how your life and career progress. There's also a lot of personal satisfaction in becoming an authority in your field.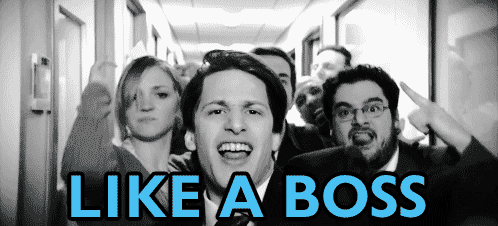 If you think that all sounds like a pipe dream, get ready for a surprise. It's a lot easier than you think!
In this article, we'll walk you through how to start a software consulting business and set yourself up for sustainable success.
The Tools You'll Need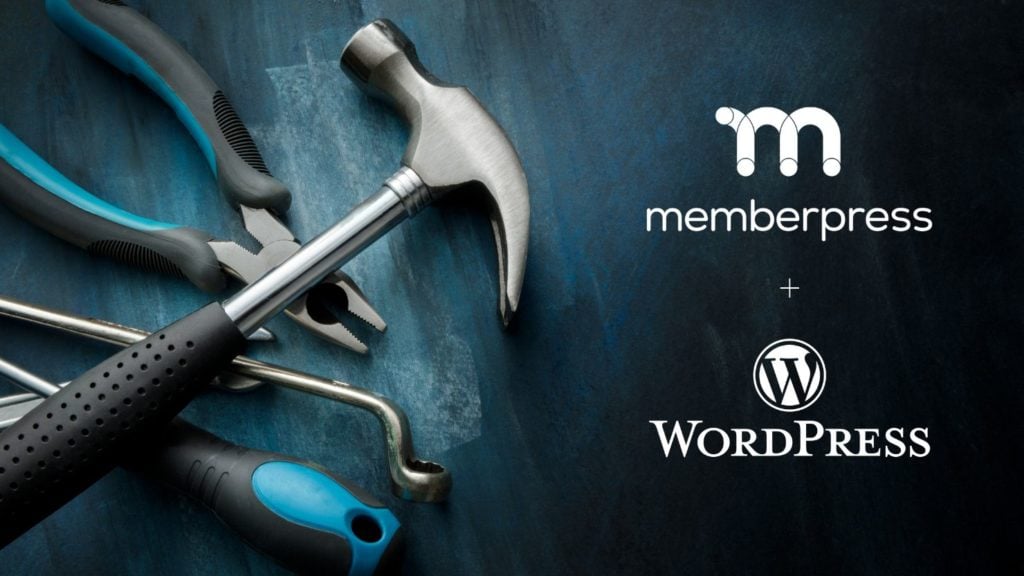 You probably follow a software consultant on Instagram or LinkedIn, sharing tips and tricks on making the most of software. Maybe you've seen them featured in articles or podcasts, talking up their success.
Many of these people use a subscription model to run their software consulting businesses – and for good reason.
As a consultant, the subscription model does two things for you:
It frees up your time so you can gain even greater expertise in your field to share with your captive subscribers.
It helps you bring in recurring revenue.
All you need to do is create valuable content, put it behind a paywall, and focus on self-promotion and self-development. This means you can consistently provide interesting content to a wider and wider audience (=$$$)!
That said, here's a list of the tools you need to get started:
All these tools are highly affordable and user-friendly. Put them together with MemberPress' built-in ReadyLaunch™ page styler, and you can get a professional, optimized subscription site set up and ready to sell in less than a day.
---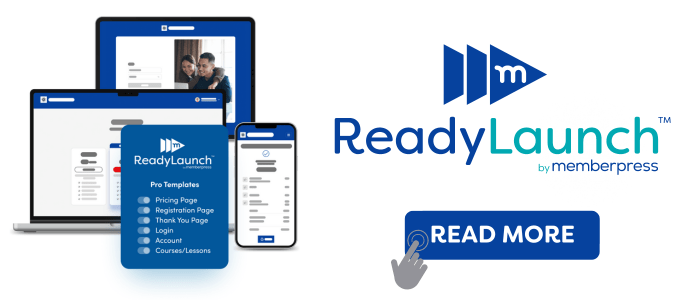 ---
How to Start a Software Consulting Business: Your 6-Step Plan
Step 1: Get WordPress and Install MemberPress
Your first step is to get WordPress hosting. Our favorite is Bluehost. It's user friendly, affordable, has one-click WordPress installs, and has a free domain name to sweeten the deal.
After you've got WordPress up and running, it's time to add MemberPress.
The plugin allows you to set up and manage all kinds of recurring revenue streams. Things like memberships and subscriptions, premium communities, online courses, and paywalls.
It basically turns your WordPress website into a money-making machine.
MemberPress also happens to be the #1 most recommended membership platform in the world. And with its ever-growing list of features, the plugin is highly flexible.
So you get extraordinary control over your paid content and who has access to it.
With MemberPress in the house, all you have to do is create great content!
Step 2: Create and Add Content
Creating content will be an ongoing process. But before you start offering memberships you need to already have a library of content and offerings for early subscribers.
Decide what kind of content you want to create. Your focus is on creating value! Content has to be all killer, no filler. So really consider who your audience is and what they'll find valuable.
Below are a few ideas for content types. There are plenty to choose from, so work to your strengths!
Video Courses
Are you comfortable in front of the camera? Video content consistently performs better in terms of engagement, so if you can, shoot some tutorials and add them to your site.
FlexClip is a great tool for creating quality videos without having to be an experienced video editor.
You can start with stock footage, templates, and transitions to make your videos look professional in no time!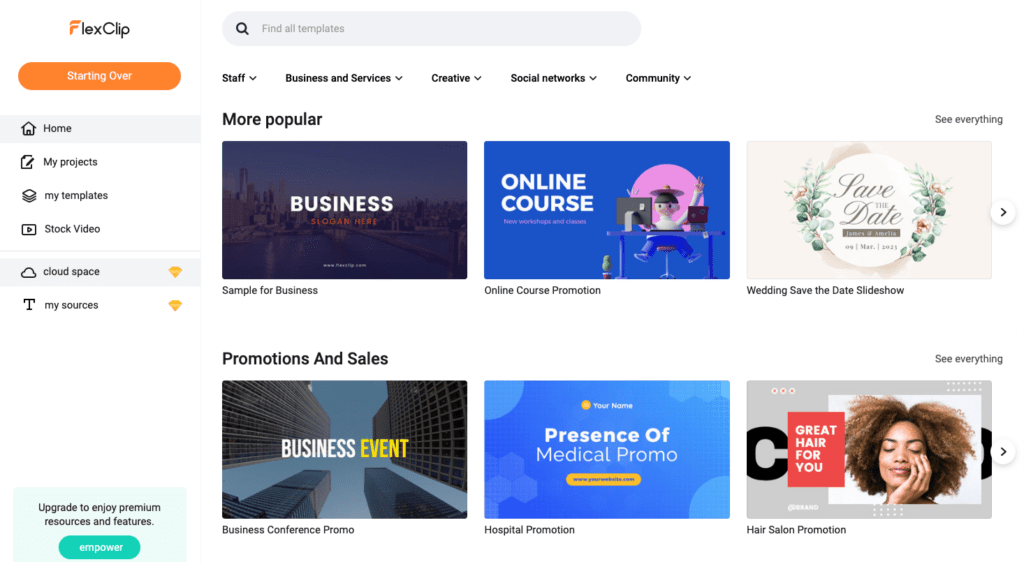 Pre-recorded video courses have the added benefit of being a passive income source. Once you've uploaded the videos to your site, they can generate revenue with minimal upkeep from you.
Webinars and Workshops
If the idea of recording yourself and editing gives you the heebie-jeebies, maybe you'd feel more comfortable hosting live video webinars and workshops.
Zoom allows you to broadcast webinars to up to 50,000 view-only attendees. So as you scale your subscribers, there's plenty of room.
But if Zoom's steep price tag is a bit much for your venture, CrowdCast offers a comprehensive, more affordable option for webinars, workshops, live conferences and more.
Here's some more great news; Zoom and Crowdcast both integrate with MemberPress, making it super easy to ensure that only paying subscribers have access to your online live events!
1:1 Consulting Services and Coaching
Sticking to a more traditional software consultancy ​​model? No problem. You can offer your expertise as 1:1 consulting services or coaching packages for pro subscribers.
Since you'll be giving advice on a one-to-one basis, it requires more effort from you. But, you can also get a lot of satisfaction with this more personalized approach.
Podcasts
Like the sound of your own voice? Podcasts are the way to go.
Interview clients and pro subscribers to let listeners in on different use cases and applications for the software. Interview industry leaders for valuable insights for your subscribers.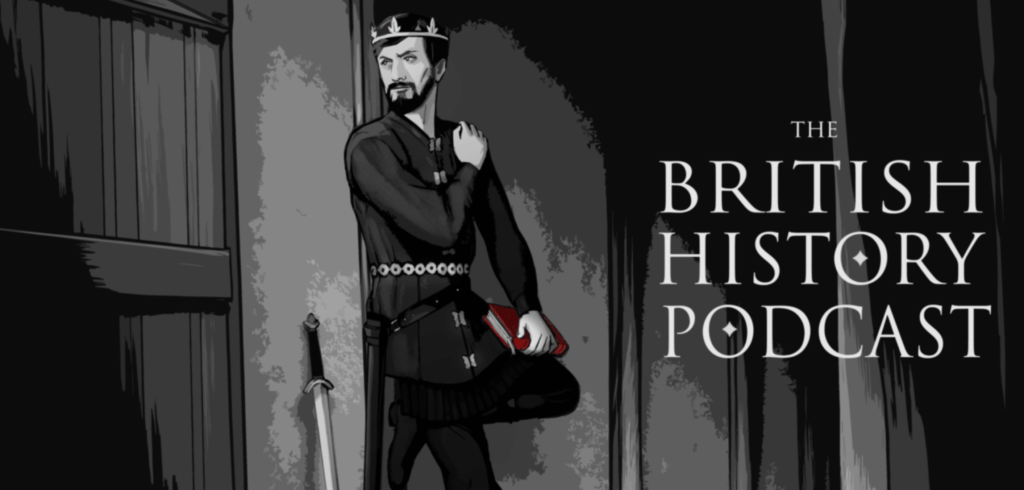 Podcasters like the team over at British History Podcast use MemberPress to offer ad-free versions of their podcast. They also include exclusive episodes as part of their membership offerings.
As a software consultant, you might create a podcast series on the most common troubleshooting questions you encounter in your day-to-day.
Castos via Seriously Simple Podcasting is a great tool for recording your podcast and distributing it across all the top directories. It also integrates seamlessly with MemberPress.
MemberPress also integrates with other podcasting plugins, like Blubrry, and Supercast.
Ebooks
If writing's your thing, then why not create software consulting ebooks for your subscribers?
Ebooks are great for offering in-depth information to subscribers. Include walkthroughs, templates, and frameworks for practical ebook content your members can benefit from.
And if writing a whole book feels daunting, drip-feed chapters to your subscribers as you go.
Blogs and Articles
It might be more appropriate for you to present written content in the form of blogs and articles. Share your software consulting experience, tips, tricks, research reports, and product reviews.
Make your written content visually appealing by adding gifs, infographics, and images.
Canva is an excellent tool to help you create professionally designed images, text, and logos. And they even have templates specifically tailored for blogging and social media posts!
Get inspired by the list above, and don't feel limited! You can mix and match the type of content you offer. See what works best for you and your audience.
Step 3: Paywall Your Content
Once you've uploaded your content, it's time to paywall it! You have a few important decisions to make.
Do you want to offer tiered memberships?
Tiered memberships are a great way to get people through the front door. Before committing to your priciest package, members can sample your offerings and see for themselves the value you provide.
It also offers a more accessible option for members on a budget.
For example, you can choose Basic and Pro packages, or Individual and Business packages.
To create memberships, go to your WordPress dashboard and head to MemberPress > Memberships > Add New.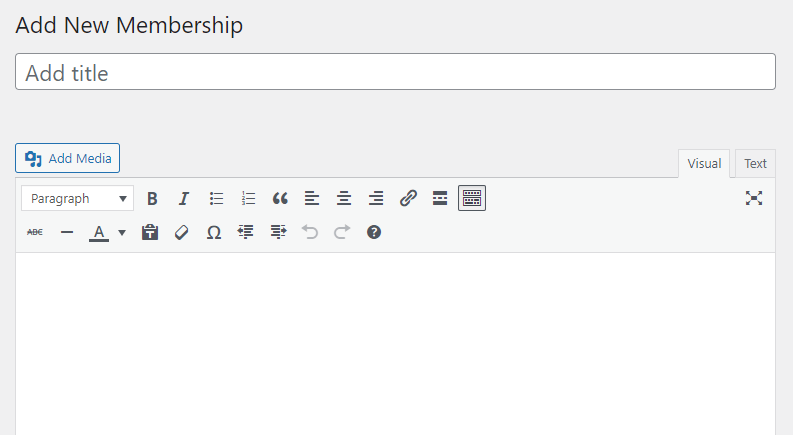 Here you can add a title and description, set a price, billing type, and access standards. This brings us to our next big question:
What price do you want to set?
Rule #1 is don't undervalue yourself! Don't just think about the time and effort you put into your content. Consider the years of training it took to gain your level of expertise, and the value you provide members.
Do you want subscribers to pay monthly or annually?
An annual subscription ensures your subscribers are committed for a whole year, but monthly subscriptions are more easily digestible for businesses and individuals on a budget.
Whichever pricing model you choose, it's all possible with MemberPress.
For a detailed walkthrough on how to create memberships with MemberPress, watch our tutorial:
Next question:
Do you want to paywall all your content?
Next, you want to set up rules to limit what non-members and different-tiered members have access to.
In your WordPress dashboard, head to MemberPress > Rules > Add New.
Now, under the Content & Access section, choose from the dropdown menu which content you want to protect:
For example, you can select All Content to keep all of your content behind a paywall, like Netflix.
However, this won't do if you offer tiered memberships. It's also a good idea to keep a portion of your content free so that potential subscribers can get an idea of what they'd be paying for.
With MemberPress, it's easy to create really specific rules. There are endless options to customize what's behind a paywall. For example, you can set up a rule to paywall content with a specific tag or category.
Get a closer look at what you can do in our walkthrough video:
Step 4: Go Freelance or Start an LLC
At a minimum, make sure you've done all the necessary paperwork to freelance where you live. Understanding how business structures work is important stuff.
So you'll need to understand regulations and how to register with the appropriate authorities and file any applicable taxes or fees. You'll also need to ensure you have business insurance in place for your new venture.
You may also want to set up an LLC (Limited Liability Company) to protect yourself from any potential legal issues. This is especially important if you're planning on expanding your business.
The Freelancer's Union is a great resource for freelancers in the US with blogs on setting up an LLC and much more!

TOP TIP: Once your software consultancy is up and running, you'll need to be aware of tax compliance internationally and across all the states you sell to.
Check out the Quaderno + MemberPress integration which automatically calculates and applies the correct tax amount to each sale based on the customer's address.
Step 5: Self-Promote, Self-Promote, Self-Promote
First off, go, go, go! Get the word out there and don't hold back on promoting yourself as a thought leader.
Create and push free content to drive potential clients to your site.
Use PushEngage to send targeted personalized push notifications straight to the browser of potential members who have interacted with your website.
Find which social media channel your clients most use, and build your presence there. LinkedIn is a great place to establish yourself as an authority and find new clients.
Also, the old tricks still work too: attend conferences and industry events, wine and dine clients. Whatever it takes!
Skip getting an office. Instead, Put as much of your resources into self-promotion and building your client relationships as possible.
Step 6: Continue to Develop Your Knowledge
For starters, never assume you can rest on your laurels. As a software consultant, you know that the industry is always evolving.
Also, stay on top of the latest software updates and trends, and continue to develop your knowledge.
Investigate new technologies and developments – it's a great way to keep your skills sharp, demonstrate your expertise, and stay on top of your game.
Software Consultant Business Examples
Let's check out a couple of software consultant businesses and what they offer on their websites!
Dan at Dan's Tutorials is a consultant on all things Apple. From Apple watches to the Mac iOS, Dan's Tutorials is your go-to resource.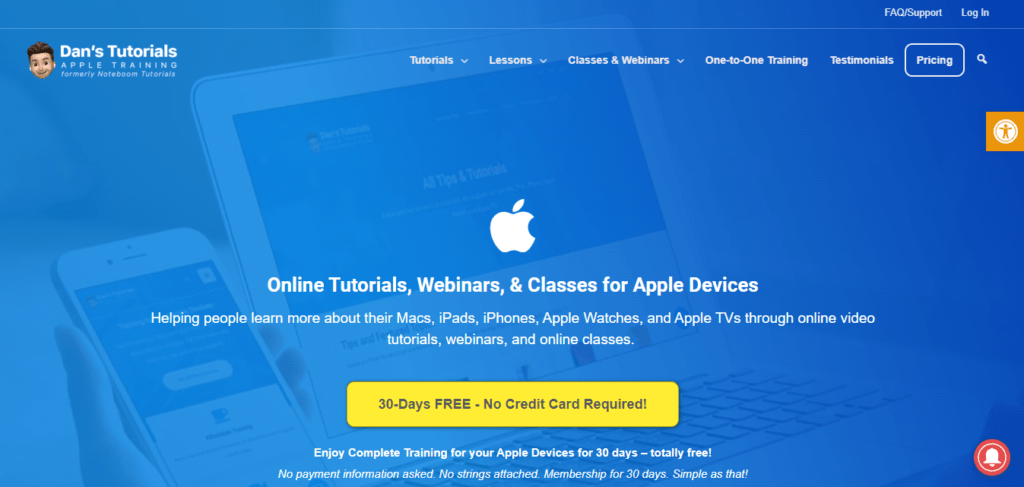 On his MemberPress-powered website, members can choose between a monthly, quarterly or annual subscription to access:
Over 1800 video tutorials.
Live online classes
Webinars.
Online courses.
News articles aggregated from multiple sources.
All plans also come with a free 14-day trial!
Learn how to become a cloud pro with A Cloud Guru.
They offer extensive courses and training resources for popular cloud systems including AWS, Google Cloud, Linux, Azure, and more.
They offer personal and business membership options as well as tiered membership and the option to pay monthly or annually at a discounted rate.
Conclusion
Gone are the days when becoming a software consultant required a smoking jacket and a level of golfing proficiency. Like many industries, software consultancy has gone digital.
That's great news if you're looking to start a software consulting business! Especially considering how easy it is to set up a professional membership website from the comfort of your own home.
With WordPress and MemberPress you can set up a website that will provide you with a recurring revenue stream, that's easy to scale as your business grows.
To recap, if you're wondering how to start a software consulting business, follow these 6 steps for sustainable success:
Step 1: Get WordPress and Install MemberPress
Step 2: Create and add Content
Step 3: Paywall Your Content
Step 4: Go Freelance or Start an LLC
Step 5: Self-Promote, Self-Promote, Self-Promote
Step 6: Continue to Develop Your Knowledge
As businesses continue to digitize and switch up from legacy systems, software consultants are in high demand. There's no better time to share your knowledge and start your own software consulting business.
Follow these steps, commit to promoting yourself online, and there's no limit to your potential.
Got any questions about how to start a software consultancy business with MemberPress? Let us know in the comments section below.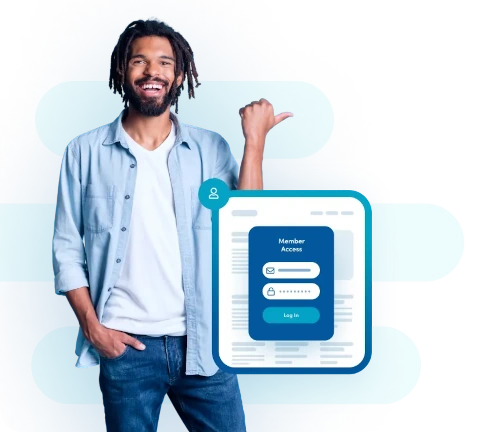 Get MemberPress Today!
Start getting paid for the content you create.
Get MemberPress Now
See All Features
If you liked this post, make sure you subscribe to the MemberPress blog!